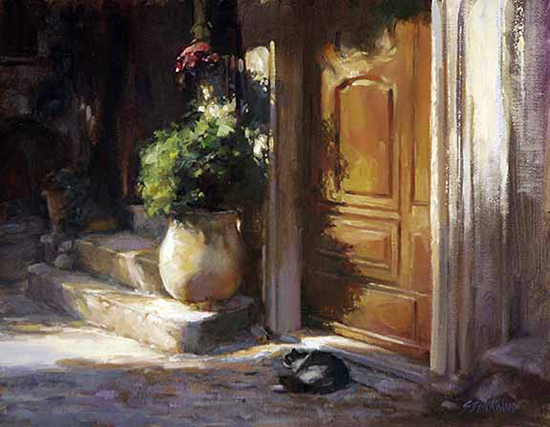 Late Afternoon Light 11 x 14" Oil
Admiring the freshness of stroke and gesture in Susan Blackwood's paintings, we asked her how she manages to keep that spontaneity and not tighten up—a struggle many artists contend with. She offered a lesson that she uses with her students. First, paint the subject once, noting the amount of time spent in completing the painting. This first painting will allow you to prove to yourself that you can render a believable representation of your subject. Then, paint the painting again, in one quarter the amount of time originally spent. You no longer need to prove to yourself that you can do it. Instead, this allows you to develop your unique short-hand calligraphy, painting the essence of what you see.

Blackwood teaches painting and drawing throughout the USA, Europe, Pakistan, and the Bahamas. Her teaching style is to nurture the artist as well as to encourage growth in their individual style.

She began her painting career working in watercolor, exhibiting nationally and internationally. In 2003 she took up the challenge of oils and by 2012 she had been awarded Signature Membership of outstanding achievement in oils by the Oil Painters of America. She has also received the Best of Show award by the American Women Artists.

In her extensive travels to both paint and teach, Blackwood has found art to be a universal language that is understood across cultures and foreign tongues. She writes: "I have chosen as my subject matter the simple, beautiful touching moments that are common both in nature and in the life of every person. These are the moments that often pass without notice and are the very ones that lend continuity to our lives and contribute to its richness and depth. These moments are the language I use when I paint. As in any meaningful conversation, the structure of the message must be clear. Thus, my color, brush strokes, textures and composition are carefully chosen, like essential words, to convey to the viewer the message that I wish to impart . . . As words are carefully chosen for a poem, I, too, limit my brush strokes and detail to relay just enough to give the viewer my thoughts and involve their imagination. I purposely leave areas of my paintings in mystery for the viewer to become engaged in the story. I strive for each painting to be a poem rather than a novel. . . "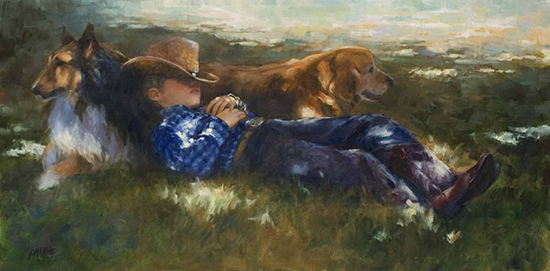 Wornout Buckaroo 15 x 30" Oil

Growing up in a family full of artists, Susan assumed that "everyone grew up to be an artist and that all the paintings, in everyone's homes, were original paintings." Not only were her father, mother, grandfather and aunt artists, but artists have been in her family for generations and centuries. Even Rembrandt's parents are in her family tree.
L
earn more about Susan Blackwood in our in-depth interview.
To read it and to see more o
f her

paintings,
become a Member of The Artist's Road by
clicking here
.
Already a Member?
Click here to go to the the in-depth interview.
All artwork copyright Susan Blackwood.