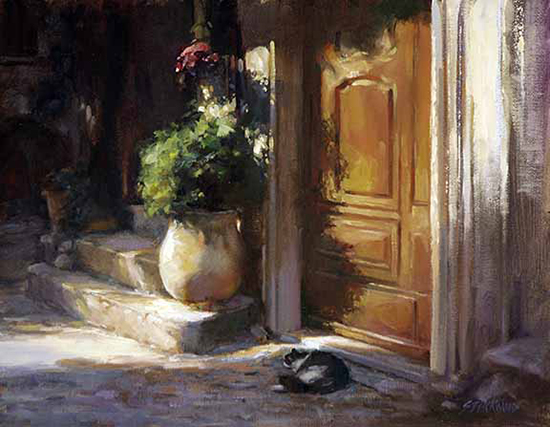 Late Afternoon Light 11 x 14" Oil


Admiring the freshness of stroke and gesture in Susan Blackwood's paintings, we asked her how she manages to keep that spontaneity and not tighten up—a struggle many artists contend with. She offered a lesson that she uses with her students. First, paint the subject once, noting the amount of time spent in completing the painting. This first painting will allow you to prove to yourself that you can render a believable representation of your subject. Then, paint the painting again, in one quarter the amount of time originally spent. You no longer need to prove to yourself that you can do it. Instead, this allows you to develop your unique short-hand calligraphy, painting the essence of what you see.

Blackwood teaches painting and drawing throughout the USA, Europe, Pakistan, and the Bahamas. Her teaching style is to nurture the artist as well as to encourage growth in their individual style.

She began her painting career working in watercolor, exhibiting nationally and internationally. In 2003 she took up the challenge of oils and by 2012 she had been awarded Signature Membership of outstanding achievement in oils by the Oil Painters of America. She has also received the Best of Show award by the American Women Artists.

In her extensive travels to both paint and teach, Blackwood has found art to be a universal language that is understood across cultures and foreign tongues. She writes: "I have chosen as my subject matter the simple, beautiful touching moments that are common both in nature and in the life of every person. These are the moments that often pass without notice and are the very ones that lend continuity to our lives and contribute to its richness and depth. These moments are the language I use when I paint. As in any meaningful conversation, the structure of the message must be clear. Thus, my color, brush strokes, textures and composition are carefully chosen, like essential words, to convey to the viewer the message that I wish to impart . . . As words are carefully chosen for a poem, I, too, limit my brush strokes and detail to relay just enough to give the viewer my thoughts and involve their imagination. I purposely leave areas of my paintings in mystery for the viewer to become engaged in the story. I strive for each painting to be a poem rather than a novel . . . "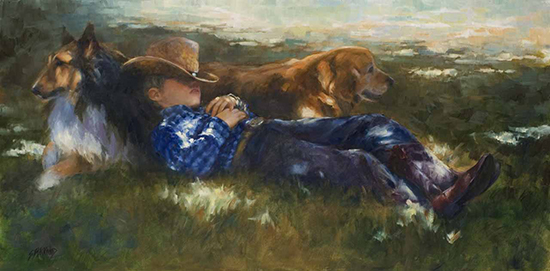 Wornout Buckaroo 15 x 30" Oil
Growing up in a family full of artists, Susan assumed that "everyone grew up to be an artist and that all the paintings, in everyone's homes, were original paintings." Not only were her father, mother, grandfather and aunt artists, but artists have been in her family for generations and centuries. Even Rembrandt's parents are in her family tree.

Her grandfather, artist N. R. Swartwout painted landscapes and often was the entertainment for church services with his "Chalk Talks." "In front of large excited audiences, with beautiful music playing, in one hour, he would turn a large sheet of white paper into a fabulous landscape and then, to the gasp of everyone, the overhead lights would dim, a black light would flood the painting and it would turn from a day scene to night, complete with glowing night clouds, twinkling stars, village lights and dazzling compositions. These works of art always had an emotional impact and a spiritual message. I was very young, maybe 4 years old when I started sitting on the very front row to watch my wonderful grandpa dazzle everyone . . . with a PAINTING!!!"

Her family supported her budding creativity. When she was only three years old, she decided to help her father (David Swartwout) with his pen and ink commercial art job.
"He had been working on it for a week. While he was gone from the house, I crawled up on his art table and drew to my heart's content, at least until I was caught. This was a critical cross road in my life. When my parents discovered the disaster, they had two choices, 'Do we scream and groan and discipline little Susie, or do we . . . ' My dad chose to chuckle. They decided to get me my own little art table to sit right next to my daddy's so we could do art together. They explained that we only work on our own works of art. That could have been a horrible time that turned me away from art, instead they respected my creativity and me, and art became embedded deeper in my heart."

Family art outings with Susan's artist mother (Betty Swartwout) and two younger sisters (artists Karen Vance and Lindy Swartwout Schneider) included plein air painting and trips to museums and art fairs.

Blackwood graduated from Northern Illinois University with a Bachelor of Fine Art and began working as an interior designer. However, while recuperating from a horrific leg break from a skiing accident and unable to work, she reconnected with her watercolors. She began selling paintings and was able to leave her interior design career behind and become a full-time artist.

Since then she has studied with watercolorists Irving Shapiro, Phil Austin, Stan Miller, Tony Couch, Milfred Zornes, Barbara Nechis and others.

In 2003 she chose to embrace the medium of oil painting. "It has been 10 years now and I do not regret the challenge. After a few months of hard adjustment, a fabulous class with Morgan Weistling and many tossed canvases, I had my first oil accepted into a museum show!" Weistling continues to be an inspiration for her work along with a long list of others, both living and long gone:

Her father - David Swartwout
Her grandfather, N. R. Swartwout
Rembrandt van Rijn
Rosa Bonheur
William-Adolphe Bouguereau
Antonio Mancini
Ander Zornes
Joaquín Sorolla
Christina Rosamond
Han Wu Shen
Dimitri Danish
Her husband - Howard Friedland (see interview)
Her sister- Karen Vance
Matt Smith
Morton Solberg (see interview)
David Shevlino
Ronald Sherr
Marc Hanson (see interview)
Carolyn Anderson
Jeremy Lipking
Mary Qian,
Daniel J. Keys,
Susan Lyon (see interview)
Brent Cotton
Elizabeth Robbins (see interview)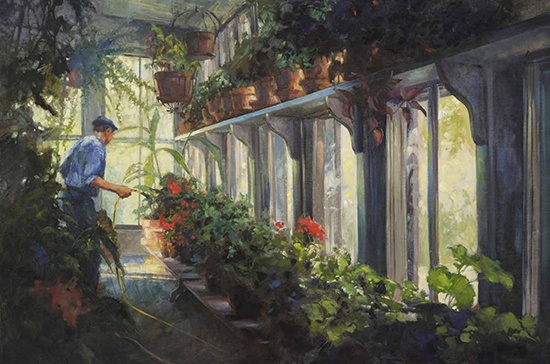 His Tender Care 15 x 30" Oil
"Because, at an early age, I was introduced to art from all the ages, I now find answers and inspiration from all periods of art. From the Egyptian paintings and sculptures to the impressionists and beyond, in books, museums, on the Internet and on Facebook. . . The biggest moment in art history that currently thrills me is the Romantic Movement: John William Waterhouse, his compositions with figures, color harmonies and soft edges joined with deep emotional messages give me goose bumps and inspire me to go to high levels with my art . . . John Singer Sargent, with his brisk free strokes, zingers! I recently had the outstanding opportunity to view Edgar Payne's paintings in his retrospective show at the Pasadena Museum of California Art. He had such lively brush stokes that I came home ready to pile on the paint. His color harmonies and masterful strong compositions of his landscapes haunt me. This is not to leave out the living artists of today! Richard Schmid has inspired me and thousands of artists to paint with controlled spontaneity. His loose and seemly carefree stokes coupled with his precise and deliberate edges that quickly melt into each other, stop me in my tracks. He has the freedom of watercolors combined with the depth of oils . . ."

Blackwood writes about her inspiration: "Light has always thrilled me, strong dark/light patterns that challenge me to control the temperature changes between the light and the shadows. But light isn't the only aspect in an inspiration. I must be emotionally charged and excited to share this expression in paint. Carefully I will shape the edges softening most and leading the eye on a journey through the picture plane."

"From my first pencil sketch of a friend when I was in sixth grade (in my math class), I have been fascinated with faces. My painting "So, What'll You Have" won Best of Show at the American Women Artists National Exhibition, with a face . . . a bartender. I paint everything, but love the challenge of capturing the likeness and expression in a face and a telling a story."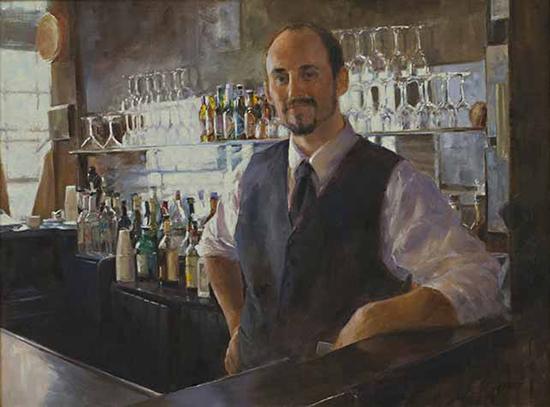 So What'll You Have 24 x 30" Oil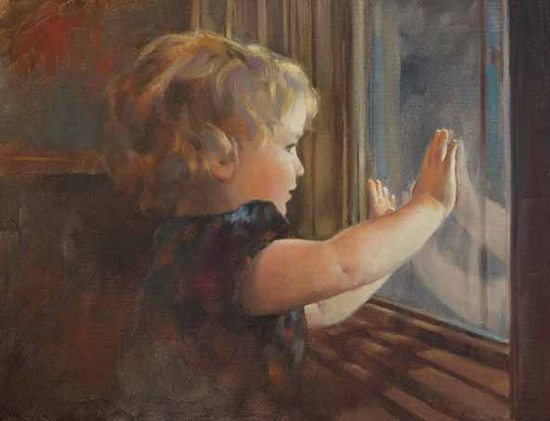 Reflections 14 x 18" Oil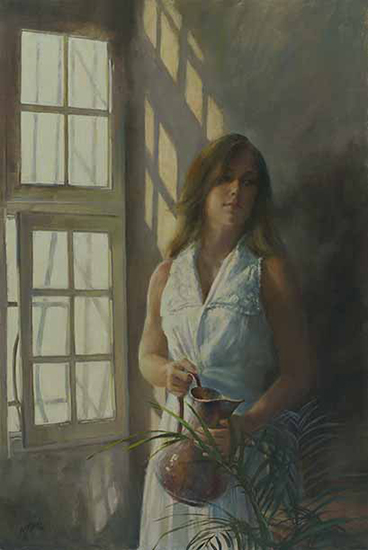 Remembering 36 x 24" Oil

Her favorite place to paint in the world is "anywhere with my husband, artist Howard Friedland." They have traveled, painted and taught together throughout the world. Check their website for current workshop locations.

Blackwood wrote us about her painting process in oil: "In oils I find that I start in a variety of ways, not necessarily the same way, sometimes with a tinted canvas and often with a 'watercolorist' wash of diluted pigment that floods my canvas with color and starts my heart pumping with excitement. Most of the time I start by establishing my dark shapes, being sure that they are connected, then add my connected light pattern. Occasionally, I will start with the focal point and work out from that very spot. Regardless of how I start, I find that my oils become finished over time, sometimes, lots of time. Even when I think that a painting is done, I continue tweaking until it is out the door."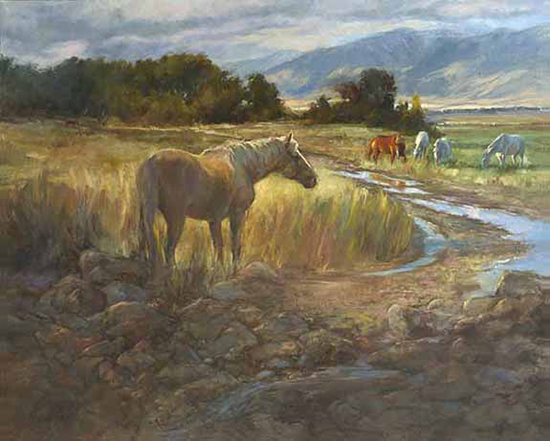 After the Rain 40 x 50" Oil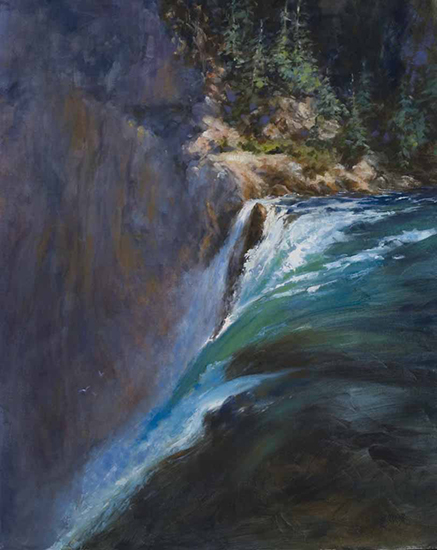 Overflowing Yellowstone Falls 14 x 30" Oil
Blackwood's advice to a beginning artist: "Don't force your art to support you financially, at least not in the beginning—have a 'day job' to support you, your insurance, your art supplies, etc. Your paintings will have a greater chance to grow and evolve when you can keep them off the market system of galleries and shows, deadlines and demands. All of us, myself included, want our art to speak to people and for people to like and want our paintings. Too often, we seek, too soon, the approval of galleries, sales and shows. Once you find your niche and let your paintings mature, then allow shows and galleries into your life. In the meantime, explore the incredibly wide variety of directions that fascinate you. Don't let the demands of making a living with your art force your paintings into a premature style or subject matter. Stay free to create and explore."

"Study with the best, never stop digging deeper, make time for your art each week, find your passion . . . and when you are ready . . . give it all to the world."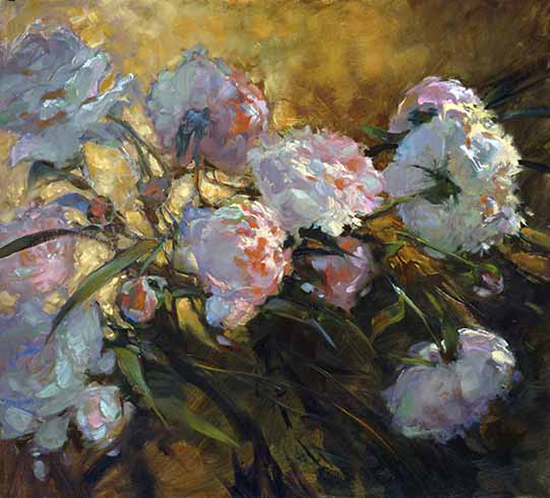 Her Favorite Flowers 18 x 20" Oil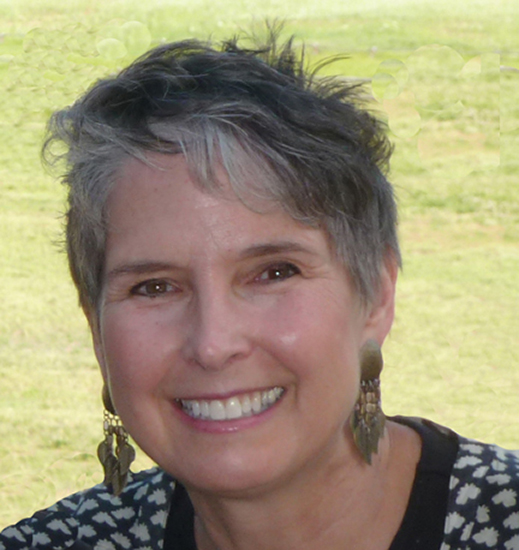 Visit Susan Blackwood's website to see more of her paintings.
All artwork copyright Susan Blackwood