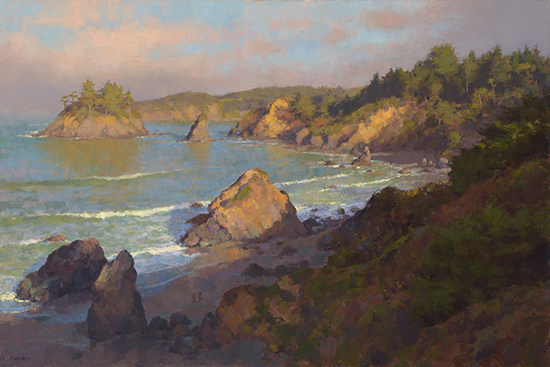 Morning Shadows Trinidad State Beach 24 x 36" Oil on Linen


"I only hope to keep painting,
and hopefully never settle into a comfort zone,
so that I keep pushing myself for a greater understanding, full of surprise, wonder at nature and beauty, and doing the best work I can."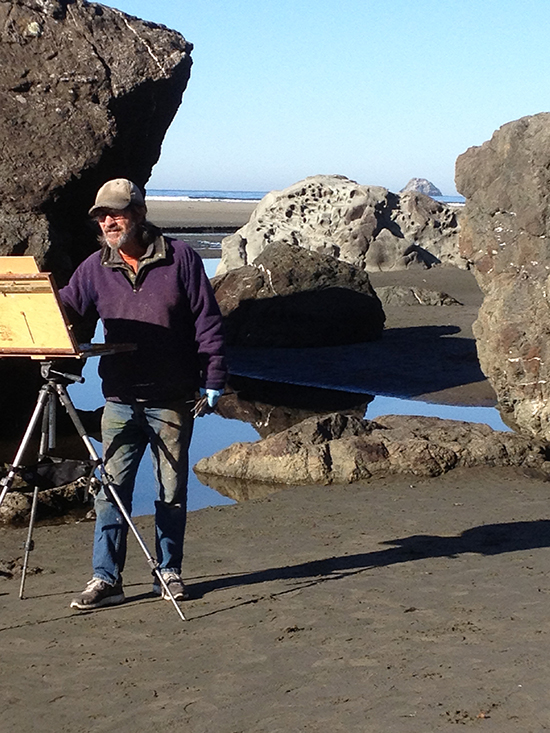 Jim McVicker recently (March 2014) won the Southwest Art Award of Excellence AND The Franz Bischoff Award for Best Still Life at the California Art Club 103rd Gold Medal Juried E
xhibition.
He has shown nationally and throughout California. His work has been featured in Art & Antiques, Art
of California, American Artist magazine, in the book, The Artist and the American Landscape and in the documentary,
Jim McVicker- A Way of Seeing, created by Peter Granrud and John Crater (see below).

McVicker paints his landscapes directly on site in Eureka and the Loleta Valley, California.
Enjoy these excerpts from our recent interview with Jim for our Voices of Experience feature:


At what point in your life did you know that you wanted to be an artist? Did you receive positive encouragement from your family?

I didn't know I wanted to be an artist until I was 21. Other than high school and community college, where I had little art, mostly ceramics, I had never painted or really thought about it. I did have many friends who were artists and musicians and those were the people I found most interesting. At 21, my artist girlfriend Missy Vivenzio, gave me a set of paints and access to her art books. I started reading about, looking at and doing copies of French Impressionist landscapes. I also took life drawing and painting classes at the local community college. No real fundamentals were taught but I was hooked and knew almost immediately that I would become a painter and spend my life doing it. By the time I was 24, I quit my job and have been painting full time since. That was 1975.

Were there other artists in your family growing up? If so, did they play a role in your decision to become an artist?

I didn't see or have art in the house while growing up. It was not on my parents' radar. I did have an uncle who painted as a hobby and my Dad's cousin was an illustrator in New York City. We met later on when I was in my 40's and stay in touch with each other. My parents were not initially happy with my decision to paint full time but they supported my choice and by 1980 they knew I was committed for life. My mother passed away a few years ago, but she and my father have been to most all of my shows, are huge fans and really have embraced the art world I'm part of.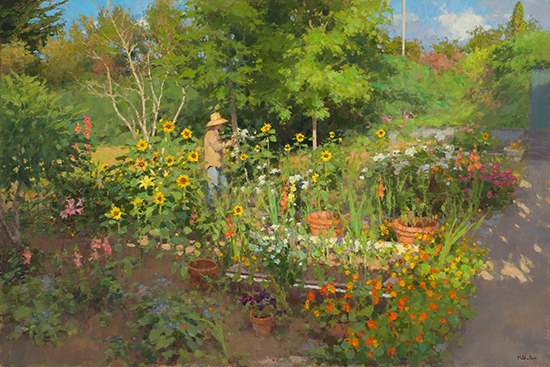 Summer Garden 36 x 54" Oil on Linen

You describe yourself as a self-taught painter. How did you go about learning to paint?

I call myself "self-taught" because I have had no formal training. With that said, I have worked with and around so many fine and accomplished painters over the years. One of my biggest periods of growth was from 1979 to 1982. I met George Van Hook, James B. Moore, Curtis Otto, Doug Ferrin, Stock Schlueter, George Durkee and others in Eureka California. I worked along side Van Hook, Moore and Otto a lot. Van Hook and I painted everyday together for at least three years. We worked hard, 12 hour days, every day, and loved it. George and I shared a studio for a couple of years, painting the landscape , figures and still life. I learned so much just observing how other painters, more advanced than me, made paintings work and we painted non-stop. It was a great time period. I also went to museums often to look at great paintings, did several copies at the Met and continued with figure drawing.


Learn more about Jim McVicker in our in-depth interview.
To read it and to see more of his paintings,
become a Member of The Artist's Road by
clicking here.
Already a Member?
Click here to go to the the in-depth interview.


Visit Jim McVicker's website to see more of his paintings.
All artwork copyright Jim McVicker.