Voices of Experience
Jim McVicker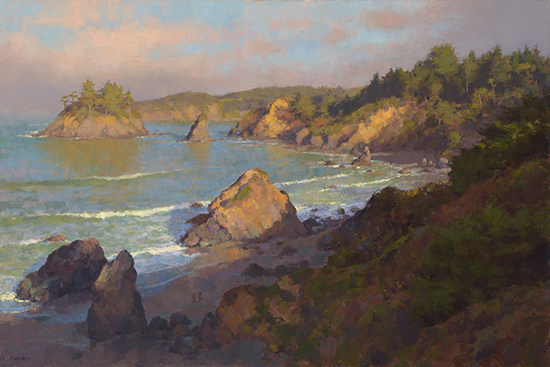 Morning Shadows Trinidad State Beach 24 x 36" Oil


"I only hope to keep painting,
and hopefully never settle into a comfort zone,
so that I keep pushing myself for a greater understanding, full of surprise, wonder at nature and beauty, and doing the best work I can."


Jim McVicker recently (March 2014) won the Southwest Art Award of Excellence AND The Franz Bischoff Award for Best Still Life at the California Art Club 103rd Gold Medal Juried Exhibition.
At what point in your life did you know that you wanted to be an artist? Did you receive positive encouragement from your family?

I didn't know I wanted to be an artist until I was 21. Other than high school and community college, where I had little art, mostly ceramics, I had never painted or really thought about it. I did have many friends who were artists and musicians and those were the people I found most interesting. At 21, my artist girlfriend gave me a set of paints and access to her art books. I started reading about, looking at and doing copies of French impressionist landscapes. I also took life drawing and painting classes at the local community college. No real fundamentals were taught but I was hooked and knew almost immediately that I would become a painter and spend my life doing it. By the time I was 24, I quit my job and have been painting full time since. That was 1975.

Were there other artists in your family growing up? If so, did they play a role in your decision to become an artist?

I didn't see or have art in the house while growing up. It was not on my parents' radar. I did have an uncle who painted as a hobby and my Dad's cousin was an illustrator in New York City. We met later on when I was in my 40s and stay in touch with each other. My parents were not initially happy with my decision to paint full time but they supported my choice and by 1980 they knew I was committed for life. My mother passed away a few years ago, but she and my father have been to most all of my shows, are huge fans and really have embraced the art world I'm part of.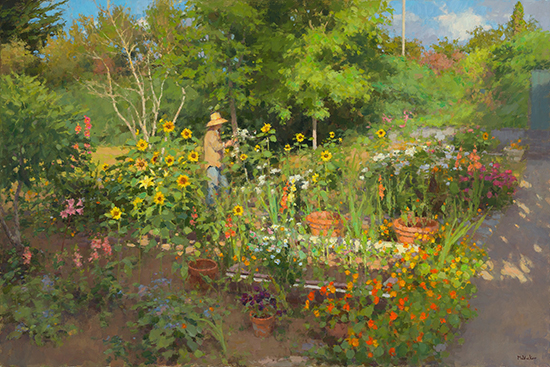 Summer Garden 36 x 54" Oil on Linen


You are married to another painter, Terry Oats. We are also an artist couple. Would you share your observations about the unique nature of this kind of relationship? Are there advantages to being married to another painter?

My wife Terry and I met in 1984. We were married in 1988. She was working as a graphic artist when we met but has painted full time since 1988. I think there are great advantages to being married to another artist. We have such a love for each other and our lives as artists. She also paints the landscape as well as figurative work. Her input and influence on my work makes me a better painter. I love to see what she comes up with when we are out on the landscape or when I walk into her studio. I'm so often surprised and excited to see her interpretation of a subject. A point of view different from mine, yet just as valid, fresh and vital.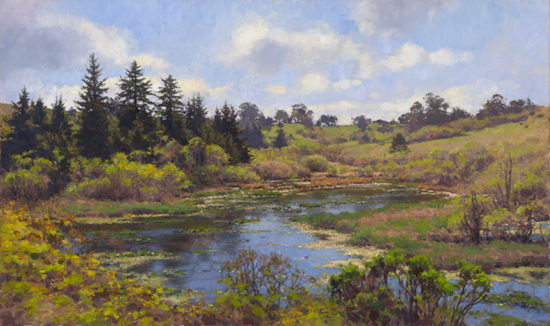 Spring Pond 24 x 40" Oil on Linen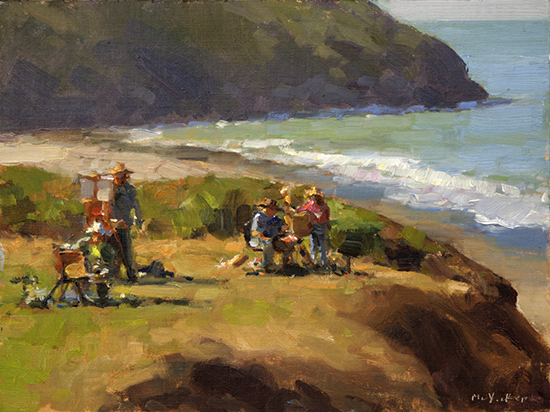 Bluff Painters Four 9 x 12" Oil on Linen Panel

You describe yourself as a self-taught painter. How did you go about learning to paint?

I call myself "self-taught" because I have had no formal training. With that said, I have worked with and around so many fine and accomplished painters over the years. One of my biggest periods of growth was from 1979 to 1982. I met George Van Hook, James B. Moore, Curtis Otto, Doug Ferrin, Stock Schlueter, George Durkee and others in Eureka California. I worked along side Van Hook, Moore and Otto a lot. Van Hook and I painted everyday together for at least three years. We worked hard, 12 hour days, every day, and loved it. George and I shared a studio for a couple of years, painting the landscape, figures and still life. I learned so much just observing how other painters, more advanced than me, made paintings work and we painted non-stop. It was a great time period. I also went to museums often to look at great paintings, did several copies at the Met and continued with figure drawing.

What other artists' work do you look at regularly - historical and/or contemporary?
If you could spend a week painting and visiting with one artist from history, who would you choose?

I look at all kinds of art and other artists. I really enjoy looking at my fellow local contemporary painters to see what's going on here and around the country and beyond. I love seeing what Terry is doing on a daily basis, as well as my many painter friends. I'm always curious to see what they are up to. I see Van Hook's work often but through jpegs. It's a good feeling to know all these friends I have had for 35 years are still painting. I love the work of Marc Dalessio, Joseph Paquet, Andy Evansen, and many others. Historically, Monet, Pissarro, Sisley, Rembrandt, Vermeer, Valazquez, Sargent, Homer, Eakins, Levitan, Bellows, the list goes on and on.

I think I would love to spend a week painting with Pissarro. His early and mid career works are so earthy, honest and so beautifully painted. Nothing slick about his work. He also seemed to be a very generous person.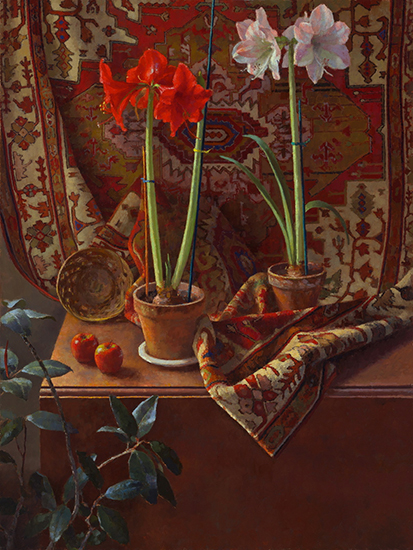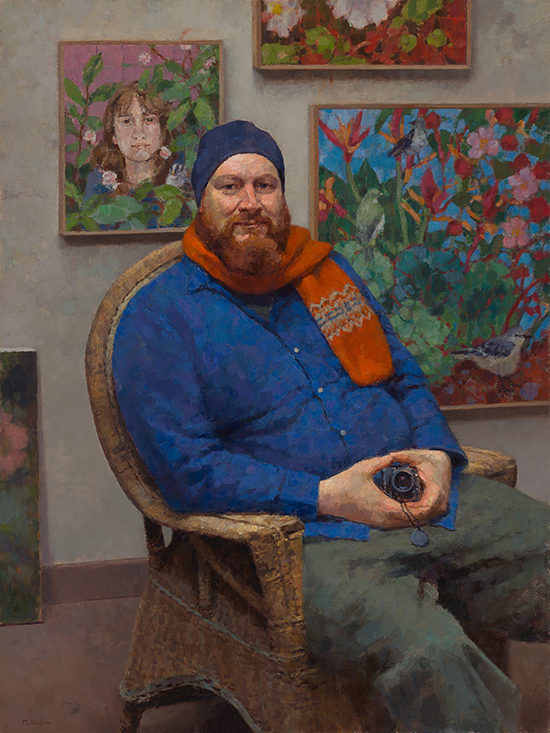 Two Amaryllis 48 x 36 " Oil on Linen Portrait of the Artist Andrew Daniel 48 x 36" Oil on Linen
Is painting outdoors necessary for your studio work? What approximate percentage of your painting time is spent in the studio and what percentage is spent painting outdoors?
Most if not all my landscapes are painted on location - from small to very large. I make adjustments and changes in the studio and sometimes I will do a large piece from a study and photo references. I paint still-life and portraits in the studio. I always feel the need to paint from life. I love the energy, the changes, the risk, and the need for great focus and quick decisions. I have often painted a large piece over a two-year period. If I don't complete it I'll set it aside and bring the painting back out on location the following year at the same time. Working from life there is always the unknown and the day-by-day changes, even when painting at the same time with the same weather conditions. I don't like the idea of freezing a moment with a photograph and then taking that into the studio to paint. T
he process of working from life gives me a fresh, personal and evolving view.
What is it in a landscape that sparks your creative juices - the light, the composition, the subject?
It's always the light, the shapes and atmosphere that get my mind and hand in motion.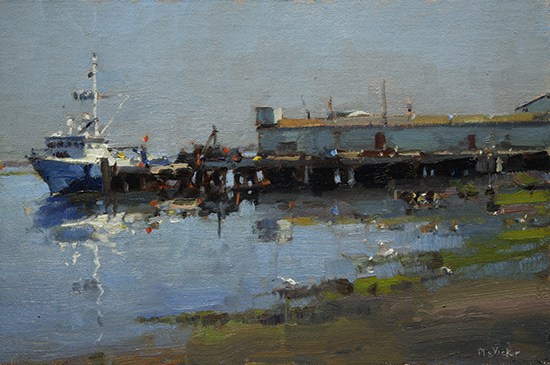 Fields Landing 8 x 12" Oil on Linen Panel
Do you travel to find good subjects or prefer to mine your own backyard?

I like all kinds of subject matter but find most of it within a couple of miles of our home as well as our own yard, garden and views from the house and studios. I also love the coastline just north of us. We have had many camping trips to Yosemite and other areas over the years. What a great way to work. Three weeks of painting in a beautiful environment, no phone, no news, no computer, just the basics, food, painting and rest.

Your use of color is very sophisticated and harmonious. Do you manage your color by creating color strings before you start a painting or just proceed out of intuition and experience?

I never mix color beforehand, always mixing what I see as I paint. I believe in intuition and responding at the moment. Of course experience plays a huge role and I've learned what colors work for what I'm seeing. I dislike any kind of formula as a way to approach painting.

I have been asked about my palette so I will list my colors here, from Titanium White in the front and moving left around my palette. Cadmium Yellow Lemon, Cadmium Yellow, Naples Yellow, Yellow Ocher, Raw Sienna, Transparent Red Oxide, Cadmium Red Light, Alizarine Crimson, Cobalt Violet Light, Cerulean Blue, Cobalt Blue, Ultramarine Blue and Kings Blue. I also sometimes use Viridian Green and Cadmium Orange. Ultramarine Blue, Cerulean Blue, Cadmium Red and Yellow plus Naples Yellow, Yellow Ocher, Kings Blue, Transparent Red Oxide and White would be the pigments I use the most.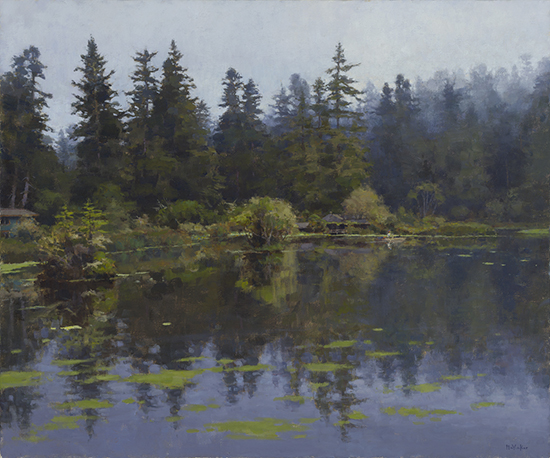 The Lake Fog 30 x 40" Oil on Linen


What words of encouragement or piece of advice would you give a beginning artist?

Trust what you see, trust your intuition, observe nature and work really hard. As George Van Hook says, "Paint, paint, paint." Great advice. I would say to a young painter those things and also, "Never allow the many difficulties and hurdles stop you from growing and painting." After painting for 40 years I still have highs and lows and bad days. I'm still learning, still growing and often when painting I feel as though I'm about to fall off the cliff, yet when I catch my balance, there is nothing like making a good painting. Look to nature, paint from life and paint what you love.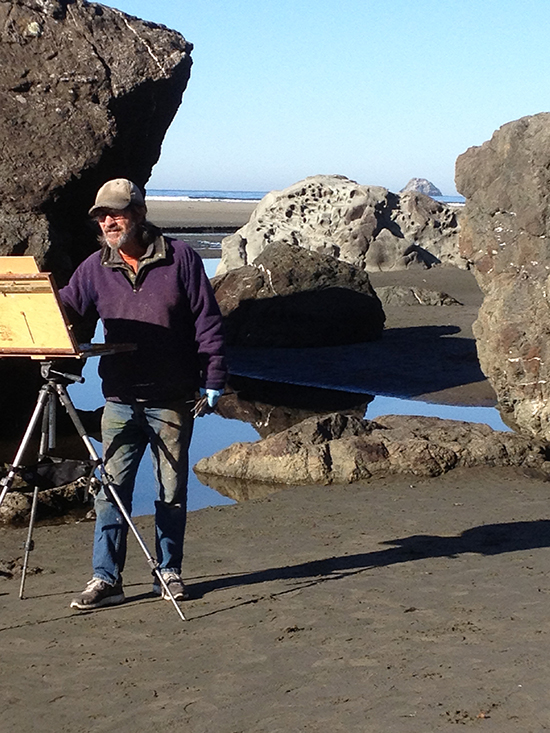 Artist John Crater observes about McVicker's work, "There's a total fearlessness and happiness in the way that he paints, and it really expresses itself in the finished work."

McVicker has shown throughout California and nationally and has won numerous awards. His work has been featured in Art & Antiques, Art of California, American Artist magazine, in the book, The Artist and the American Landscape and in the documentary, Jim McVicker- A Way of Seeing, created by Peter Granrud and John Crater.