Jill Carver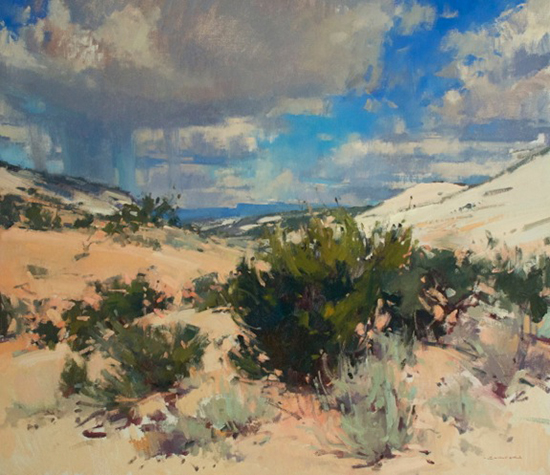 Sandstone Cedar Sage Sky 26 x 30" Oil


"Painting nature, in the very act itself, is for me,

the essence of being spiritually alive and open."


Jill Carver teaches her painting students to think of themselves as poets rather than journalists. She writes, "I want to say something 'specific' about my reaction to a place or a moment in time - to capture the essence but not the whole." Keen observation and immersion in the landscape around her gives Carver the ability to create paintings that express her own vision rather than simply rendering what is before her.

Originally from England, Carver was a curatorial research assistant at the National Portrait Gallery in London for twelve years before moving to the United States. She has since found her inspiration in the American West, basing out of Austin, Texas and Rico, Colorado.
We asked her to tell us what the process of making art means to her:

"It is fascinating to me how long human beings have been making art. That was redefined recently with the discovery of cave art in Indonesia which dates back 40,000 years. Amazing. I was listening to a BBC radio program recently on WHY humans make art. One interviewee said that 'making' was the true opposite of 'dying'. I think that is very true. You make something – it's like saying 'I was here', or 'I am here', or indeed 'why am I here?'. We all need that in our lives. So painting for me is very much about the journey, about being present in my surroundings, about recording my experiences, my passions in the world - the actual painting is a side product if you will of a much bigger experience. Painting nature, in the very act itself, is for me, the essence of being spiritually alive and open."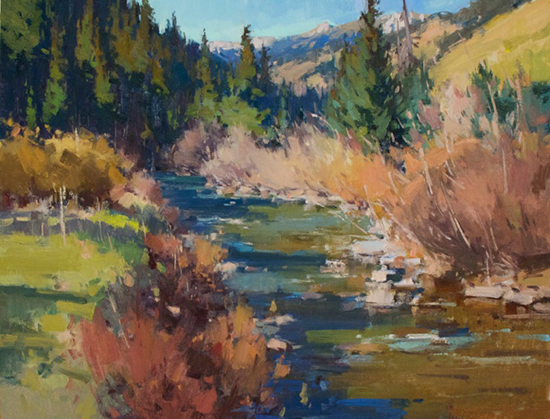 Autumn Celebration 24 x 30" Oil
Jill Carver is a Signature Member of the Plein Air Painters of America. Her work has been featured in Plein Air Magazine, Southwest Art and Fine Art Connoisseur. She has received numerous awards including the Gold Medal for Best in Show at Maynard Dixon Country. She participates in many plein air painting events including Plein Air Easton, the Telluride, Sedona and Estes Park Plein Air events. Her work has been exhibited in solo and juried group exhibitions in the United States and England.
Learn more about Jill Carver in our in-depth interview.
To read it and to see more of her paintings,
become a Member of The Artist's Road by clicking here.

Already a Member?
Click here to go to the the in-depth interview.
All artwork copyright Jill Carver.