C. W. Mundy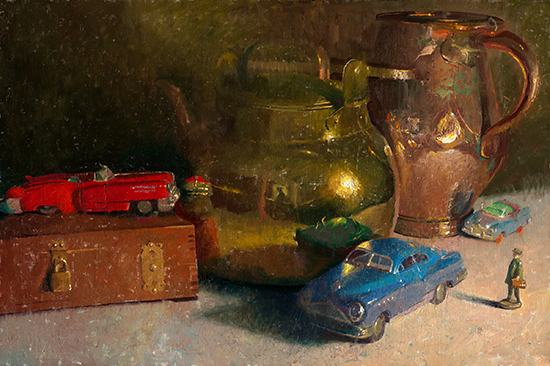 All Along the Boulevard 24 x 36" Oil on Linen 2012 © C. W. Mundy
California Art Club Gold Medal Exhibition – Franz Bischoff Award for Best Still Life, 2013

"The directorship of painting is absolutely
one of the most important skills needed by artists."
- C. W. Mundy


C. W.

Mundy has strong convictions and has expressed his views in interviews with various art publications as well as in articles he has written for International Artist magazine.
Among those articles, he outlined his "Seven Foundational Truths of Painting" (Issue No. 20 - 2001). The "Seven Foundational Truths" are the important basics of learning the skills to become a proficient artist - drawing, squinting, finding a centrality of focus, values, colors, edges and paint manipulation. But beyond the very necessary commitment to learning these skills, Mundy believes in finding a personal expression or viewpoint and challenging oneself by experimentation.
He addressed this with an article in International Artist (No. 35 - 2004) outline "The Five Building Blocks" - "Paint for yourself, not with sales in mind. Tap into your passions. Interpret your feelings. Don't just copy your subject literally. Experiment with any or all of the 'Seven Foundational Truths'. Solve your problems up front so you know how you are going to say what you want to say."
Mundy constantly challenges himself painting a diversity of subjects and experimenting with paint manipulation and mark-making. His rendering skills were honed during his thirty years as an illustrator. Since then he has worked to develop his unique expression. He wrote to us about his inspiration, his challenges and his strong spiritual background.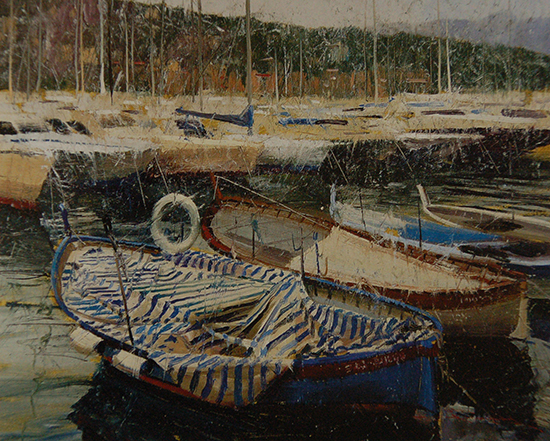 Boat with Blue Stripes, Gozzo Ligure De Tilin, Santa Margherita Ligure
16 x 20" Oil on Linen 1996 © C. W. Mundy
Learn more about C. W. Mundy in our in-depth interview.
To read it and to see more o
f his paintings,
become a Member of The Artist's Road by
clicking here.
Already a Member?
Click here to go to the the in-depth interview.

All artwork copyright C. W. Mundy.



C.W. Mundy was born and raised in Indianapolis, Indiana. He graduated with a Fine Art Degree and a Secondary Education Teaching Degree from Ball State University in Indiana in 1969 and then worked on a Masters of Fine Art at Long Beach State (CA). From an early age, Mundy demonstrated a propensity for drawing and athletics. In 1978, he combined his love for art and sports and worked as a sports illustrator for over a decade, becoming the official illustrator for Bobby Knight, head basketball coach at Indiana University. He received important commissions from the Pro Golfers Association, the United States Golf Association, and the National Basketball Association.

In the early 1990's, Mundy sought a different approach to painting and took on the challenge of painting in a more impressionistic style, going out of doors and painting "en plein air" and "from life". He studied with Dan Gerhartz and Scott Christensen in 1994, and with their encouragement and teaching, Mundy moved away from the restrictions of illustrative art to a looser brush style and freer expression in Impressionism. This painting style led Mundy to a series of European Plein Air painting trips, beginning with a trip to France in 1995 and continuing up through the present. With each trip and collection of paintings, Mundy produced a brochure and a documentary video, which was given to collectors who purchased the work.

Among his honors, Mundy was invited in 2003 to Master Signature Membership in the national organization Oil Painters of America. In 2007, he achieved Master Status in The American Impressionist Society. He is also a Signature Member of The American Society of Marine Artists. Most recently, Mundy was invited to Signature Membership in the prestigious California Art Club.