Camille Przewodek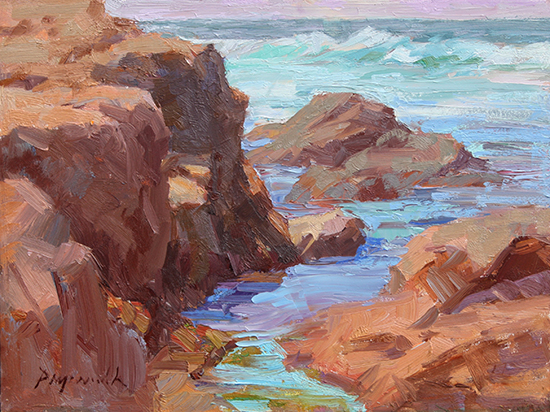 Asilomar Beach Surf 9 x 12" Oil

"Only the education of the art of seeing, unique as it is, supplies the possibility of continuous growth. As a good music teacher makes the pupil aware of finer sound tones and how to produce them, the good art teacher will make his student aware of finer color tones and how to paint them."

- Henry Hensche

Camille Przewodek credits her time spent studying with Henry Hensche at the Cape School in Provincetown, Massachusetts, as a turning point for her artwork, altering her perceptions of light and color. Hensche taught the importance of letting nature guide the artist. He is most well known for his emphasis on seeing the relationship between color and light, focusing on the "light key" or quality of light illuminating the subjects being painted.

Przewodek has herself become a master of color with a distinctive style. Her rich and brilliant colors reflect the light of the time of day and tell the viewer the story of the moment in which they were painted. She continues Henry Hensche's tradition by teaching his methods in her extensive workshop schedule. She is a member of a group of his former students who have reorganized the Cape School as a non-profit organization dedicated to passing on the principles and enduring influence of Hensche and his mentor, Charles W. Hawthorne, in educating the artist and the public in the perception and use of color and light in representational painting.

Przewodek writes, "Studying color with Hensche was a life-changing experience. I was about to graduate with a degree in Illustration from the Academy of Art in San Francisco when I first attended his summer classes in Provincetown, Massachusetts. Watching him paint, I recognized immediately that I was in the presence of a master. His work expressed a vision that was so inspiring, I was no longer interested in painting the way I had been painting. I knew it might take years to learn this way of seeing and painting, but I have struck out on this path and not deviated since. The great thing about this way of painting is that you can always develop your visual perception to a higher level, so it is my quest to become as good at seeing color as I possibly can."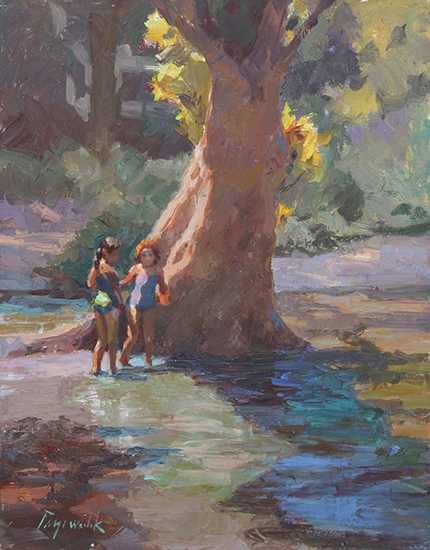 Wading Tree 14 x 11" Oil
L
earn more about Camille Przewodek in our in-depth interview.
To read it and to see more o
f her

paintings,
become a Member of The Artist's Road by
clicking here.
Already a Member?
Click here to go to the the in-depth interview.
All artwork copyright Camille Przewodek.