Voices of Experience
C. W. Mundy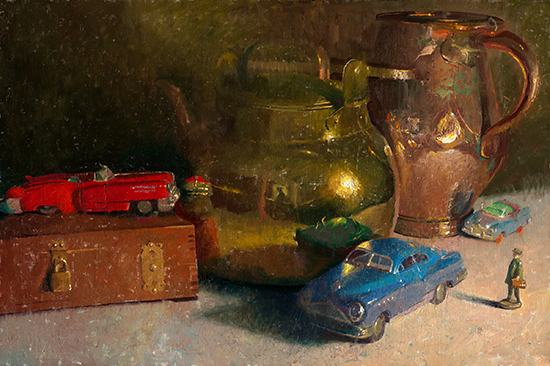 All Along the Boulevard 24 x 36" Oil on Linen 2012 © C. W. Mundy
California Art Club Gold Medal Exhibition – Franz Bischoff Award for Best Still Life, 2013
"The directorship of painting is absolutely
one of the most important skills needed by artists."
- C. W. Mundy


C. W.

Mundy has strong convictions and has expressed his views in interviews with various art publications as well as in articles he has written for International Artist magazine.
Among those articles, he outlined his "Seven Foundational Truths of Painting" (Issue No. 20 - 2001). The "Seven Foundational Truths" are the important basics of learning the skills to become a proficient artist—drawing, squinting, finding a centrality of focus, values, colors, edges and paint manipulation. But beyond the very necessary commitment to learning these skills, Mundy believes in finding a personal expression or viewpoint and challenging oneself by experimentation.
He addressed this in a subsequent article in International Artist (No. 35 - 2004) in which he outlined "The Five Building Blocks": "Paint for yourself, not with sales in mind. Tap into your passions. Interpret your feelings. Don't just copy your subject literally. Experiment with any or all of the 'Seven Foundational Truths'. Solve your problems up front so you know how you are going to say what you want to say."
Mundy constantly challenges himself, painting a diversity of subjects and experimenting with paint manipulation and mark-making. His rendering skills were honed during his thirty years as an illustrator. Since then he has worked to develop his unique expression. He wrote to us about his inspiration, his challenges and his strong spiritual background.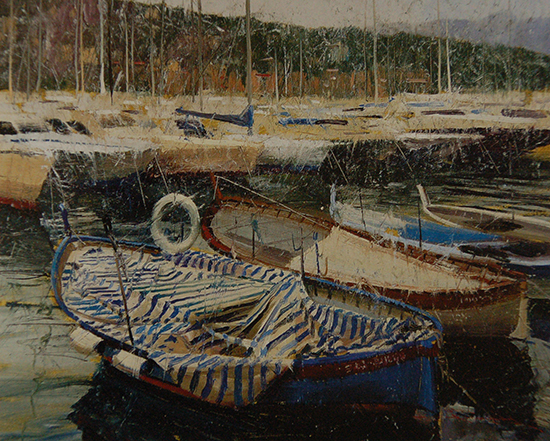 Boat with Blue Stripes, Gozzo Ligure De Tilin, Santa Margherita Ligure
16 x 20" Oil on Linen 1996 © C. W. Mundy
We asked him about how he sustains passion in his work.
I'm always searching for different ways to approach subjects from a traditional way and all the way to the modernist. If there's no adventure, there's no thrill.
Is travel an important part of keeping passion and challenge in your work?
Travel used to be a big part of it, but not so much now because we're just not traveling as much, although when I do, I'm always very excited because I never know what I'm going to get into, mood-wise, style-wise.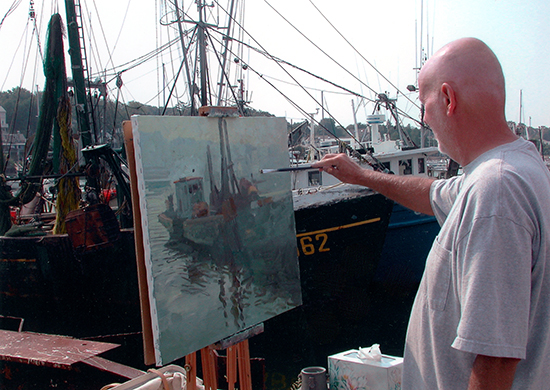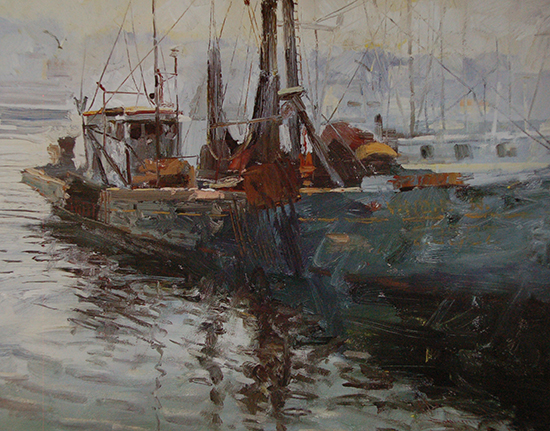 Above: C. W. Mundy Painting the Vincie N. at the Wharf
The Vincie N. at the Wharf, Early Morning 2001 24 x 30" Oil on Linen © C. W. Mundy
We have found inspiration in an International Artist magazine article you wrote talking about "fundamental truths" and the search for inspiration - talent, work ethic and spirit.
Can you tell us more about your work ethic?
I was very fortunate to have sat under the teaching of Donald Putt Putman during the 1970s. Two of the most important things he said to me were, "There are two words that are some of the most important concepts you'll ever deal with. One is 'value' and the other is 'mileage'." You have to put in at least the 10,000 hours to get anywhere with anything. The experiential process is not only critical, it's everything. So many artists today want to become a player in the art world, but aren't willing to put the hours in. Commitment has to be there.
How are you able to stay true to your own artistic growth when gallery commitments and financial needs become important?
I have had the luxury of having my own gallery for years. It was never about "What can we sell?". It was always about showing the best that I could produce. I have been blessed to be able to sell a lot of work before the national economy problems.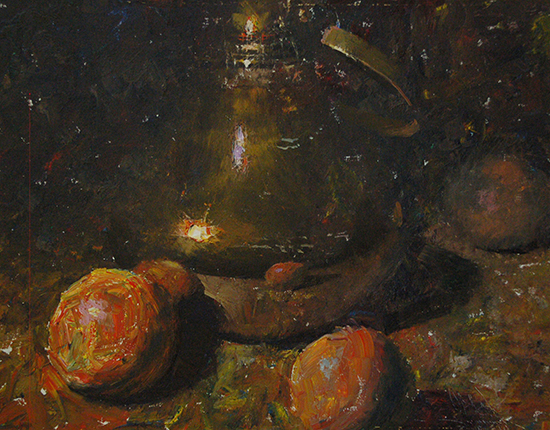 Brass with Oranges 16 x 20" Oil on Linen 2010 © C. W. Mundy
Master Signature Member Gold Medal, 20th Annual National Juried Exhibition of Traditional Oils
Oil Painters of America, 2011


The Train Station 36 x 24" Oil on Linen 2012 © C. W. Mundy
Art Renewal Center Salon 2nd Place in Still Lifes, 2013
Oil Painters of America National Exhibition 2nd Place in Masters Category, 2013
You've mentioned before that values often have to be adjusted from reality. Can you expand upon that?
When you're working with the traditional design mode with a centrality of focus, based on the history of art, you need to take these liberties to direct the viewer's eye to move through the painting. You need a starting point and usually I'll have my darkest dark in the centrality of focus, and I use that to draw the viewers eye there.
The directorship of painting is absolutely one of the most important skills needed by artists. I don't usually paint just scenes, which are basically the equalization theory, a modernist's tool for design. I like a traditional "resolve", an "anchor" to tell the viewer what I want them to look at first. The directorship of painting is every bit as exciting and important as the painting experience.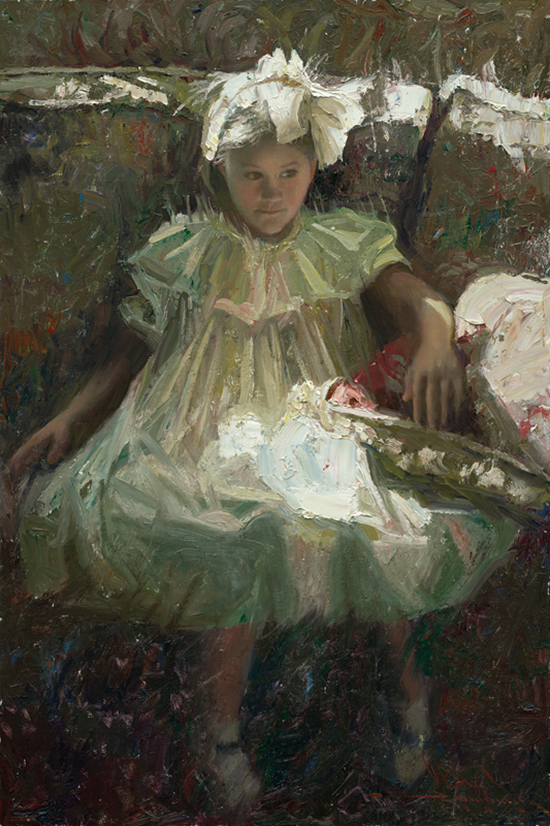 Portrait of Anne 36 x 24" Oil on Linen 2006 © C. W. Mundy
Award of Excellence for Master Signature Members
Oil Painters of American National Exhibition 2007
Can you tell us more about "equalization theory" (created by the American Modernists of the 1920s and 30s)?
I think the "equalization" theory is great if that is what you want to accomplish, to have the eye roam and not have a resolve or anchor. One of my all time favorite artists, a close friend, uses this design tool in the majority of his painting very successfully. The continual moving of the eye can actually enhance the experience of viewing the painting because by connecting the darks and the lights as abstract patterns, you can actually lead the viewer that way. The point is "direct your paintings"! Think about it in the movie industry. The movie that wins the Oscar for the Best Movie most always has its director walk on stage and pick his up as well for Best Director.



Can you tell us a little about your early life and when you knew you wanted to be an artist? Were family and friends supportive? Did you receive formal training?
My first encounter with art was when I was seven years old and did Daily Vacation Bible School posters and got positive feedback. I drew and colored Goofy and Pluto, which said "Go to Daily Vacation Bible School". I loved creating art all through grade school. I finished my work in the art classes before anyone else, and then became a nuisance to the teacher. I took all the art classes I could in high school and received a teaching degree for secondary education while taking every art class that was offered at Ball State University in Indiana. I worked on my Masters of Fine Art in Painting and Drawing at Long Beach State in California. I was mentored during that time by Donald "Putt" Putnam, who was the head painting instructor at the Art Center in Pasadena. I've studied with Dan Gerhartz, Scott Christensen, Carolyn Anderson, and Sherrie McGraw. I did an in depth study for several years concerning the great painting masters in the history of art.
Can you tell us a little bit about your process, from inspiration to final strokes on a painting? Do you typically work from life? Do you create sketches before putting brush to canvas?
I don't do sketch studies. I do the design in my mind, based on what I'm looking at. I'm not in the copy stage. I've graduated to understanding the importance of changing and controlling with my intuitiveness. I want my art to have more of the personality of me at that particular time than the subject. Otherwise, I'd take a photograph and be done with it. I do everything "from life" that I possibly can because I'm able to showcase in a better way all my imperfections and perfections. I've spent years learning how to break down a photograph to its "bare bones". The directing and editing are two of my most important procedures in figuring out what I want to say.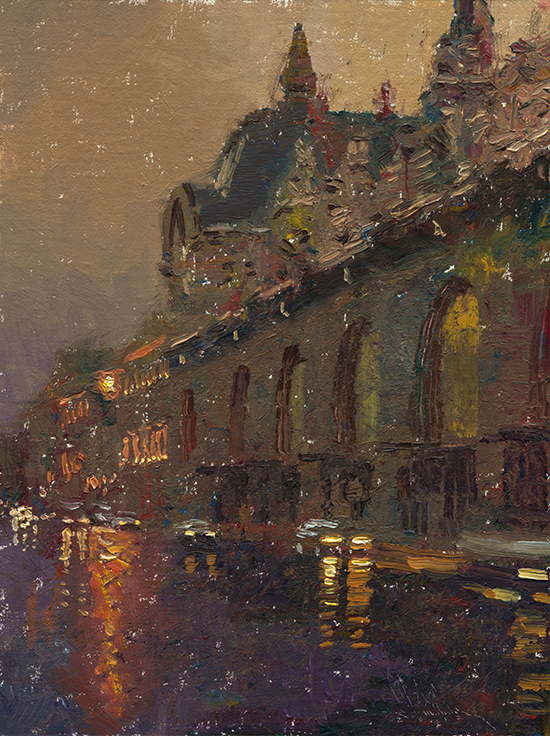 Musée d'Orsay, Paris 12 x 9" Oil on Linen 2012 © C. W. Mundy
What do you feel makes your work or style unique?
We all have our own unique DNA. My paintings are wrapped up from a lifetime of experiences. What makes me unique is that I'm always tampering and meddling in the unknown. I'm about the journey, not the product.
What do you think is the single most important lesson or tip you have learned about painting in your career?
"Let the Lord run the show!" Invite Him to come in and co-create with every piece I do, whether its art or music. The garnered advice I've received from great artists is invaluable.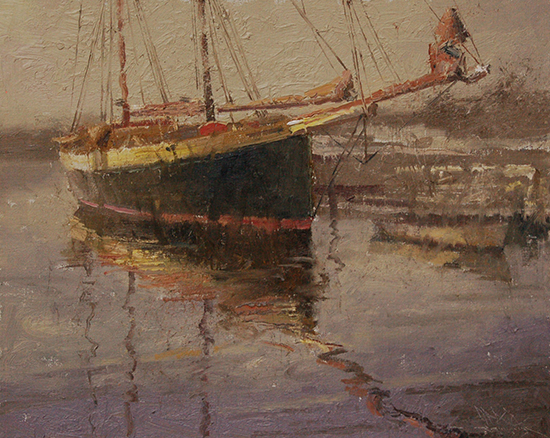 The Angelique, Camden Harbor 16 x 20" Oil on Linen 2014 © C. W. Mundy
What words of encouragement or piece of advice would you give a beginning artist?
It's one thing to launch a career, it's another thing to sustain. It's all about mileage and "value" (0-9, white to black). You have to have your whole heart into it and be committed, or it's not going to happen. The book Outliers: The Story of Success
by Malcolm Gladwell, talks about the 10,000 hours concept. A dream doesn't just come true - you have to make it come true.
C. W. Mundy is a Master Signature Member of the Oil Painters of America and has Master Status in The American Impressionist Society. He is a Signature Member of The American Society of Marine Artists and the California Art Club. He has won numerous national awards for his paintings. Mundy maintains his studio and gallery in Indianapolis, Indiana.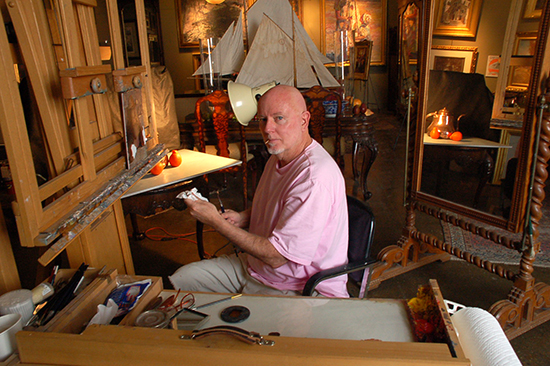 Visit C. W. Mundy's website to see more of his paintings.
All artwork copyright C. W. Mundy.