Voices of Experience
An Interview with Paul Kratter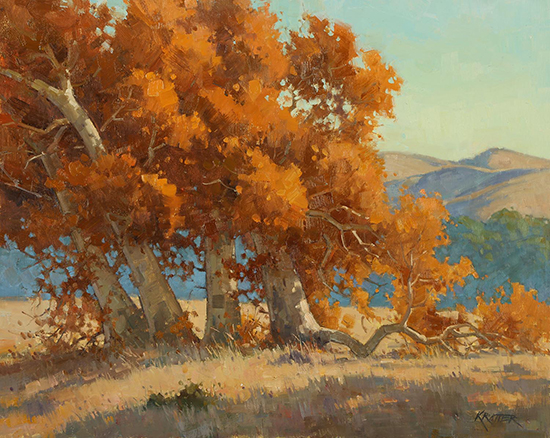 Autumn's Last Breath 16 x 20" Oil
Paul Kratter brings to his current landscape and wildlife paintings the skills learned and practiced in a long and successful career of illustration work. Illustration at its best is a form of storytelling and requires a skilled eye and hand in understanding and rendering shape and color that will draw a viewer into a subject. These skills are evident in Kratter's current work, celebrating the mountain light of the eastern Sierras and the majesty of South African wildlife. Kratter has participated in and won multiple awards in juried and invitational plein air events, is a signature member of the California Art Club and the Laguna Plein Air Painters and is an accomplished instructor. He wrote to us about growing up with art as an important part of his childhood, his formal education and career in illustration, "The Granite Group" of Sierra mountain painters and his life-changing painting trips to Africa. (Be sure to see Kratter's Step-by-Step Painting Demonstration, "The Grand View - Afternoon Edition").



Both of my parents encouraged me to draw. My choice subjects were animals and my favorite sport heroes. In kindergarten I won the San Francisco Chronicle newspaper weekly contest with my version of an elephant. My award was a pass to the zoo and an elephant key that worked the audio box. This was my first recognition and surely pushed me to continue on my artistic path.

My earliest inspirations were Charlie Russell, because my mother was raised in Great Falls, Montana and Mr. Russell once had his studio there, and; Carl Rungius, whose paintings were in an animal book by National Geographic. At a young age I recognized how talented they both were.

I attended ArtCenter College of Design in Pasadena, California (where I met my future wife.) I had many great teachers but, one of them, who was never my official teacher, who stood out was Craig Nelson. He gave me critiques, let me sit in on his classes and even helped me after I graduated. Later he became the head of the fine art department at the Academy of Art University in San Francisco and I was an instructor under his leadership. Dwight Harmon and Joseph Henninger were strong influences as well. My best friend, Larry (Lawrence) Carroll, who also was a fellow student at ACCD, was one of most influential artists I've ever known.

As an illustrator, my work was defined by strong drawing skills and a solid understanding of composition and dynamic value patterns in my work. Those skills hold true today. I consider myself a Designer of Shapes. I have used a variety of mediums from pen and ink, watercolors and also acrylics. I did a number of illustrations on "blue lines", which are like architectural blue prints. Two posters I did for the Nature Company were honored with inclusion in the Communication Arts Annual in 1988.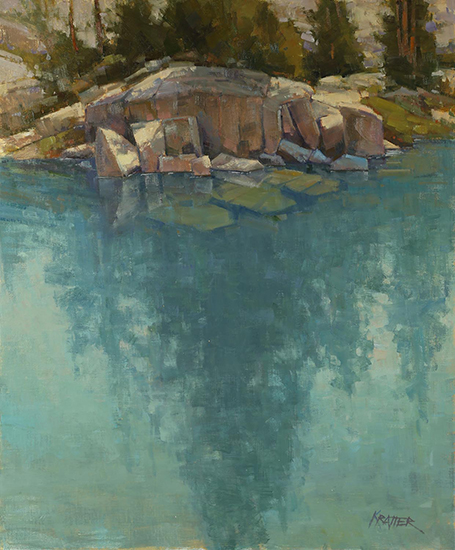 Gem of a Reflection 24 x 20" Oil

In 2002, I went to the first Sonoma Plein Air event. I was so taken by the work that the next day I went out and bought a set of oils. I began painting in the hills near our home in Northern California. I have never looked back! I do not have a mentor per se, but two of the most influential and talented artists I paint with are Bill Cone and Carol Marine. They are truly gifted, work hard and share their knowledge with others.

I have many influences—Edgar Payne, William Wendt, Sam Hyde Harris and Percy Gray—the California Impressionists. My wildlife influences include Robert Bateman, Carl Rungius & Bob Kuhn. My contemporary plein air artists are Scott Christensen and Carol Marine to name just a couple. Both of these artists have great books about their work. Carol's book is comprehensive, mostly about her painting process.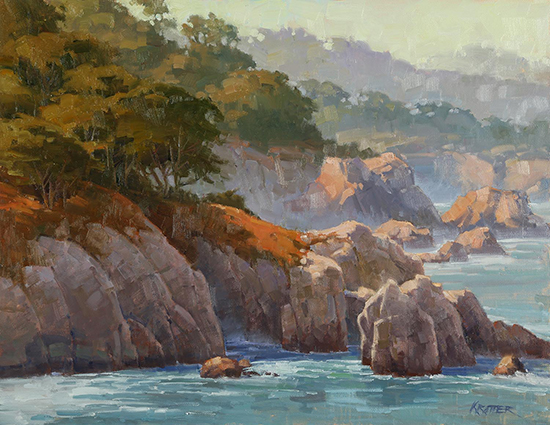 Coastal Layers 14 x 18" Oil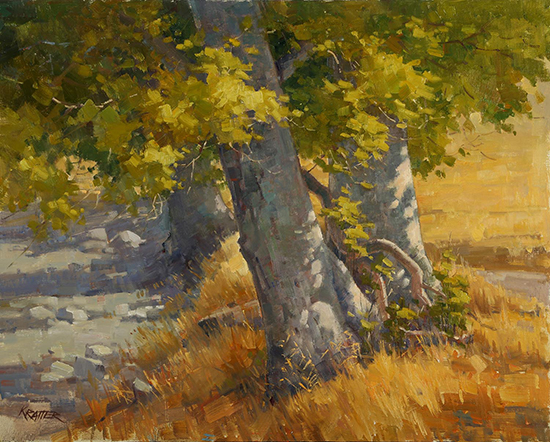 Creekside Autumn - Curry Canyon 16 x 20" Oil

We know that you find great inspiration in the California landscape and in particular, the Sierra Nevada Mountains. Tell us about the Granite Group of painters.

The Granite Group was started with my great friend Bill Cone (Pixar Animation Studio). We head out to the Eastern Sierras, usually staying five nights. Most of us hike into the mountains, although a few ride in. For seventeen years we have brought only artists along with us and a hired cook. We paint from sunup to sundown! We've had over forty artists join us. Last year, however, when I dislocated my knee cap a few weeks before the trip, I had to back out.

Every trip has been special, but one stands out among the others. In 2015 the trip was just about finished and we headed out for the long, nine-mile hike back. I said to Bill, "It's amazing that no one has gotten hurt on our trips." (I forgot to knock on wood.) Just a short while later, I fell on the steep part of the trail and landed with all the weight on my left knee. It dislocated as I fell in a heap on the dirt. I was in an awkward position but no one dared move me. Needless to say, I was in quite a bit of pain. One of my friends had a satellite phone and put out an emergency text.

It took over five hours for a helicopter to show up as there were many fires in the area. My friends were so concerned trying to comfort me as best they could. All the medications I could have used were on the pack mules who had to take a different route down. A Search and Rescue team member put me in a basket and the whole group carried me one careful step at a time down a ravine and across a stream where the helicopter could now lift me up to safety and take me to Mammoth Hospital. I had surgery, which just happened to be on our 34th wedding anniversary! I'm sure we will never forget where we were that day. Many might think that this was awful and it was for me, but I sure found out how caring and loving everyone was. Thanks to Bill, Ernesto, Aimee, Lori, Suzie and Carol and to the Mono County Search and Rescue team. You are always in my heart when I'm up in the mountains.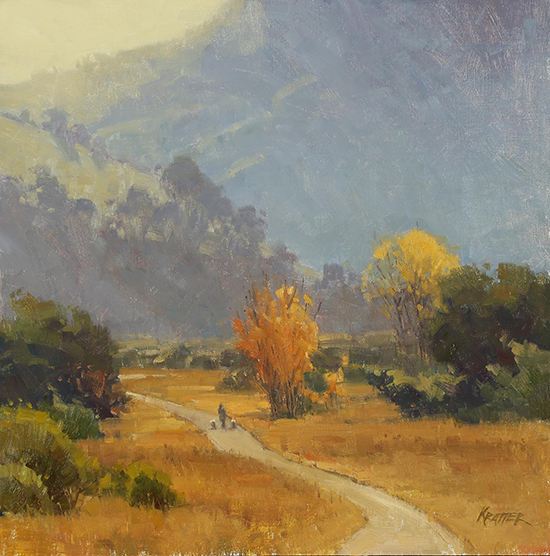 Mari's Walk 16 x 16" Oil



Let There Be Light 9 x 12" Oil

What other landscapes have you had the opportunity to paint?

I have been very fortunate to paint throughout the United States at a number of plein air events from Sonoma Plein Air, Laguna Plein Air Association Invitational, En Plein Air Texas, the Celebration of Art in the Grand Canyon to Plein Air Easton. I've also painted in the amazing Brittany, France with twelve very talented artists; Venice and Sappada Italy, where my grandfather was born; and, then three times in Africa.

My wife Tia, a very accomplished watercolorist and long-time art director at Pixar Animation Studio, has encouraged me to focus my studio time on my love of African wildlife. I finished thirty animal paintings for a book entitled African Sketches that will be published later this year. I have also done a number of endangered wildlife paintings on some unusual, metal surfaces. During this time, Nancy Atheron West introduced us to Global Conservation Corps, a non-profit with 100% of contributions going to the organization. There are no administrative costs. The unusual aspect is that people come first. If the wildlife in South Africa is to be protected, then the people must feel engaged and know they are cared about. With our family's donation of artwork by myself and our son, Joel, we are producing a calendar with 100% of the proceeds going to GCC. Too see how brave these young adults are, watch the two-minute trailer to Rhino Man on You Tube. There is a truism once you visit Africa—Africa is now in your blood and you will return again!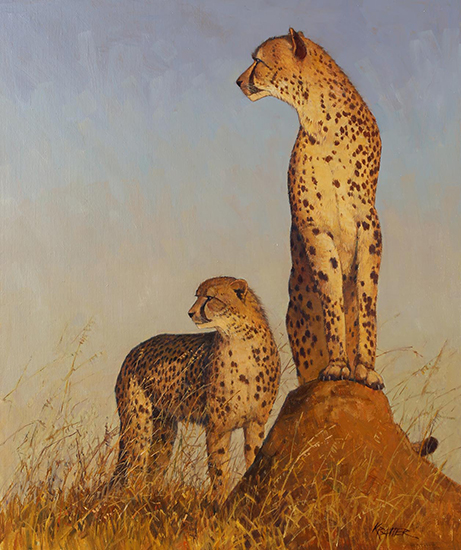 The Surveyors 24 x 20" Oil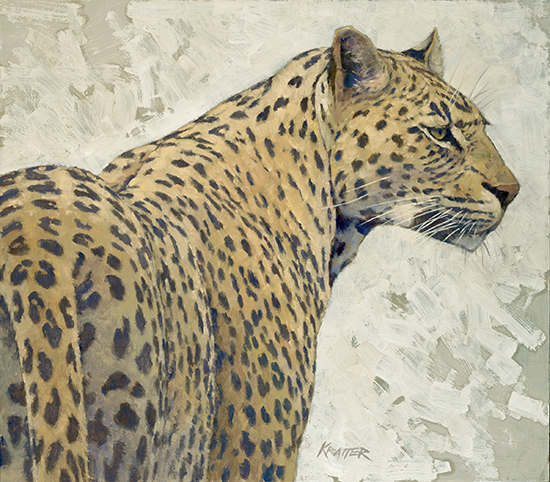 Leopard Print 16 x 18" Oil on Wood Panel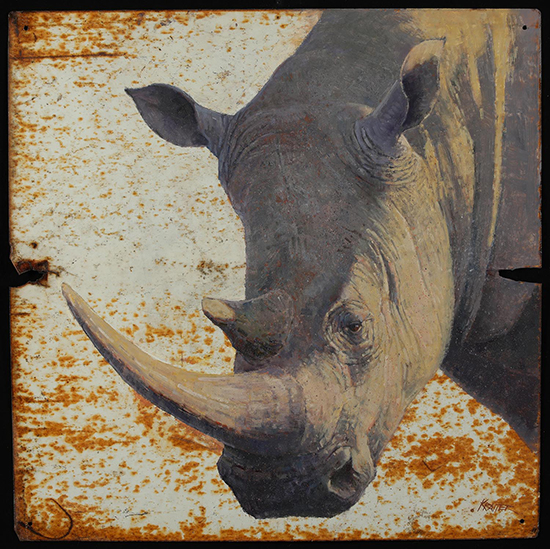 Free to Roam 24 x 24" Oil on the Back of a Highway Sign

How do you begin your work? What do you look for in a landscape?

I am shape driven—that's what I always look for—an interesting shape. I love trees. They serve as my portraits and I'm always on the lookout for ones with character. I almost always do a thumbnail sketch. First off, I ask myself if this scene is worth painting— that's what the sketch is for. Once in a while I tear it up because it wasn't worth painting. The sketch serves two purposes: to establish about five to eight distinctive shapes and to divide the value scale into white, black and two mid-tone grays. I use a ball point pen and a 6 x 8" sketchbook. I fit two sketches per page. I do use photos in the studio. I much prefer painting my landscapes en plein air. My animal pieces are done from photos. I do recommend sketching live from pets or going to the zoo to really observe something alive.

And what materials do you use?
Oils (all of these are Sennelier Fine Artists Oils): Turner Yellow, India Yellow Orange, Cadmium Orange, Cadmium Red Medium, Alizarin Crimson, Dioxazine Violet, Manganese Blue, Cobalt Blue, Sap Green (Gamblin) and Titanium White

Brushes: Robert Simmons or Princeton, numbers 2-8 brights

Panels: New Tradition Art Panels, C13, 8 x 10" - 16 x 20" for outdoors, up to 30 x 40" for studio work

Easel: Open Box M, 9 x 12" for plein air and 11 x 14" for the studio

Tripod: Pro Master with a ball joint

Others: Turpenoid and tin cup, sketch book and drawing instrument, paper towels and garbage bag, flat edge utility blade for cleaning up the palette, Murphy's Soap for cleaning brushes and wet box carriers for wet paintings

I primarily work in oils but I've added gouache to both my plein air work, studio, wildlife and Africa work. Because gouache is compact and requires just water to clean up, I take it on my trips to South Africa.

Gouache (Winsor & Newton): Cadmium Yellow, Cadmium Orange, Cadmium Red, Alizarin Crimson, Windsor Violet, Ultramarine Blue, Cobalt Blue, Phthalo Blue, Turquoise Blue, Olive Green, Sap Green, Neutral Gray 3 and Titanium White

Brush: Isabey 7

Paper: Strathmore 400 series Art Journal, 10 x 7", 140 lb.

Water Color Palette—that's the name

Others: paper towels, water container, and mister bottle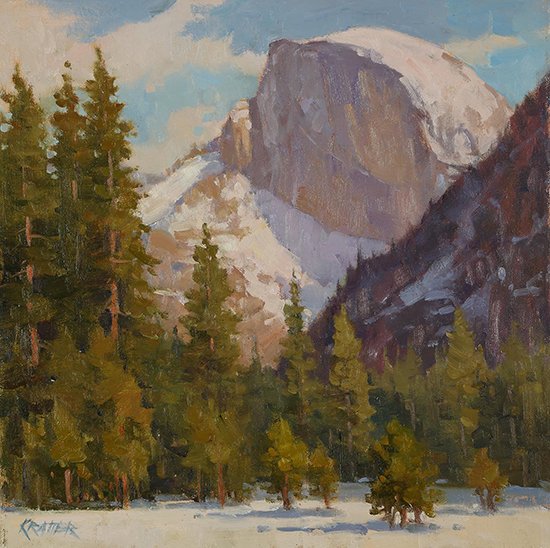 Half Dome with Winter's Cap 12 x 12" Oil
The pandemic has eliminated a lot of in-person classes and workshops, but what advice do you normally give your students when you are teaching workshops?

I think that sketching and drawing are the keys to representational work. Draw everyday objects at home from different points of view. The key is to observe. If you're outside, then walk around your subject, get closer or far away. Maybe the best view is from the other side, or maybe a different time of day is best. Then do your sketch. Go out with friends and learn to constructively critique each other's work. Always start with what's working. Join a local group. Some of these meet once a week or once a month. I have a group and we go out two to three times per week.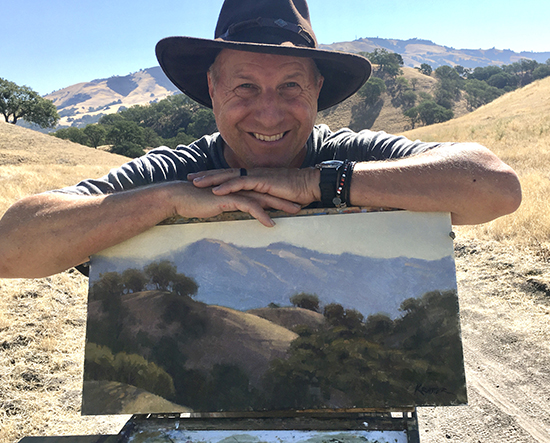 To see more of Paul Kratter's work,
go to: http://www.paulkratter.com
All artwork copyright Paul Kratter