Voices of Experience

An Interview with Susan Mayfield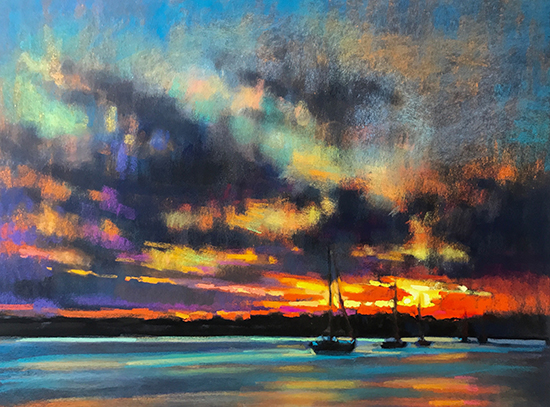 Mooring Ground Pastel

"Artists who paint the landscape

have a unique opportunity to bring awareness

to the general public of the importance of

preserving our most special places."

Susan Mayfield lives in two worlds—the lush and verdant Lowcountry of South Carolina, and the high mountain desert of central Colorado. She translates these diverse landscapes into vibrant and dynamic pastel and oil paintings. Mayfield has exhibited her work across the southeast and western United States, gathering accolades for her paintings, including several Best in Show awards and multiple Quick Draw awards at plein air painting events. She shared with us the evolution of her artistic career, her mentors, her inspirations and her aspirations.

"I grew up in a typical suburban household in the 60s and 70s in Charleston, South Carolina. I had very little exposure to art as a child. There were no art classes in my high school. I was a daydreamer in school, and filled the margins of my notebooks with sketches of cats, eyes, faces. My family had a set of children's books illustrated by N. C. Wyeth, and on field trips to the old dusty Charleston Museum, I thought the painted dioramas were magical and had dreams of one day becoming a diorama illustrator.

Our home overlooked the Wando River, across the tidal harbor from historic Charleston. Water surrounded us, and the marshes, swamps, nearby beaches were my playground. The old city of Charleston in the years before it was discovered by tourists was a wonderland of sights, colors, scents. These images made an indelible impression—places that are still among my main inspirations.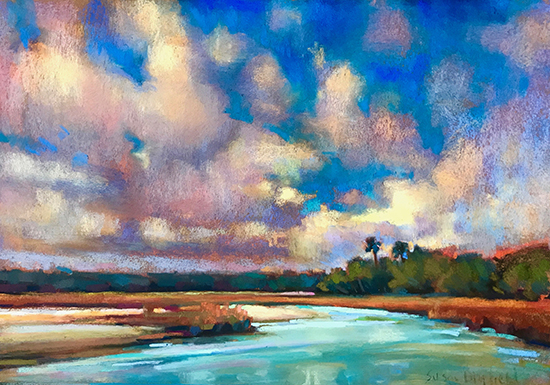 Jeremy's Inlet Pastel

The possibility of becoming an artist was not on my radar at all when I entered the College of Charleston intending to major in physical therapy. I signed up for a few art courses to fill out my schedule, and when I took a drawing class, something clicked and I could SEE. It was like a switch was turned on, an epiphany. I teach students that, yes, you CAN learn to draw, because it happened to me. I found I had a knack for doing portraits, and started thinking maybe I could do this, something I actually love. My C+ in biology classes was further reinforcement, and I changed my major to printmaking.

I was fortunate to work with some of the more influential artists of the time in Charleston, William Halsey and Corrie McCallum. I found my greatest inspiration in art history books and was able to take several trips to New York City museums. On a college trip to New York I saw an Edward Hopper retrospective, and was never the same. I'm still a big fan of my favorite artists from college years: Wayne Thiebaud and Fairfield Porter. I closely studied the ethereal watercolors of Charleston artist Alice Ravenel Huger Smith. She was one of the main characters in the fascinating history of women painters in Charleston in the early 1900s after World War l in what is known as the "Charleston Renaissance", when artists, writers, poets, architects and preservationists created a cultural renewal in the city. Probably the one artist whose life and work has had the most profound influence on me was Georgia O'Keeffe.

After graduating from college, I no longer had access to a printing press. Like many others in the Charleston area at the time, I worked in watercolor. I was doing watercolor portraits as income, and wanted to do landscapes. I took a workshop with New York artist Reeve Schley, who was doing interesting paintings, and Alex Powers, a South Carolinian doing bold, powerful watercolors. I kept wanting to add light on top of these watercolors, so would use pastel liberally on the surface, and eventually gave up the watercolor all together.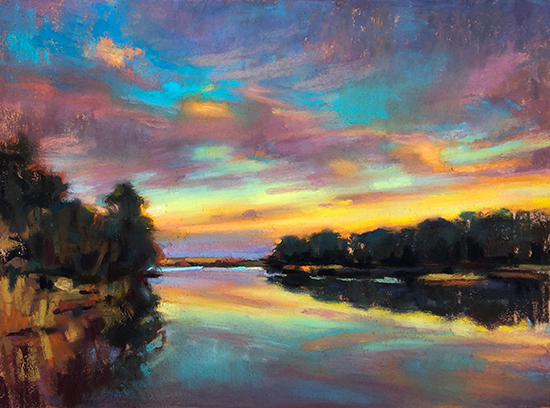 Rice Fields, Late October Pastel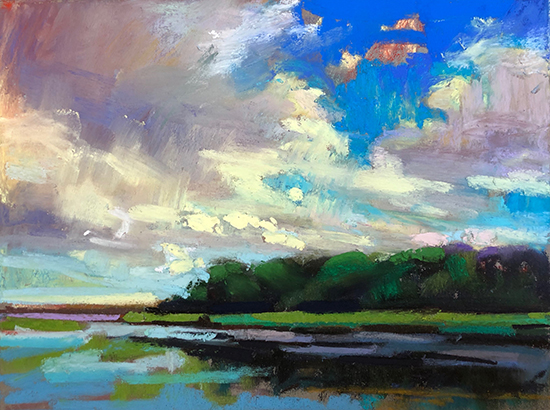 Rice Fields, May Pastel

Not many artists were doing pastels at the time. The supplies readily available were Rembrandt pastels and Canson paper, but I discovered a set of Schminke soft-as-butter pastels, using them on sandpaper from the hardware store, and was hooked. I got some books by Albert Handel and took a workshop from him. Later, I studied briefly with Doug Dawson.

My obsession with Georgia O'Keeffe led me to visit my good friend and mentor, artist Eva Carter, who spent summers at a ranch outside of Santa Fe, and I was hooked—on New Mexico, on the Southwest and with landscape painting. I took workshops at Ghost Ranch near Abiquiu and later at the Fechin Ranch outside of Taos with Michael Lynch and Matt Smith, which launched my plein air journey.


Hollyhocks Pastel
Balancing between South Carolina and Colorado, are you working more in the studio or on location outdoors?
I paint en plein air as much as possible. For the past 13 years, I've split my time between Salida, Colorado and South Carolina. I keep a studio in both places. The dichotomy of Southwest/Southeast keeps life interesting. While in Colorado, in the fall, I pack up my Volkswagen camper van with supplies and go on the road, doing a few plein air festivals. I have always carried a camera—now I use my iPhone solely, and continue to take many, many photos for reference. I get more info and inspiration from blurry photos. I'm really not interested in photographic details. My process is a combo approach of gathering info with small plein air pieces and photos and then working larger in the studio. I find the time spent painting plein air informs my studio work with a better understanding of color, particularly in shadows, and it helps me from overworking my paintings. I have two sizes of Heilman pastel boxes that convert to easels when attached to tripods, that I use these in my pastel plein air work.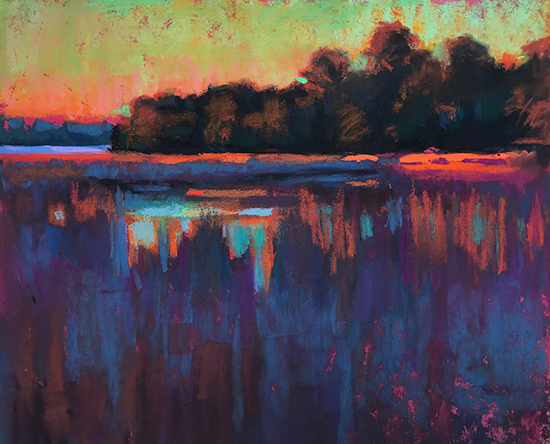 Last Light Pastel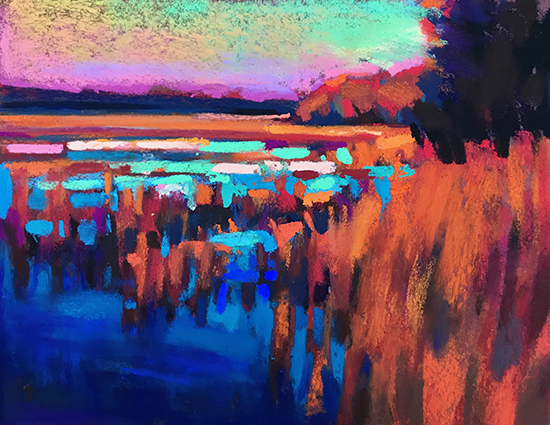 Winter Marsh Pastel

I love the immediacy of pastel, the vibrancy. Pastel artists have to deal with covering the paper surface with small sticks, so large work in pastel can be a bit problematic, thus my pastels are generally 30 x 40" or smaller. I generally use UArt sanded paper 400 grade, mounted to archival foam core, a sturdy surface that accepts a solvent. I always use toned paper. I do thumbnail value sketches in a notebook, then draw in my design on UART paper with very loose, thinly applied pastel and apply a wash with alcohol using a brush. I often use complementary colors in my initial wash. For example, if my subject has a lot blue sky or blue water I will use orange, Burnt Sienna, magenta in the underpainting. After the wash dries, I block in with thin layers, then finish with thicker, softer pastel strokes, more in the focal areas. Pastel has to be framed with glass to protect it. I always use Anti-Reflective (AR) glass. It's more expensive, but worth it.

Less is more in oil paints and I was taught to use a limited palette when working in oil, but more is more in pastels, and I want access to as many colors as possible. I use a variety of soft pastels—my go-to brands are Terry Ludwig and Sennelier, supplementing with Unison, Mt. Vision, Blue Earth, Diane Townsend. I also use a variety of already toned pastel paper, such as Sennelier La Carte, Richeson pastel board and Claire Fontaine Pastel Mat. I sometimes make my own pastel surface by using paper that does not warp when wet such as Arches watercolor paper or Arches Oil paper, tone the paper with acrylic paint and apply clear Liquitex Gesso. There are so many options for pastelists these days, and I like to experiment with the possibilities.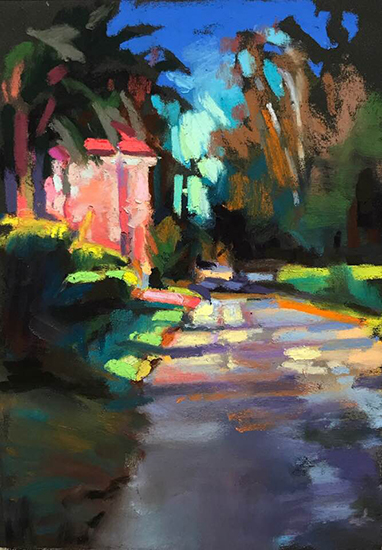 Pink House Pastel
Please tell us where you find your inspiration and what your aspirations are for your work.

I get inspiration and subject matter from a variety of sources: music, poetry, hiking, driving cross-country, looking at paintings by some of my favorite artists—Tom Thomson, Birger Sandzen, Peggi Kroll Roberts, Edgar Payne, Joaquin Sorolla, Charles Basham, Russell Chatham, Len Chmiel, and many others.

Spending half my time on the southeast coast, water is everywhere, and I paint it in all its incarnations—the rivers, creeks, swamps, and ocean. The other half of my year is spent in the high mountain desert of the southwest, where water is a scarcity, but I still search for it to paint, in the rivers that carve the great canyons to the alpine lakes. The contrasts between the heavily canopied southern landscape and the wide-open big skies of the west fascinate me, and I'm fortunate to be able to live and work in two such dramatically different yet stunning geographies.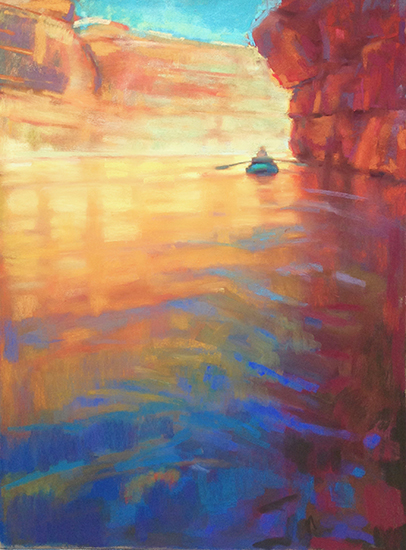 Still Waters, San Juan River Pastel
I attempt to tell a story in my paintings. I pick out the most important thing, the focal area, and try to weave an interesting visual trail to that place. My goal is for a painting to make you want to walk over to it from across the room. I amp up the color, the value, and tweak the composition to make it more visually interesting. When it works, it connects with the viewer on some level, visually, emotionally. I teach workshops on ways to create bolder, more interesting, more dynamic images. It's a constant mission in my own work.

In the last decade I've become involved in conservation groups and issues in both the southwest and the southeast. As primarily a landscape artist, my subjects are some of the most beautiful and wild places left, and I am grateful to be able to have these places to paint. I want to bring awareness to the importance of protecting and preserving these landscapes. As an advocate and big fan of public lands, living in Colorado, I have access to abundant wilderness to paint. In the southeast, most of the land is privately owned, and conservation trusts are the means of preservation. Artists who paint the landscape have a unique opportunity to bring awareness to the general public of the importance of preserving our most special places. I intend to do this, with joy, for the rest of my days.

To see more of Susan Mayfield's work,
go to: http://susanmayfield.net

https://www.instagram.com/susanmayfieldart

All artwork copyright Susan Mayfield