Voices of Experience

An Interview with Kim Lordier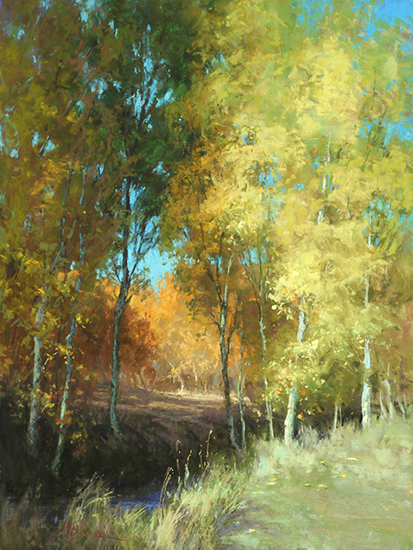 Autumn Fairies 24 x 18" Pastel

Kim Lordier's rich and vibrant pastels evoke the dramatic light and landscape of the paintings of the early California Impressionists. Her work has been placed in museum collections and has received awards across the country in juried exhibitions and at plein air events. Her notable resumé includes signature membership in the California Art Club, the Pastel Society of America and the Laguna Plein Air Painters Association. She has been named a Distinguished Pastelist by the Pastel Society of the West Coast.

LIke many artists, Lordier began drawing as a child, continuing to draw and paint animal portraits in high school and while a student at the Academy of Art in San Francisco. She credits her parents for their support and encouragement of her creativity. She wrote to us about her growth as an artist and the evolution of her luminous pastels.

I was fortunate to attend the Academy, where I received a BFA in 1989, in Illustration. However, looking back, I wasted a lot of time not believing in my creativity and feeling intimidated by the amazingly talented and driven students. It wasn't until I was exposed to the early California Impressionists through an exhibition at the Oakland Museum, and watched an artist give a plein air demonstration in 2001, that I really found a personal inner drive to create.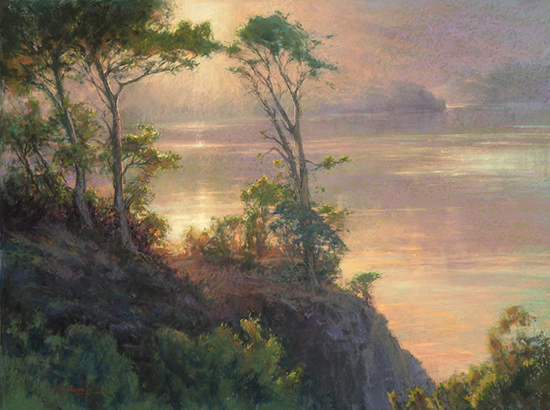 The Gift of Time 30 x 40" Pastel

Before painting full-time, Lordier spent years as a flight attendant, but continued to paint animal portraits to help support her competitive horseback riding. We asked her if her travels influenced her love of the landscape and her painting today.

My favorite thing to do while flying was to finish the service and find a window seat to watch the earth and clouds go by, or, head up to the cockpit to see out the front. The most incredible things happen up there. One night I was on an all-nighter from San Francisco to Boston, where we took the polar route. Everyone was sleeping, and I went up front. The earth was blanketed in a huge electrical storm, flashes and glows all over below, and the Northern Lights to the north of us, and just a hint of dawn along the curvature of the earth at the horizon—I will never ever forget how incredible that was to experience.

As a kid, I remember just staring out the window at the landscape whenever we were on the road. One of the first areas I regularly painted from life was a beautiful grove of Eucalyptus trees that I saw all the time as a child from the freeway. I always felt a strong sense of peace and wonderment when young, and the area continues to inspire me to
this day.

When you decided to focus full-time on painting, did you study with any other artists or take workshops?

I've only taken a handful of workshops over the years. I took my first workshop in 2003 or 2004 with Lorenzo Chavez. I remember always seeing his gorgeous paintings in The Pastel Journal. M. W. Skip Whitcomb has been a tremendous influence and mentor for me. Not in terms of regular communications, but I took a workshop from him earlier on in my career, and his teaching is truly inspirational. He works in both pastel and oil beautifully. I know if I have a question in terms of painting or the career side of what we artists do, he has always been there for me. Stephen Doherty, former editor of American Artist Magazine, and PleinAIr Magazine has been a proponent of my work, as is Jean Stern, Executive Director of the Irvine Museum. Both, now retired, but very instrumental in my career and support system.

I've worked in pastel since I was 15. I feel really comfortable with this medium. I also work in oil, and do a little gouache. I would love to spend more time in oil, but show and gallery commitments keep me pretty busy. I am very grateful for that.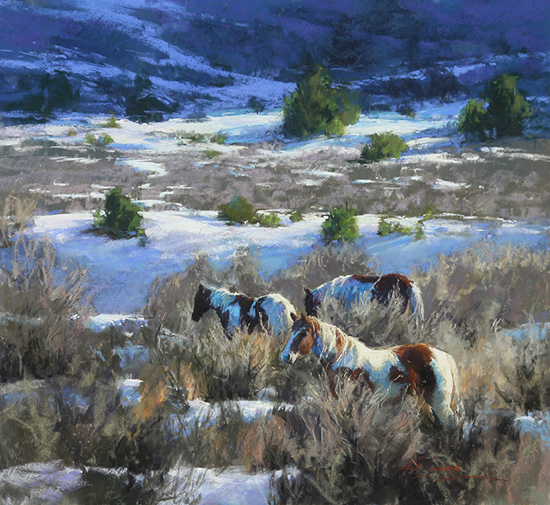 Azure Wonderland 22 x 24" Pastel

What sparks your interest and fires your imagination when you are choosing a subject to paint?

Like many landscape artists, we say "the light is what intrigues me", but what really is happening, for me, is how light and dark shapes come together to create an underlying abstract design. It's not the place or the tree or the barn—it's how everything coalesces into a beautifully dynamic or incredibly subtle design depending on the light and dark shapes.

Tell us a little bit about your processes and about your materials.

I learned to create quick "notans" with three value pens and the white of my sketchbook paper. This process taught me to see very differently. It's how I observe the world now. Sometimes I will create a monochromatic pastel underpainting that mimics the notan design before I move to color. The underpainting is created with Nupastels and
Turpenoid wash. Once that is dry, I do not really care about the hardness or softness of the pastel, but the value and color temperature of the stick. I work all over the painting, not finishing any one area until the end of the process.

I'm pretty boring when it comes to experimenting with materials. When I find something I like I don't shake up the system too much. My work-horse pastels are primarily Terry Ludwig Pastels and Unison. I love the Diane Townsend Terrages as well. I have almost every brand of pastel represented in my palette at home. I use UART Sanded Premium Paper 320 or 400 grit. I will use Krylon Workable Fixative during the process of painting. If a painting is not going into a frame, I wrap it in glassine and it goes into my flat files for further consideration. If the painting isn't worthy of further consideration I will get the garden hose out, put it on the jet setting and hose the painting off. I use only TruVu Museum glazing. If a painting is over 24 x 36" I will use Optium Museum Acrylic. I think it is important, if you want to exhibit your work, to put the best quality framing on as you are able to afford. When the work is being judged, the presentation of the whole is very important. If you believe in your work, treat it well, and then so will others.

Lordier included two images to show us the underpainting and the finish of her work, "Good Night Sea, Good Night Tree."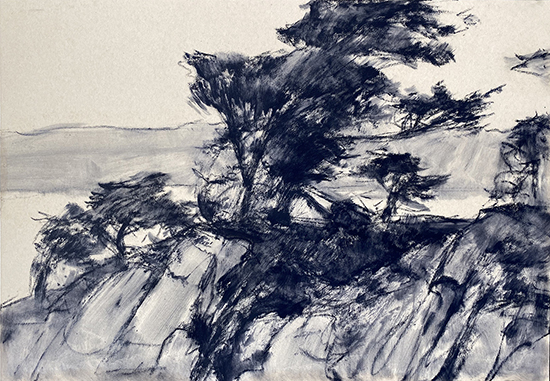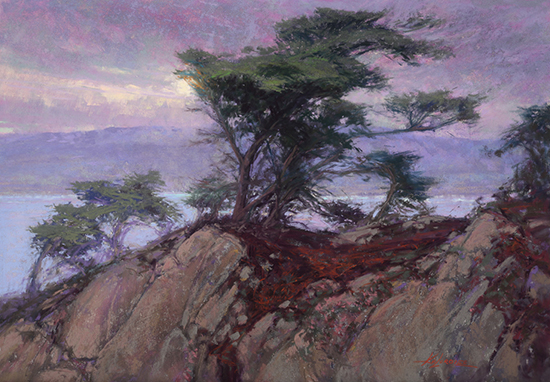 Goodnight Sea, Goodnight Tree 12.5 x 18" Pastel
Underpainting (above) and Finish

The monochromatic underpainting was created by using a hard pastel, NuPastel, to sketch in my design, then filling a bit more of the dark shapes with a light glazing of pigment. I then took a large hog bristle brush and some Turpenoid and melted the pigment by "painting" the shapes. If you look closely, you can see my brush strokes mimic the gesture of the shapes I am creating. This is important to help create a painterly look to my pastel strokes when I start to apply color. This particular piece is an exploration in color for me. My reference was taken in the daytime, but I wanted to play with color, see how far I can push it and still have a believable experience for the viewer, and maybe evoke an emotion or memory. I was motivated to paint the rhythms of the Point Lobos Monterey Cypress trees for a solo show that just opened last week (July 2020) at Rieser Fine Art in Carmel, California.

I also find writing about my work is helpful in understanding my relationship with the painting process and the world around me. If you are interested please click on this link for a SPARK webpage on the paintings in my show, where I write about it.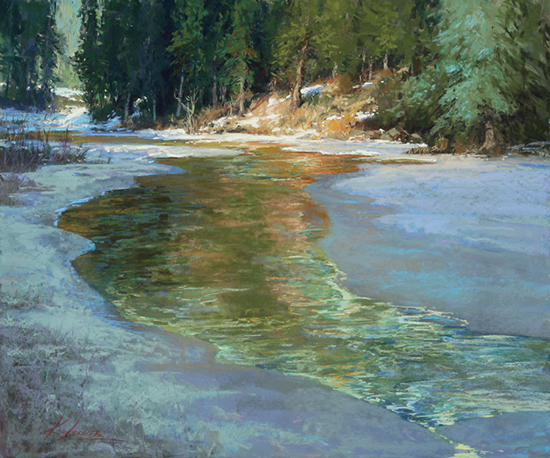 Kinda Like Diamonds in the Sky 20 x 24" Pastel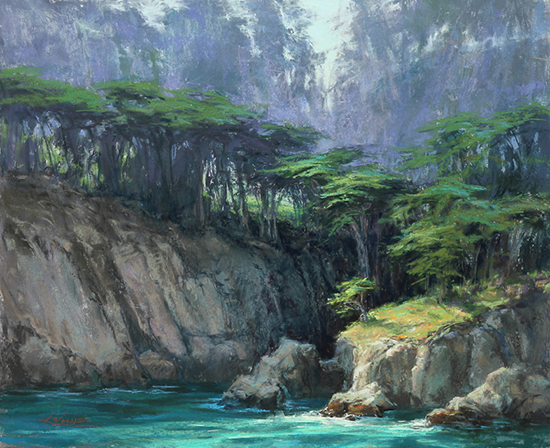 Treasure Chest in Pt. Lobos 16 x 20" Pastel

I love painting in Utah, Arizona, New Mexico, Alaska, Washington, and Maine. I have not painted out of the country— there is so much to do and see here. I've been quite lucky so far traveling with my pastel box. I always take it as a carry on. My travel box, an All-in-One-Easel made by Stephen Sauter of Kittery Maine, has traveled with me since 2003 or '4, and has even been carried up to timber line in the Eastern Sierras on the back of a mule.

What other artists' work provides inspiration and impetus to your own?

The early California Impressionists continue to inspire me, along with the Taos artists. I love the Naturalists and the Tonalists. I will often go online to reference them if I am having trouble or want some inspiration. Books—so many, Carlson's Guide to Landscape Painting
, Edgar Payne's Composition of Outdoor Painting
. I really have learned a ton from Richard Schmid's Alla Prima: Everything I Know About Painting
. I find inspiration in the work of Russian artist, Isaac Levitan and Russian-American artist, Nicolai Fechin. as well as illustrators Harvey Dunn and N.C Wyeth. I could go on and on . . .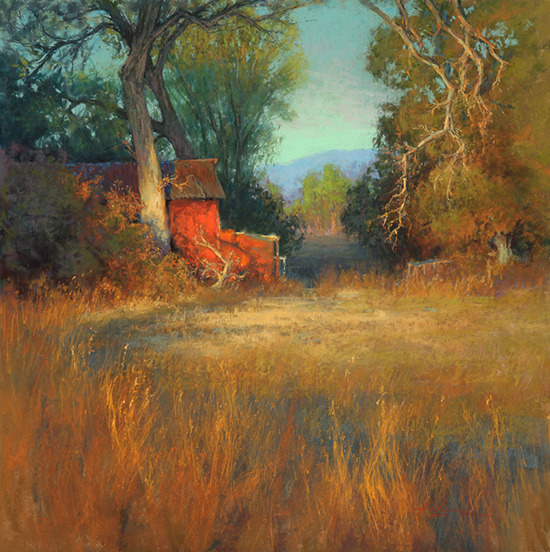 Striking a Chord 24 x 24" Pastel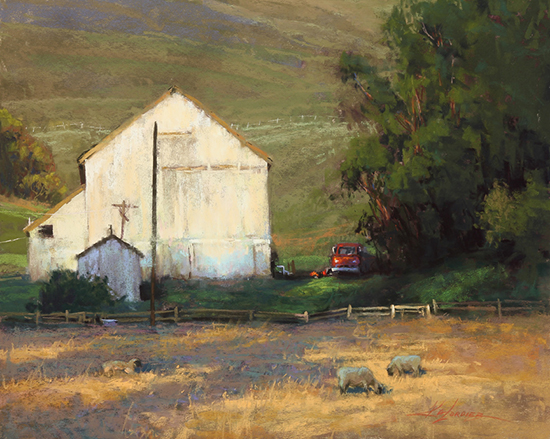 Hushed 16 x 20" Pastel

Lastly, what single piece of advice would you give a beginning pastelist?

I teach about one workshop a year or so. My single piece of advice—have fun and allow yourself the time to learn. It doesn't happen with a painting or two. It's about the miles spent at the easel. Hopefully it is fun and frustrating all at the same time. One more piece of advice, if I may—KNOW that there is always another canvas or board. It is not about the product or end result—it is about the process. Fall in love with the process.

Intricately Interwoven 36 x 24" Pastel

To see more of Kim Lordier's work,
go to: https://www.kimfancherlordier.com

All artwork copyright Kim Lordier