George Van Hook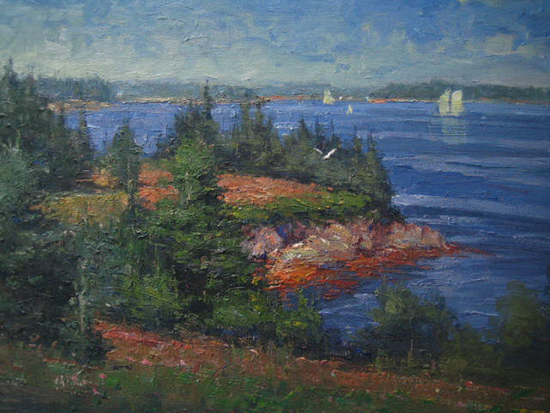 North Haven 20 x 24" Oil
From the first time we met George Van Hook in the early 1980s in Rhinebeck, New York, we were impressed with his intense commitment to his painting. His commitment began as a very self-motivated teenager with a supportive family and good formal education in art. He was born and raised in Abington, Pennsylvania, a northern suburb of Philadelphia. His family owned a farm in Bucks County, home of the Pennsylvania Impressionists and the artists of the Brandywine Valley, and George was inspired by their work and their academic training.
When he was in his early 20s, he had the opportunity to study and paint in Poissy, a western suburb of Paris. An invaluable part of his year and a half there was spent copying paintings at the Louvre as well as travelling and painting on location throughout France, Italy and Holland.
He returned to California where he studied the historical outdoor painting tradition of California painters and continued his plein air and figurative work.
George currently lives and maintains his studio in Cambridge, New York, a beautiful nineteenth century village surrounded by rolling farmland. His paintings reflect his surroundings and have recorded his life with wife, Sue, and three daughters. He spends much of his summers painting in the mid-coast of Maine around Rockland and North Haven Island, where his wife's family owned property adjacent to the famous Boston artist Frank Benson. We began by asking him about his childhood inspirations.
Is there a history of artists and/or art appreciation in your family?
My parents loved the arts and took all of us to many exhibitions and concerts while we were growing up in the Philadelphia area. Four of the six children in the family became professionally involved in the arts. My sister holds an MFA and taught at The Alberta College of Art for many years. My youngest brother's first career was in ballet. My oldest brother has several PhDs in comparative literature and rare books. . . .
To read the entire interview with Geroge Van Hook and to see more of his inspired paintings, please become a Member of The Artist's Road by clicking here. Already a Member? Click here to go to the the in-depth interview.
All artwork copyright George Van Hook

Share
blog comments powered by