Warwick Fuller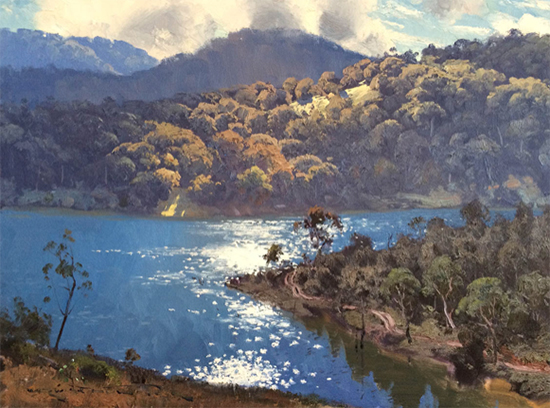 Morning Light on Lake Lyall Oil 45 x 60 cm (18 x 24")

"I want my pictures to sing the songs I sang

when I painted them. My hope is that

if I can paint with the joy of that moment,

something of my emotional responses

to the moment will shine through."
Australian artist Warwick Fuller has had a long and impressive career. In addition to his numerous awards and one-person exhibitions, he has twice been the official tour artist for HRH the Prince of Wales during the Prince's trips to Australia. The Prince is a collector of Fuller's work, having amassed ten of his paintings. Fuller is also a Fellow of the Royal Art Society of New South Wales. His work is represented in galleries in London and throughout Australia. He lives in Little Hartley, west of the Blue Mountains of New South Wales. Most years, Fuller conducts a three day workshop near his home in the valley where his great, great grandparents first settled.

Your paintings are clearly about light, and are often steeped in a misty or dusty atmosphere with sharply rendered foregrounds and intense colors. They are paintings of deliberate contrasts in values, temperatures, brushwork and edges and all these elements put your unique, poetic stamp on them. Can you tell us how your vision and style evolved?

You know, there was never a time when I thought, "Light is what I want to paint". I do know though, that I was trying to capture light before I understood that that was what the Impressionists were about. (Yes, I know I lived a very naïve sheltered life.) It more or less evolved unconsciously. I was and still am dedicated to attempting to capture something of my emotional response to what's happening in the landscape.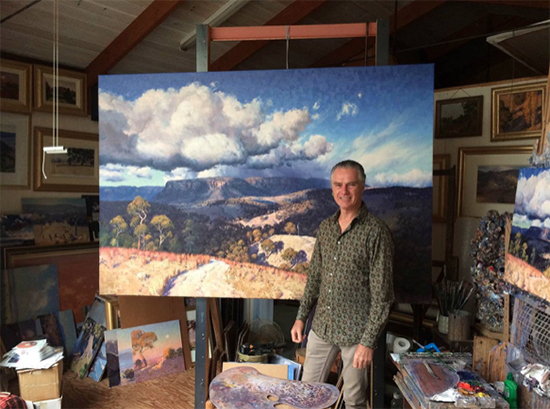 Into the Mystic Oil 1.5 x 2.2 m (59 x 86")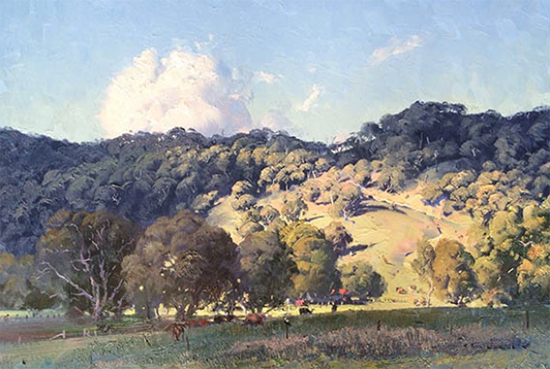 Hills of Light and Shadow Oil 60 x 90 cm (24 x 35")
Learn more about Warwick Fuller's paintings in our in-depth interview.
To read it and to see more of his paintings,
become a Member of The Artist's Road by clicking here.

Already a Member?
Click here to go to the in-depth interview, Voices of Experience
All artwork copyright Warwick Fuller

Save
Save
Save
Save
Save
Save