The Flowers of Joseph Henry Sharp

Perspectives No. 425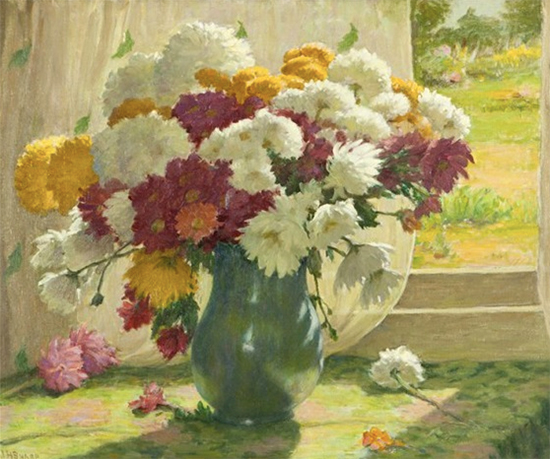 Still Life with Chrysanthemums Joseph Henry Sharp
We were recently the lucky recipients of a beautiful leather-bound copy of a book titled In Poetic Silence - The Floral Paintings of Joseph Henry Sharp by Thomas Minckler. Sharp (1859 - 1953) is remembered primarily as a painter of the western landscape and portraits of Native Americans. As a founding member of the Taos Society of Artists—and considered to be its "Spiritual Father"—Sharp spent much of his life in New Mexico, Montana and California. (See more about the Taos Society of Artists in our article.) A 2013 Antiques Roadshow television segment appraised one of Sharp's New Mexico oils (to its astonished owners) at $400,000!

Sharp painted portraits of Sioux, Crow, Cheyenne and Blackfeet tribal members. President Roosevelt took an interest in his work and commissioned him to paint portraits of the two hundred surviving Native American warriors from the battle of the Little Bighorn.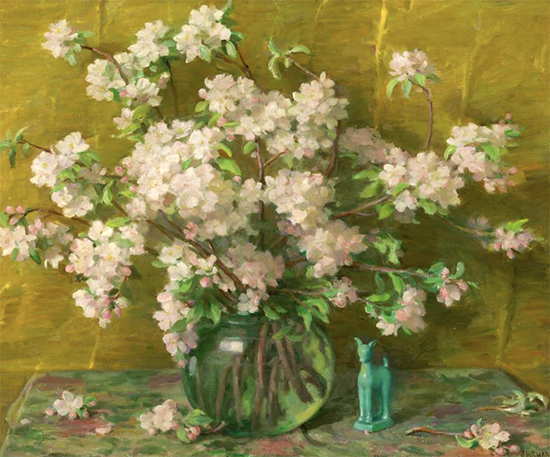 Apple Blossoms Joseph Henry Sharp

His floral still-life paintings are less well-known, although equally inspired and accomplished. Later in life, Sharp turned his attention to painting the flowers from his gardens in Taos and Pasadena, tended by his wife. These paintings are carefully composed and colorful reflections of his more tranquil later years. At 73, Sharp had his first exhibition of exclusively floral paintings held at the Nicholson Gallery in Pasadena, California.

From Poetic Silence: "It has been estimated that, in his lifetime, Joseph Henry Sharp painted nearly 10,000 works of art. Furthermore, 75 to 80 percent of his prodigious output depicted Indian-related subject matters. The number of his still life florals is estimated at somewhere north of 300 works and may be as many as 500. This alone is a prolific output of paintings for a western artist."

Watch for our upcoming article with more detail on the paintings of J.H. Sharp.