The Greens of Summer
Perspectives from The Artist's Road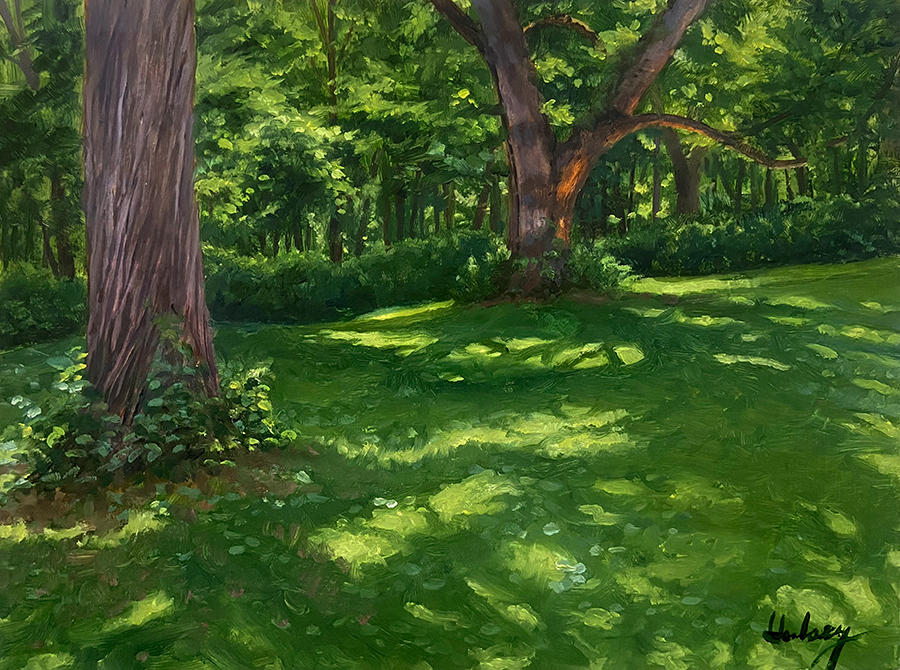 Summer Shadows Oil John Hulsey
It is a common problem for plein air painters. Once the "wall of greens" develops in late spring in the Midwest, it can be a real challenge to see and paint masses of trees, shrubs and even fields. It is another one of those color perception issues which plague us as we try to work outdoors year-round. See: It's Not Easy Seeing Green: Twelve Artists Share Their Favorites.

In our experience, using value changes alone will not help much to put depth and life into summer paintings. We have to also employ temperature changes—warms and cools, if the picture is to be successful. However, those changes can be very subtle and can happen within the same mass-tone, as in the painting here, Summer Shadows. An experienced teacher can help point out these subtleties of course, but to be able to see them for yourself, there is no better teacher than going out and "facing the music". Our eyes and brain just have to learn to see them, and that may require a series of near-misses or outright failures. No one wants to spend hours working in the heat and come up empty-handed, of course, but failure can be one of the best ways to learn. It is why I often put myself in difficult painting situations like here, in our woods, where the camera cannot see very well, but people can. Where there may not appear to be a definite subject, other than light and a confusion of textures and shapes. Where, perhaps, one only sees that green wall and little else. It is a great exercise, and once learned, adds immensely to our toolbox of outdoor painting skills which can be used year-round, anywhere in the world.

I was attracted to this scene by the trunks of the massive oak trees. Blue light from the sky filtered down and made their trunks glow with what I perceived was a lovely gray-violet. Large trunks like these tend to be slightly more gray-green near the ground and become bluer as they climb toward the sky. I was also interested in the shadow patterns on the grass, and decided to make those the star attraction in this picture. Painting those takes some practice to get right. My first attempts, years ago, wound up looking like a jigsaw puzzle instead of what I was trying for. The first issue is to see and paint the temperature changes in the greens of the grasses—cooler, bluer and darker values in deep shadow and gradually warmer and lighter values as they near the adjacent light patches and also wherever they emerge from under the dense tree canopy. The light patches must also portray similar temperature and value changes within each patch.

I finally understood that I was actually painting a kind of portrait of all this, and should probably use portrait techniques to get a believable result. In this case, the "skin tones" were the greens of the grasses and leaves. As in portrait work, the secret is to mix color strings of temperature and values for each main color mass before touching brush to canvas. See: Color Mixing Secrets for the Plein Air Painter . I made a string for warm greens and another one for cools, from dark to light, and the same for the sunlit patches. In that way, all I needed do was carefully select from my palette what appeared to match the scene. If I got it wrong, I didn't need to remix, just moved over in the string to the correct one. This technique is so important because it speeds up painting immensely and, as every plein air painter knows, time is not often our friend outdoors! Try it for yourself, and let us know what you think.