The Coolest White Ever

Perspectives No. 442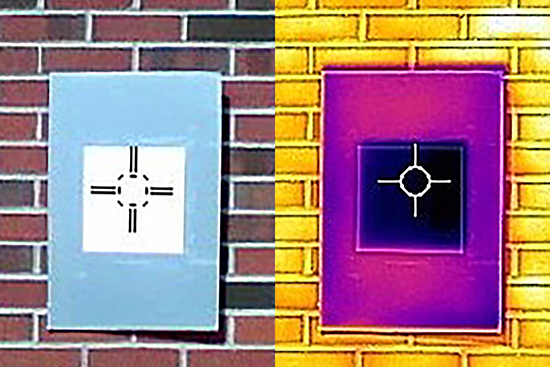 An infrared camera shows how a sample of the whitest white paint
(the dark purple square in the middle) actually cools the board below ambient temperature,
something that not even commercial "heat rejecting" paints do.
Credit: Purdue University - Image/Joseph Peoples
Following up on Perspectives No. 441—"Black is the New Black" (the world's blackest black pigment discovered in 2019), the coolest white ever has recently been invented. Scientists at Purdue University have announced a new super white paint—BaSO4 (barium sulfate), the whitest white ever. BaSO4 is practically impervious to the colors of the visible spectrum.

"The researchers believe that this white may be the closest equivalent of the blackest black, 'Vantablack,' which absorbs up to 99.9% of visible light," Purdue said in a recent statement. The new white pigment reflects up to 98.1% of sunlight (an upgrade from last year's discovery of a white pigment that reflected 95.5% of sunlight).

Because the paint absorbs less heat from the sun than it emits, a surface coated with this paint is cooled below the surrounding temperature without consuming power, potentially reducing or eliminating the need for air conditioning in many areas of the world.

According to senior investigator Xuilin Ruan, "If you were to use this paint to cover a roof area of about 1,000 square feet, we estimate that you could get a cooling power of 10 kilowatts. That's more powerful than the central air conditioners used by most houses."

It will be available as both a paint and a nanofilm. This new cool white has earned a Guinness World Record in the upcoming 2022 edition of the Guinness World Records book.