John Louder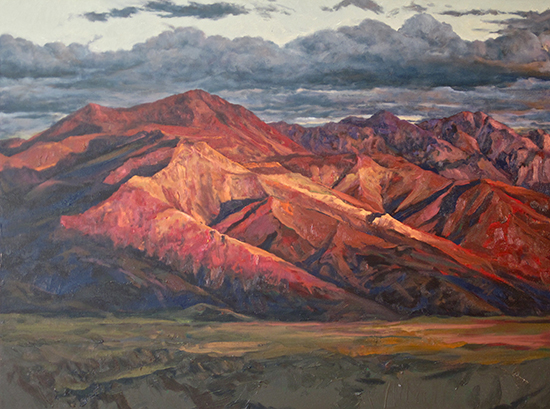 Red Mountains Sunset Death Valley 36 x 48" Oil
John Louder is both artist and full professor of art at the University of Central Missouri. He grew up in Twin Falls, Idaho, attended college at Whitman College, the University of Oregon and the University of Arizona, where he received an MFA. John's wonderful paintings are inspired by nature and the various landscapes in which he has lived. He is married to artist Annie Helmericks-Louder (profiled
here
by The Artist's Road).
When asked what his favorite place in the world to paint is, he says, "The Western United States must be my favorite place to paint because I keep finding myself back out West painting, especially in the Southwest." He recounts a particularly exciting plein air experience involving watching the very deliberate travels of a gila monster while painting in the desert near Tucson. John spends close to half of his painting time working on location and the rest in the studio working on larger and sometimes more conceptual pieces. He finds excitement in the painting process, "the concentration that stops my awareness of time," and hopes that his audience will gain new insights through his own increasing awareness as a result of diligent observation and response.
To read the entire interview with John Louder and to see more of his plein air and studio paintings, become a Member of The Artist's Road by clicking here. Already a Member? Click here to go to the the in-depth interview.

All artwork copyright John Louder