Jeanne Mackenzie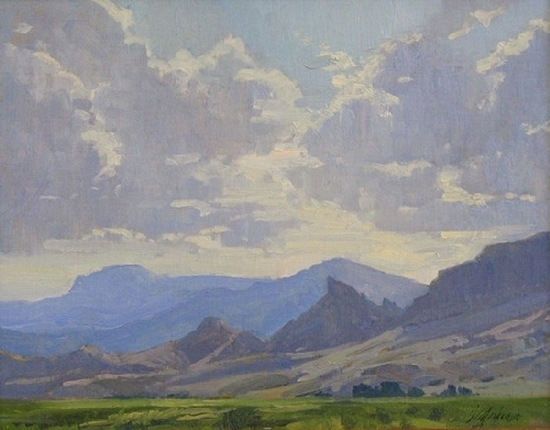 Spacious Skies - Cody 12 x 16" Oil


"I think that some of the best paintings

are those that have a very simple subject,

a subject that you would normally just drive right by.

That is the eye of the artist- to take the mundane or simple

and make it an exquisite composition or inviting mood."


We first met the talented Jeanne Mackenzie in Dubois, Wyoming, where we had been hired to teach a painting workshop by the Susan K. Black Foundation. Jeanne is one of the regular instructors there and always has a large group of avid students with her whenever she ventures out to paint. She is a terrific teacher, a skilled artist and an all-around nice person to paint with! Jeanne lives in Colorado and often paints the western landscape when she isn't off traveling the world in search of new inspiration. She has won numerous national painting awards for her work and holds signature status in the Rocky Mountain Plein Air Painters, the American Women Artists and the Plein Air Artists of Colorado. We enjoyed this opportunity to get to know a bit more about how and why she became an artist.

Can you tell us about the origins of art in your life? At what point did you know that you wanted to be an artist?

From an early age I was always finding ways to draw on blank paper. I would find discarded stacks of text on paper, staple them together so there would be two blank sides, then write and illustrate a book. In the younger school years, I was the one that was assigned to make the posters or murals. This gave me the confidence that I could make a picture that actually looked like something.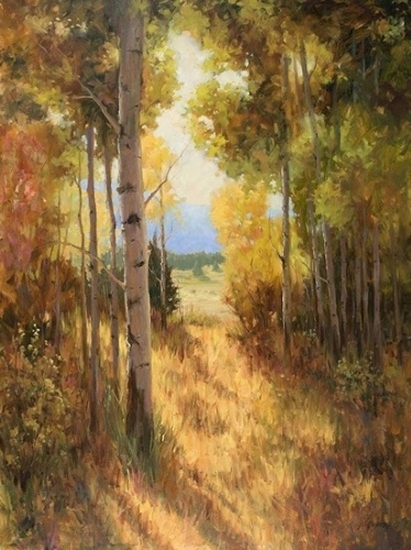 Embracing Autumn 48 x36" Oil

Were there other artists in your family growing up? If so, did they play a role in your decision to become an artist?
Both of my parents had an artistic eye but were not artists. My father taught geology and geography and I grew up with descriptive terms such as alluvial fan, lenticular clouds and riparian landscapes. Our road trips were not to amusement parks or cities, but to the desert to view the poppies or the beaches to catch the sunsets. I credit my father for helping me to look at nature with a totally different eye.

Can you tell us about your formal art education - college, etc. and other artists you have studied with?
As many artists will share, going to school for the arts in the 70s was a frustrating time. If you wanted to paint representationally or craved a more academic approach in the arts, you were instead encouraged to throw out the basics and just do "your own thing". I had thought of going into scientific illustration, just so I could draw, but the courses were filled with the science majors. Instead I learned to do as the instructor asked and graduated with honors. But I came away with the feeling that I was a charlatan and had not learned anything.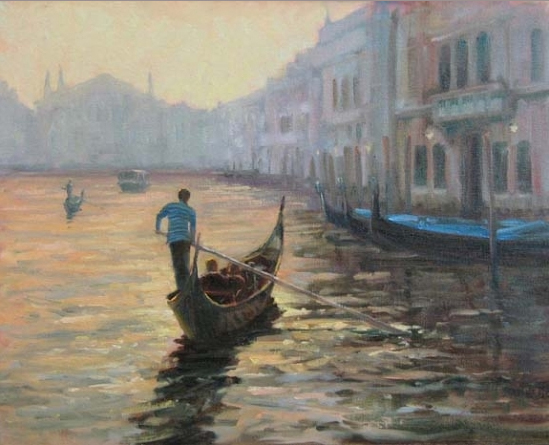 Buona Sera 16 x20" Oil

I did leave with a teaching credential but, to really feel like I had an art background, I needed to take my art "education" into my own hands. Later on I took extensive classes in composition, color theory and painting. My progression from watercolor to pastels to oils culminated in a plein air class with Michael Lynch. This was the early 90s and I had never painted outdoors, let alone much with oils. I jumped in with abandon. Frustration (bug bites, wrong wimpy easel, palette in the dirt, sunburn, self esteem reduced to the lowest common denominator…) lead to a commitment to give this oil plein air a try. I loved the fluidity of the medium and the outdoor training my eye was getting on real values and color. I continued to pursue my craft studying with Matt Smith, Calvin Liang and Clyde Aspevig.
Learn more about Jeanne Mackenzie in our in-depth interview.
To read it and to see more of her paintings,
become a Member of The Artist's Road by clicking here.

Already a Member?
Click here to go to the the in-depth interview.
All artwork copyright Jeanne Mackenzie.