James Gurney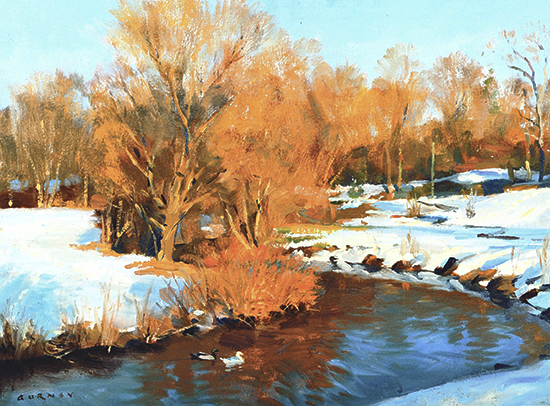 Rhinebeck Park in Snow Oil 9 x 12"

James Gurney is an internationally known author and illustrator, most notably for his Dinotopia books, about a fictional utopian island where sentient dinosaurs and humans dwell together. The first in the series,
Dinotopia: A Land Apart from Time
, published in 1992, has been translated into 18 languages and has sold over two million copies.
We became familiar with James Gurney, not through his fantasy/science fiction illustration, but through his wonderful art instruction book,
Color and Light: A Guide for the Realist Painter
, published in 2010. This comprehensive reference begins by exploring light effects and color as used in paintings throughout different periods of history. It then examines the effects of light on form and the properties of color and pigments, color relationships and atmospheric effects.
Throughout the book, Gurney illustrates various light situations and color relationships by using many of his own paintings, including both plein air and studio landscapes. We contacted him to ask him more about both his background and about his landscape paintings.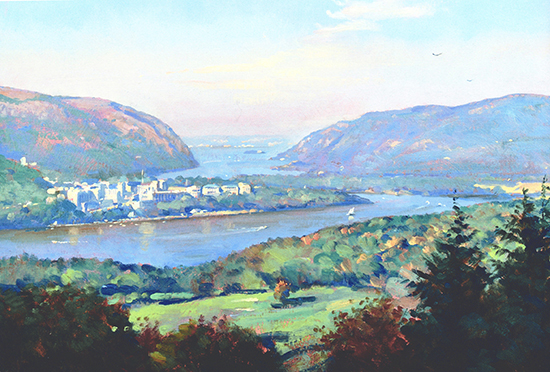 West Point from Osbourne's Castle Oil 12 x 16"
Gurney studied archaeology in college at the University of California Berkeley. Although he attended Art Center College of Design in Pasadena for a couple of semesters, he is mostly self-taught. "I developed my own curriculum of self-teaching based on
The Famous Artist's Course
from the 1950's, Andrew Loomis's book
Creative Illustration
, and the teaching methods from the 19th Century French Academy, which involved fairly detailed anatomy and cast drawing. The best book for learning about French academic painting methods is
The Academy and French Painting in the Nineteenth Century
by Albert Boime, 1971. All this self-teaching from books was combined with daily outdoor sketching, which became such a passion that I ended up coauthoring a book on the subject for Watson-Guptill called
The Artist's Guide to Sketching
in 1982."
To read the entire interview with James Gurney and to see more of his paintings, become a Member of The Artist's Road by clicking here. Already a Member? Click here to go to the the in-depth interview.

All artwork copyright James Gurney