Artist Profile
Vladislav Yeliseyev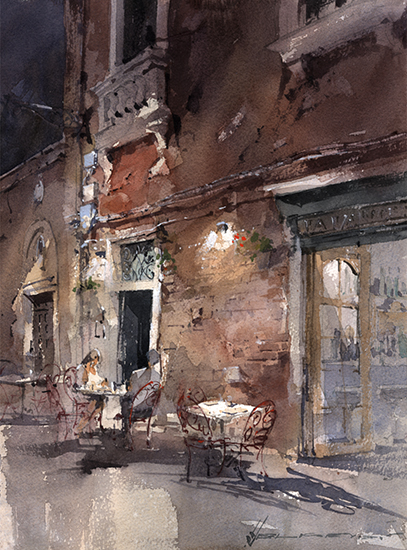 Night Cafe Watercolor
Vladislav Yeliseyev combines his passions for plein air painting and watercolor to create dynamic images that give the viewer glimpses of street scenes in Paris and Dubrovnik; the changing light of New Mexico; the seasons of Vermont; the boats of Zaton and Venice. How lovely to tour the world with the energetic strokes of a master watercolorist! Yeliseyev wrote to us about his childhood in Russia, his background in architecture and the inspiration of Rembrandt.

My mother served as an economist within a large Soviet socialist corporation, while my father pursued a career as an engineer. Despite their professional backgrounds, art wasn't a focal point in their lives. However, they held a deep admiration for artists who embodied a sense of freedom, particularly on the creative front, unlike the millions of workers entrenched in the Soviet Union's system.

Growing up, my parents were conscious of the challenges their child faced being exposed to the realities of the streets. In response, they wholeheartedly supported my education at the evening art school, which became a cornerstone of my childhood routine after regular school hours. They understood the potential downsides of street life and sought to encourage development in a nurturing academic environment. (Read more . . . )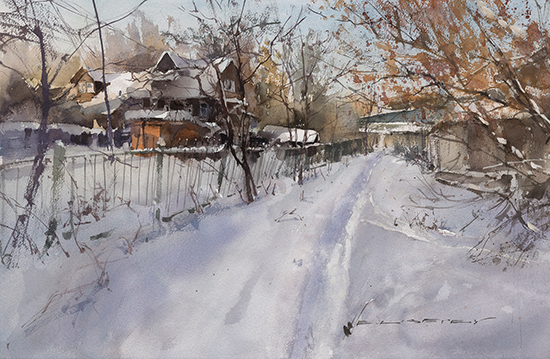 Winter Path in Galitsino Watercolor

To view Vladislav Yeliseyev's interview
and to see more of his work, become a Member
of The Artist's Road today by
Already a Member?
You can go immediately to the full article here.
Visit Vladislav Yeliseyev's website at:
All artwork copyright Vladislav Yeliseyev