Mort Solberg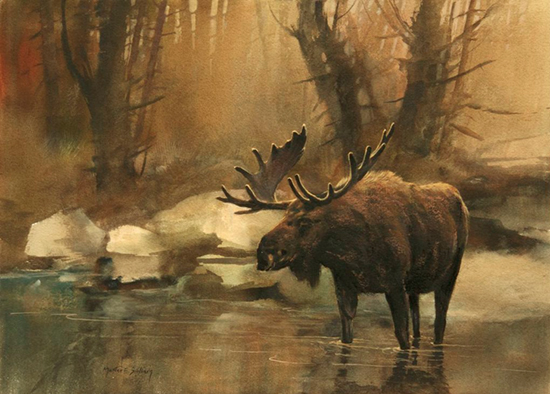 Afternoon Moose Watercolor


Mort Solberg understands that accidents can lead to wonderful paintings. He has learned throughout his artistic career how to embrace the mercurial characteristics of his primary medium of watercolor that resist the control of the artist and that can produce those "wonderful accidents". Within a wash of colors flowing together he is able to see a stream edge or a roaring waterfall. And with his very deft hand, he is able to pull out the rocks that edge the stream and add the moose lit by late afternoon sun wading in the water.

The technique requires a keen sense of timing and patience. Solberg calls it a "happy way to paint" His paintings with their sense of mystery invite the viewer's participation and interpretation. Although he also works in oil and acrylic, watercolor holds his greatest fascination.

Tarzan was his childhood hero presaging his lifetime love of nature and wildlife. Solberg begins his paintings by creating a loose design on the paper with watercolor washes to create emotion and atmosphere. This conveys to him what the subject of the painting will be. His time spent in nature studying flora and fauna allow him to add realistic wildlife to his loose atmospheric background. He has traveled in Mexico, Canada and Africa. He creates most of his work in the studio using his outdoor time to study animals and their reactions and to take photographs for reference. "I keep painting and trying to push myself in two directions," he says. "When I'm doing the realism I'm trying to get as tight as I can. At the same time I'm trying to create atmosphere and strong design and do it in as few strokes as I can."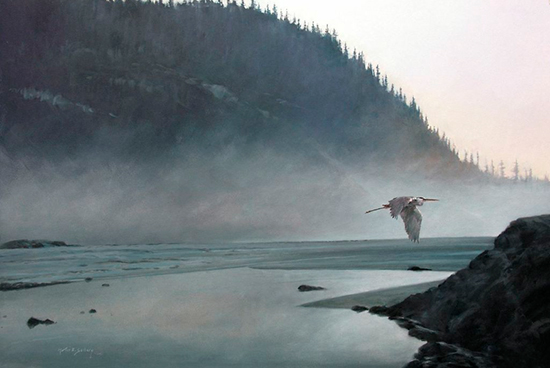 Morning Flight Watercolor
Learn more about Mort Solberg in our in-depth interview.
To read it and to see more o
f his

paintings,
become a Member of The Artist's Road by
clicking here.
Already a Member?
Click here to go to the the in-depth interview.
All artwork copyright Mort Solberg.