Artist Profile

Michael Budden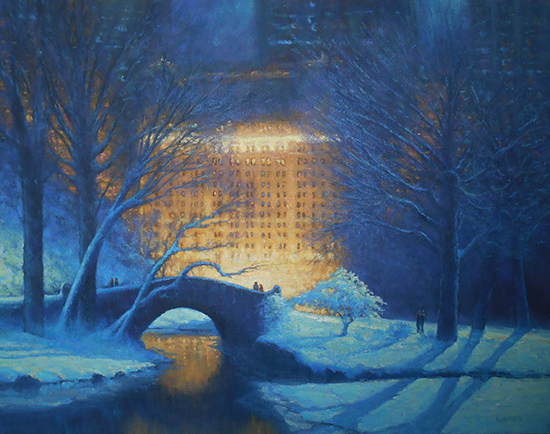 Moonlit Evening, Central Park and the Plaza 22 x 28" Oil

"I continue to search, to get better as an artist

and I feel my best is yet to come."

Michael Budden established his name early in his career as an award-winning wildlife artist, painting in the national parks and mountains of the western United States. His wildlife paintings are in the collections of the Leigh Yawkey Woodson Art Museum in Wausau, Wisconsin, the Bennington Center for the Arts in Bennington, Vermont and the Hiram Blauvelt Wildlife Museum in Oradell, New Jersey. Budden has now shifted his interest to painting landscapes, urban scenes and nocturnes and is, again, winning prestigious awards for his work.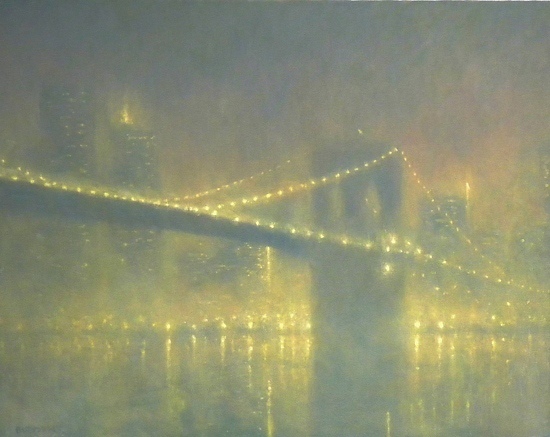 Foggy Evening, Brooklyn Bridge 22 x 28" Oil
Your background was originally primarily in wildlife art. What precipitated your shift to incorporate other subjects into your work? Do you continue your wildlife work as well as your landscape and figurative painting?

I did paint wildlife during the 80s into the early 90s. We saw wildlife subjects become extremely popular back then and I worked with a few art publishers and traveled a lot to shows growing a reputation. Unfortunately, wildlife subject matter stopped selling sometime in the 90s and that opened the door to a variety of subject matter like landscapes and seascapes and urban scenes. I needed a wider audience.

I treat painting New York City almost the same as going to a national park during my wildlife days. New York, or any city for that fact, provides all encompassing images of the city or something intimate. It has everything. Urban scenes also give me the chance to include figures which I did not do with wildlife.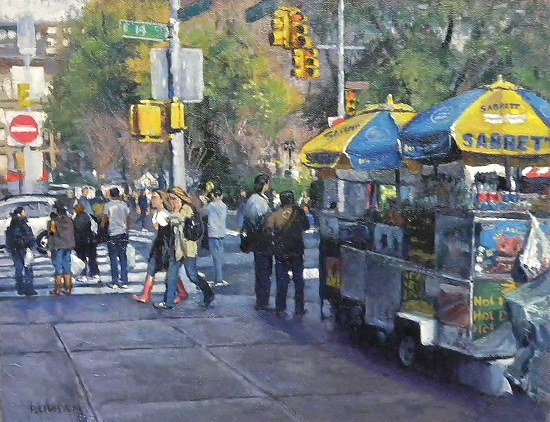 Springtime near Union Square, NYC 11 x 14" Oil
Read more about Michael Budden's paintings in our in-depth interview.
To read it and see more of his paintings, become a member of
The Artist's Road today by clicking here.

Already a Member?
Lucky You! You can go immediately to the Voices of Experience interview here.
To see more of Michael Budden's work, go to:
https://michaelbudden.com

All artwork © Michael Budden
Save