Artist Profile


Michael Albrechtsen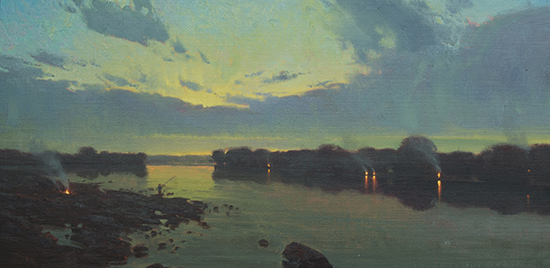 Campfires and Fishing Rods 12 x 24" Oil

"I paint in oil because I like the rich colors and how

forgiving it is. I love the way the light affects things."

Born in Bountiful, Utah, at the foot of the Wasatch Mountains, Michael Albrechtsen developed a strong interest and connection with the out-of-doors at an early age. Today, you can still see that connection with nature in his paintings.
Did you grow up in an environment supportive of creativity and art-making? Is there a history of artists and creativity in your family? Did the inspiration of the Utah landscape begin your interest in art?

We have looked back in the history of my family, and it looks like I am the first one to really take up art in any of its forms. My family saw that I had a passion for drawing, so they always encouraged me to draw. All of my brothers and my father are engineers, so I fell off the truck somewhere. One thing we all have in common is a love for the outdoors. I knew I wanted to do something where I worked in nature. Art seems to accomplish that for me.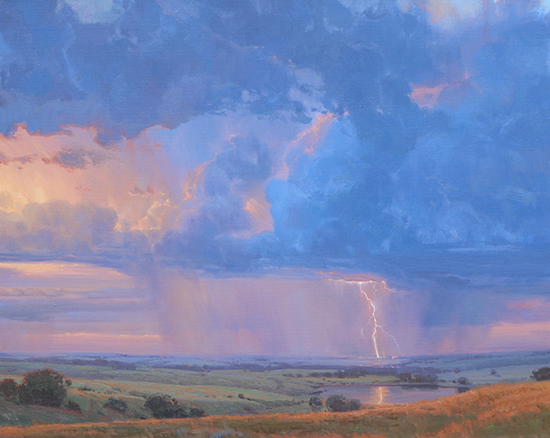 Light Show 24 x 30" Oil
With what other artists have you studied through workshops or classes? Is there one mentor in your education that stands out?

I started pursuing art fairly late compared to some and didn't take many workshops. But of the greatest influences in my early art career were Glen Edwards, Perry Stewart and Don Putman were the people that helped me the most to get started. Glen was an instructor at Utah State University and was great at helping his students to develop their own voice. In many other schools the students look just like their teacher, his students look like themselves. Just look at some of his students, Jim Morgan, Luke Frazier, Jason Rich, Mike Malm, myself and many more. Perry was actually a graduate student, then a teacher while Glen was on sabbatical. He lived nearby and was influential in introducing me to so much art. I grew up in a family that had no idea about art. Perry introduced me to so much and taught me the importance of study and work! I took two workshops from Don Putman—in fact the only real workshops I took—his instruction on color and drawing are two things I will never forget. There are days when I am painting where I come to a realization, "Ah, that's what Don was talking about." I am still learning from him.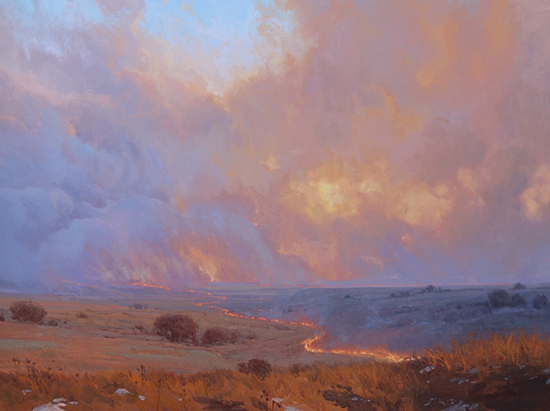 Renewal 30 x 40" Oil
How did your commercial work with Hallmark inform your current painting?

Hallmark was a great place to work. So many great and inspiring artists working together to improve their skills as draftsmen and painters. It is mostly computer now from what I hear. At the time I started with Hallmark I had only painted for about four years, so it gave me the time and place of inspiration to develop further as an artist. There were so many great artists there who were extremely helpful in making me a better artist. A few that I still work with and get critiques from to this day include Joseph Lorusso and Michael Bingham. If not for these two fantastic artists I would not be the artist I am today.
Read more about Michael Albrechtsen's paintings in our in-depth interview.
To read it and see more of his impressive paintings, become a member of
The Artist's Road today by clicking here.

Already a Member?
Lucky You! You can go immediately to the Voices of Experience interview here.
To see more of Michael Albrechtsen's work, go to:
http://www.michaelalbrechtsen.com

All artwork © Michael Albrechtsen
Save