Mary Erickson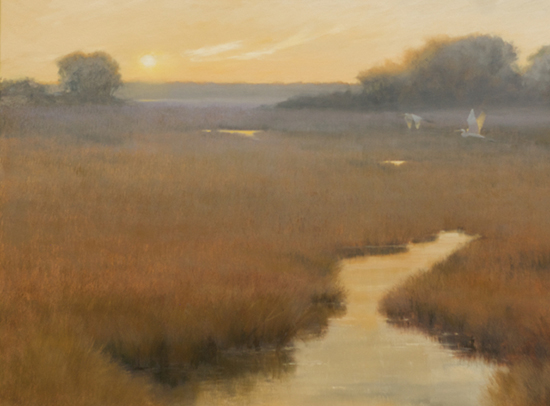 Evening Rapture 36 x 48" Oil

"As much as I want to portray the look of the landscape,

I want to paint the experience of being there.

I am searching for the truth in a scene,

and when I find it and paint it, those senses and emotions

all come through the brush and onto the canvas."
Mary Erickson is a passionate artist and conservationist. She is also an event coordinator, teacher and business woman. She travels between her studios in North Carolina and Florida during most of the year, spending summers in Maine with a select group of artist contemporaries. Erickson is a devoted landscape and wildlife artist who is also committed to giving of her time and experience to others.

She wrote to us about the journey her life has taken, her teachers and her inspirations.
The artist's life is not simply a career. It is a way of life, a lifestyle which includes a spiritual journey. I feel closest to God when I am out on location painting, so much so that I have been moved to tears by the beauty of my surroundings. To be able to share that beauty through my art is why I am here, and I am so grateful. Being a creative person is following a passion that fills your days and nights.

"I dream of painting.

Every day I don't get to paint is

a day I can never get back."



Afternoon Journey - Ibis 24 x 36" Oil

As a landscape painter, especially working in plein air, you have to pay attention to everything out there—the incoming weather, the wind direction, where the sun is moving. My appreciation of wildlife, birds especially, has made me attentive to everything outside. My mother instilled in me a love of nature by pointing beauty out to me as a child—a beautiful sunset, the smell of a rose, a brilliant blue sky. She told her children every day to "Go outside and play." Nature was our playground and our teacher. We were lucky to live where we lived, and spent summers on the beach in Connecticut, hence my love of the coastline. In my paintings I try to express not only what these things look like, but more so what they feel like. I strive to paint the experience of being in that moment, at that place.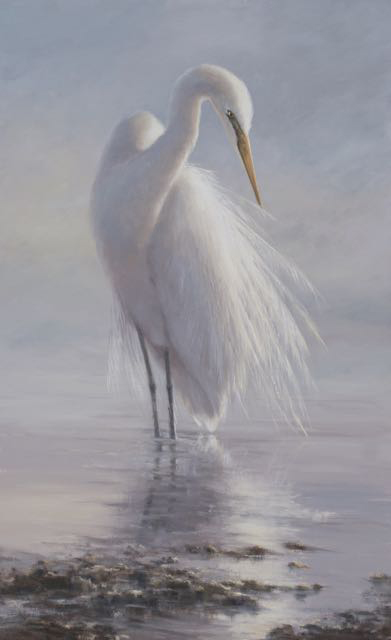 Morning Ritual 28 x 17" Oil
Learn more about Mary Erickson's paintings in our in-depth interview.
To read it and to see more of her paintings,
become a Member of The Artist's Road by clicking here.
Already a Member?
Click here to go to the in-depth interview.
All artwork copyright Mary Erickson.