Mary Pettis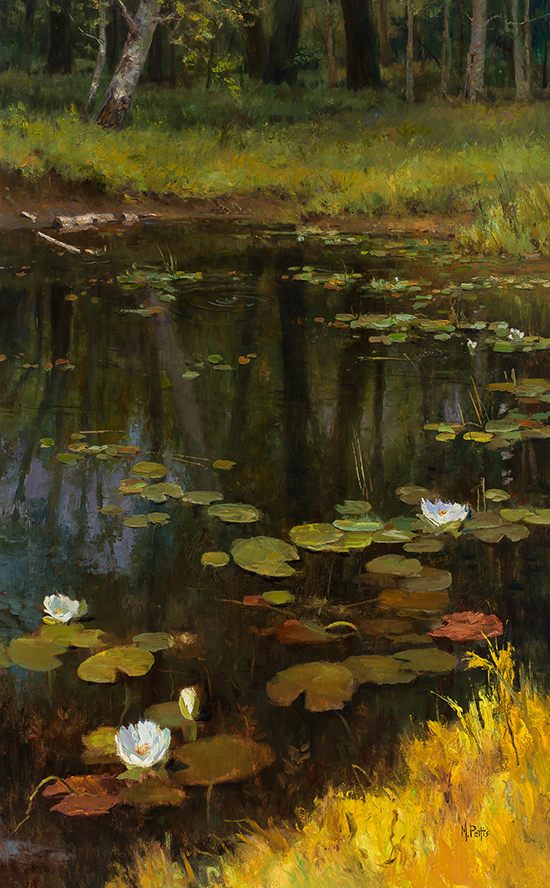 Time Stands Still 48 x 30" Oil
Finalist in the Raymar Fine Art Competition - December 2014

"What we discover when we go inward is our poetic

response to life. Through contemplation, we come back

outward with the ideas we will bring into our work."

Mary Pettis can trace her artistic roots to a childhood growing up on a farm in southern Minnesota. Her fascinations with the patterns, colors and rhythms of nature have informed her work ever since. Pettis now lives in the St. Croix National Scenic Riverway along the Wisconsin/Minnesota border. Her lifetime in art has led her through classical training in representational technique to a contemplative study of more abstract concepts of painting. She strives to use the artist's toolbox to convey emotion and impression. Throughout years of study and the frustrations of honing her craft she says, "There is something to be learned from every subject, every challenge, and every failed attempt. Just when I would begin despairing over my artistic growth, I would see a tiny touch of true beauty in what had come from my hands. I would recognize an edge, a square inch, a color combination that was truthful . . . and the passion to forge ahead would possess me all over again." Pettis's elegant paintings reflect the beauty she finds in the natural world and the joy she finds in the process of painting. She has traveled to the far corners of China, Russia, and much of Europe. Her work has been exhibited extensively nationally. Pettis is also an accomplished teacher and speaker. She will be taking a small group to the Cinque Terre on the coast of Italy in September, 2015, hosted by Il Chiostro. For more information: IlChiostro.com.

She wrote to us about her journey on the artist's road:

Art is a beautiful language that can communicate matters of the spirit, there is no doubt in my mind. The unfolding way in which we learn this language is well described by calling it a spiritual quest or a journey.

It is a fact that there is an energy in all things. When we are at once attracted to paint something, I believe it is this energy that we respond to first. We sense it on a primordial level - something sparks inside of us and we want to own it. We want to further explore that feeling and bring it closer to our understanding. Emerson referred to this spark in his essay on Self-Reliance: "A man should learn to detect and watch that gleam of light which flashes across his mind from within, more than the lustre of the firmament of bards and sages." We artists are able to take the time to contemplate the subject, and try to get to the bottom of our attraction to it.

I have learned now, starting my second half of this journey, that it is most often not the "surface story" of our subject that attracts us. It is about the connections we feel to our subject on a deeper level. When we look deeply enough, painting becomes a meditation, and like meditation, as thoughts are gradually released, tension is let go, and we slip deeper into the familiar, creative "zone". We sense the ways in which we are connected to our subjects, whether humanity, the natural world or whatever. We see beyond the surface appearance of things into their inner life. We connect that to our own inner life, and the oneness, the resonance of that act, shows up in our work. I am fascinated by how this happens!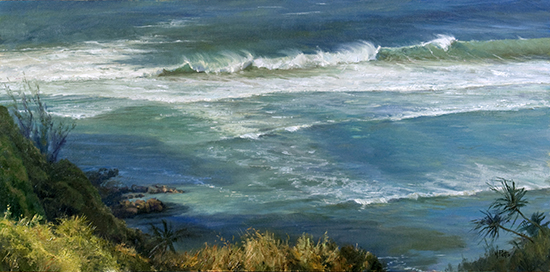 North Shore Mantra 24 x 48" Oil
ARC Salon Finalist (Art Renewal Center), Landscape Category 2013/2014


Learn more about Mary Pettis in our in-depth interview.
To read it and to see more of her paintings,
become a Member of The Artist's Road by clicking here.

Already a Member?
Click here to go to the the in-depth interview.
All artwork copyright Mary Pettis