Maria Coryell-Martin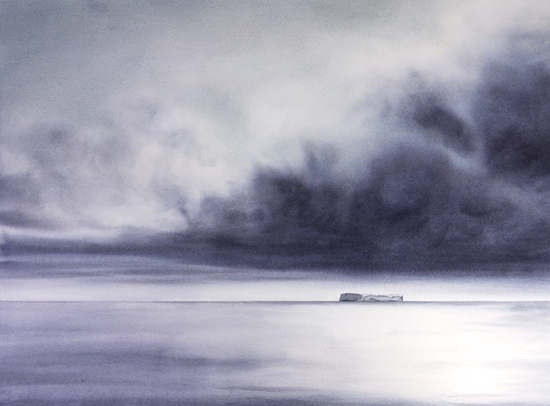 Storm Front Watercolor 30 x 22" Antarctic Iceberg Series
M

aria Coryell-Martin is combining her passions for art, travel and science into "expeditionary art". She states, "I believe in art as a means to cultivate observation, scientific inquiry, and environmental awareness."
Upon her graduation from Carleton College in Northfield, Minnesota in 2004, Coryell-Martin received a Thomas J. Watson Fellowship, a one-year grant for independent study and travel outside the United States.

Coryell-Martin used her grant to travel to and record her observations of the Marquesas Islands, French Polynesia, Tibet, China, Mali and West Africa. She writes, "Landscape, our surroundings and environment, shapes who we are, directs the rhythms of how we live, and serves as a record of our actions and beliefs. . . .Using my sketchbook to create a dialogue between locals and myself, I learned to see the landscape through their eyes, exploring how we as artists and diverse individuals perceive and are affected by the land."

More recently, Coryell-Martin has been an artist-in-residence at the Upernavik Museum in northwestern Greenland, has painted in the Cariboo Mountains of Canada and the North Cascade Mountains of Washington with glacier monitoring scientists, has worked in the field with a walrus research team in East Greenland, and has painted with ornithologists studying long-distance migratory birds in the Cook Inlet.

Continuing the tradition of artists accompanying explorers, Coryell-Martin has most recently focused on painting polar and glaciated regions on modern expeditions with scientists.


"

Being in the field and working with expeditions, preferably scientific, is the root of all of my art. I'm inspired by remote regions and elements of harsh environments that are highly specialized to thrive and survive. I love being above the tree-line with big skies

and wide horizons. The scientific process also inspires me, with close

observation

cultivating scientific inquiry."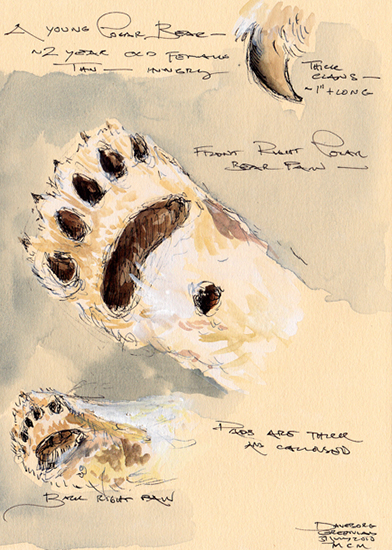 Polar Bear Paw 5 x 7" Ink and WC Field Sketch
High Latitudes Sand Island Expedition

To read our in-depth interview with Maria Coryell-Martin, and to see more of her sketches and paintings, become a Member of The Artist's Road by clicking here.


Already a Member? Click here to go to the the in-depth interview.
All artwork copyright Maria Coryell-Martin