Marc Dalessio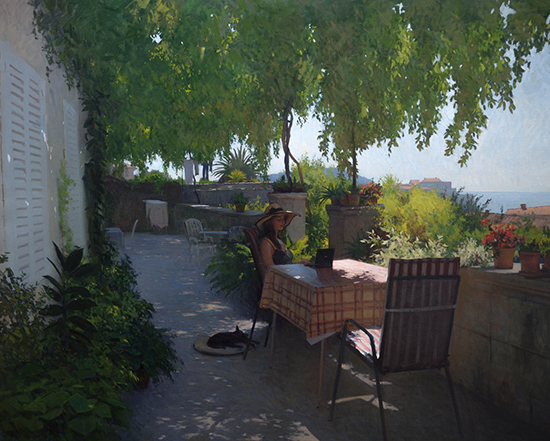 The Terrace in Dubrovnik 47 x 59" Oil on linen



M

arc Dalessio is a world traveler and one of the finest plein air painters anywhere. Born in Los Angeles in 1972, he lived in the Fiji Islands from ages six to ten, where his father was a regional director of the Peace Corps. He credits the beauty of Fiji and of his native California as the inspiration for his great love of the natural world. He attended the University of California at Santa Cruz where he studied art and biology and graduated Phi Beta Kappa. From there he moved to Florence, Italy for eight years studying under Svetlan Kracsyna at Il Bisonte International School of Graphic Arts. During the same period he also trained as a portraitist at a small traditional painting atelier.

Eventually he left Florence and moved to Zagreb, Croatia, where he now lives. Every winter, Dalessio travels with a group of friends, also plein air painters, to warmer climates in order to keep working outside. Past destinations have included Kenya, India, Greece and Albania, the Caribbean, Morocco and Myanmar.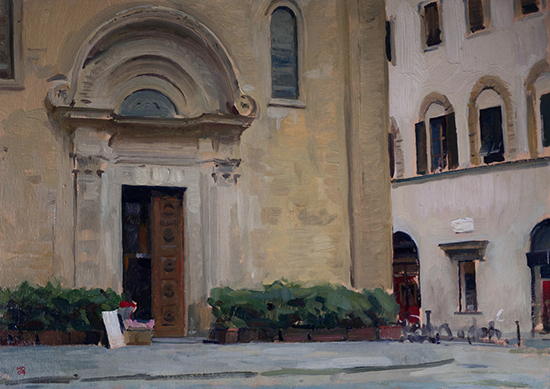 San Felice in Piazza 14 x 16" Oil on panel
Learn more about Marc Dalessio in our in-depth interview.
To read it and to see more o
f his

paintings,
become a Member of The Artist's Road by
clicking here.
Already a Member?
Click here to go to the the in-depth interview.
All artwork copyright Marc Dalessio.