Artist Profile

Maria Marino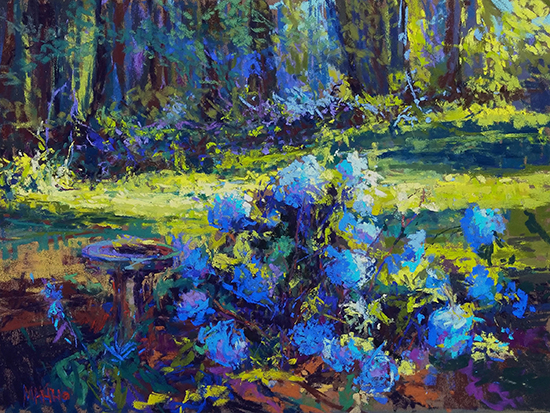 Late Afternoon in the Garden 12 x 16" Pastel (plein air)

"Art is limitless in its possibilities.
It is the essence of our souls.
To offer it freely, without fear of what will come of it,
to express it, is what I can give of myself . . ."
Maria Marino's vivid and expressive paintings are a delight to the eye. Although she works in multiple mediums, we asked her to tell us about her pastel work—her largest body of work. Her strong background in drawing combined with her BFA and years of work in Interior Architecture have given her a sure stroke and unique appreciation for the surface textures possible in pastel work. Marino told us about her background, the beginnings of her love for pastel, and, her relatively recent transition to being a full-time fine artist.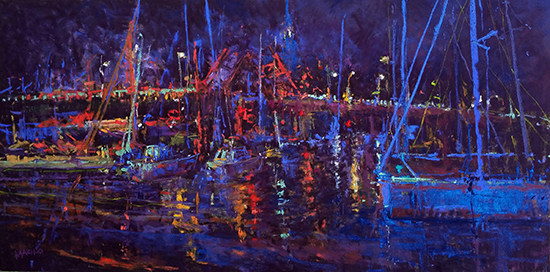 Summer Evening on Spa Creek, Annapolis 12 x 24" Pastel (plein air)
Currently I work in oil, pastel, watercolor and use drawing mediums such as Conté pencils for open class figure drawing. Pastel is the only medium that allows such brilliant passages of color in a painting. Other mediums tend to dilute the pigment. I like my paintings to be truly unique in technique as well as texture. Many of my paintings focus on the landscape and capturing the atmospheric quality of a given moment. The texture that I am able to achieve in the pastel medium gives the painting the opportunity to be more dimensional in view.
Read more about Maria Marino's life and painting in our in-depth interview.
To read it and see more of her work, become a member of
The Artist's Road today by clicking here.

Already a Member?
Lucky You! You can go immediately to the full interview here.

Visit Maria Marino's website at:
https://mariamarinoart.com