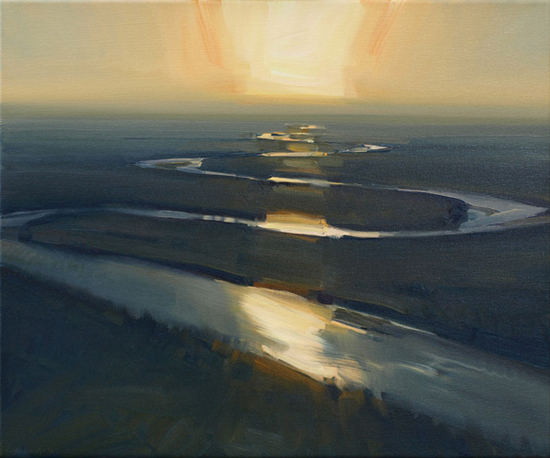 Serpentine II 20 x 24" Oil
". . . I intentionally shift media and subjects
to keep a sense of discovery in the work.
If your creative process is about discovery
the work will be alive and have energy."
The paintings of Lisa Grossman invite the viewer to discover with her the essences of her subjects. Each painting seems to show a distilled purity of inspiration drawn from nature.
Grossman focuses on the open spaces, rivers and prairies of the Midwest. Although she began life in Slippery Rock, Pennsylvania and was educated at the Art Institute of Pittsburgh, it was after she moved to Kansas City, Missouri to work as an illustrator for Hallmark Cards that Grossman discovered the open tallgrass prairies and big skies of east-central Kansas. Ultimately she left her work to paint full-time.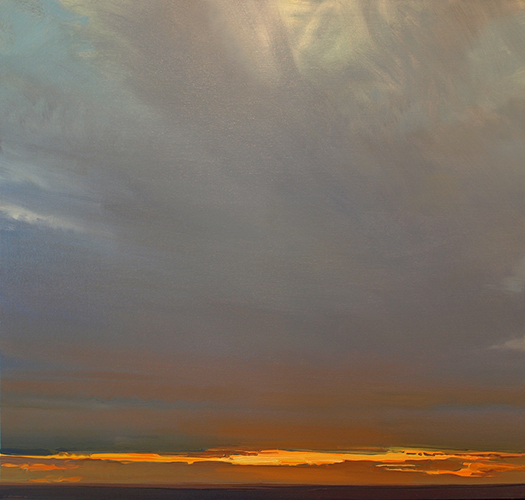 Blaze Yellow 38 x 40" Oil

Her inspiration is the horizon. She writes, "Coming from Pennsylvania, my first experience (in 1988) of the Kansas prairies blew me away and I've been in pursuit of that distant blue horizon every since. I never tire of experiencing that vast prairie space, evolving light and shifts in weather."


L
earn more about Lisa Grossman in our in-depth interview.
To read it and to see more o
f her

paintings,
become a Member of The Artist's Road by
clicking here.
Already a Member?
Click here to go to the the in-depth interview.
All artwork copyright Lisa Grossman.