Kenneth Cadwallader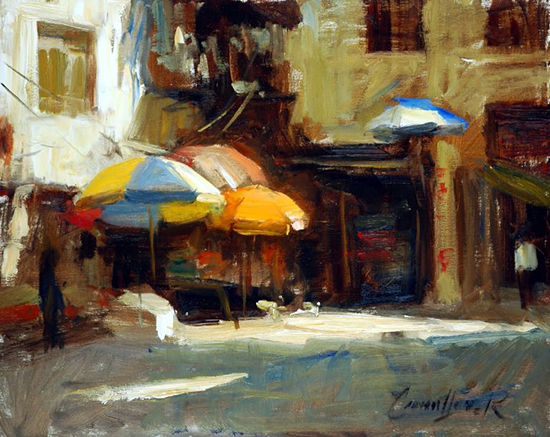 Quiet Market Place 16 x 20" Oil

"I try to not only communicate what I see,

but also some emotional element that comes through

in my colors, value, design and edges."
Ken Cadwallader's paintings share with the viewer an air of spontaneity, each image inviting us into an exquisite and color-filled moment. Cadwallader finds his inspiration in the landscape, in the figure, in flowers—and paints his bold responses in a representational but impressionistic style. He wrote to us about his processes, his style and how his extensive trips to China have informed his work. Currently serving as President of the Oil Painters of America, Cadwallader received a formal arts education, studying at Kendall College of Art and Design in Grand Rapids, Michigan, the Royal College of Arts in London, the Palette and Chisel Academy in Chicago and under Richard Schmid at the Loveland Academy of Fine Art in Colorado. He wrote:

I am very humbled by the rich culture and hospitality of the Chinese. They are very kind to foreigners and are very fascinated by America. I have had endless conversations with people talking about our cultures. I found it very interesting that United States is translated to 美国(mei guo) which literally means beautiful country.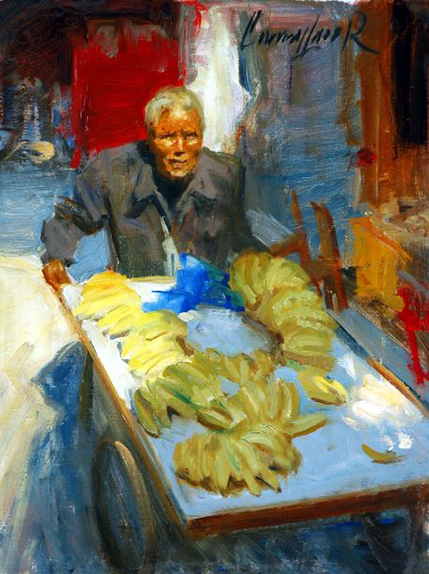 Banana Man 16 x 12" Oil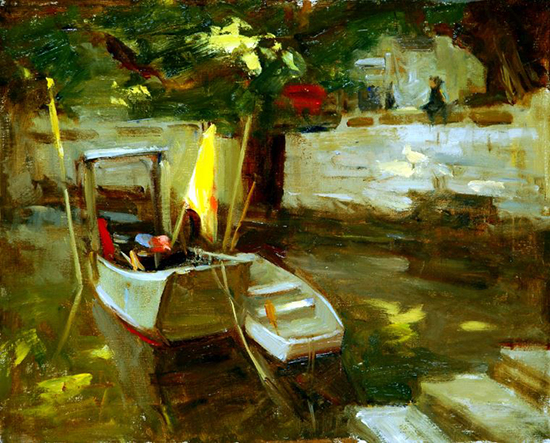 Quiet Harbor 16 x 20" Oil
Learn more about Kenneth Cadwallader's paintings in our in-depth interview.
To read it and to see more of his paintings,
become a Member of The Artist's Road by clicking here.
Already a Member?
Click here to go to the in-depth interview.
All artwork copyright Kenneth Cadwallader.