Artist Profile

Frank Eber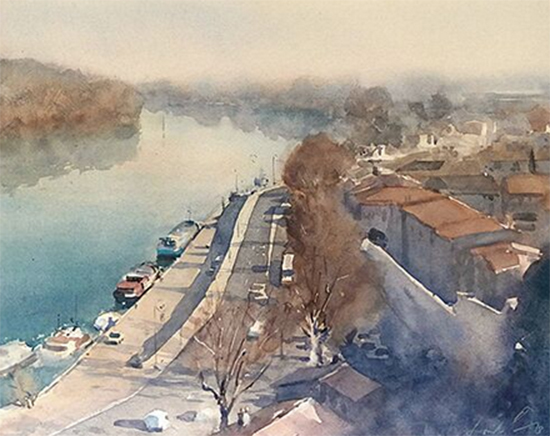 Boulevard de la Vigne Watercolor

"I think it is important to leave some mystery,

some room for imagination."
Frank Eber is a world traveler. Born in Germany, Eber has lived in France and painted in Italy, the Netherlands, Austria, Switzerland, the Czech Republic and China. He finds inspiration now from his studio in California as well. Eber is most well known for his work in watercolor, having won national and international awards. He is a signature member of the American Watercolor Society, the National Watercolor Society, the Transparent Watercolor Society of America and Watercolor West. He is an artist member of the California Art Club.

You mentored under Italian master painter Renato Casaro in the mid-90s. What was the most important lesson he taught you?



That's tough to pinpoint. I would say the most important lesson is that art is about self expression, less so in representational art, but still. You have to have something to say with your art. There should be a pretty good reason for becoming a painter, an artist in general, or even to paint something. I personally think that is a bit missing nowadays. 
I highly recommend the old book by Edward Reep, The Content of Watercolor
, where he elaborates on this subject.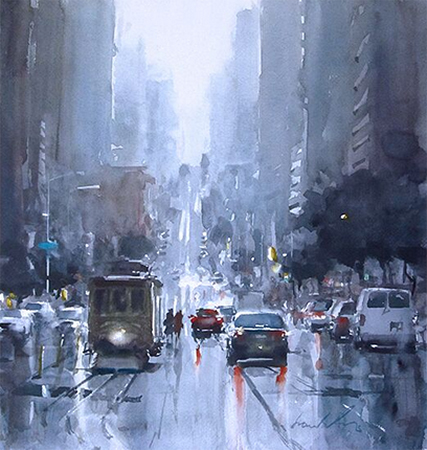 The Financial District, San Francisco Watercolor
Read more about Frank Eber's life and painting in our in-depth interview.
To read it and see more of his work, become a member of
The Artist's Road today by clicking here.

Already a Member?
Lucky You! You can go immediately to the full interview here.

Visit Frank Eber's website at:
http://www.frankeber.com