Gerald Fritzler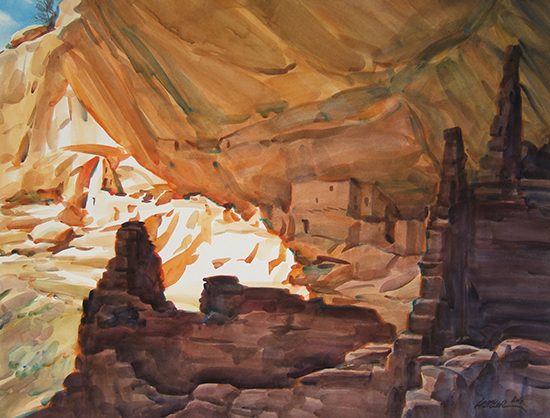 Long House Sunlight 28 x 36"


"Watercolor is a master medium—it is the immediacy of the

medium and the way the pigment responds on your paper

to your personal emotional response to your subject."


Gerald Fritzler's skills and love for watercolor were developed during his studies in Chicago at the American Academy of Art under the instruction of Irving Shapiro and Bill Parks. After completing his studies at the Academy, he became an Illustrator at an art studio in Milwaukee where he continued to hone his skills and talent on a commercial level. After a few years he decided to leave the commercial art field and pursue his goal and dream to become a full time watercolor artist and paint the world over as he responded to it.

Today, living with his family in Western Colorado, Gerald has achieved many goals in his career as one of the country's top watercolor artists. He travels every year in search of new and exciting subject matter, painting on location as well as in the studio. His extensive travels have taken him to China, Morocco, Portugal, Spain, Tahiti, Italy, Greece, Great Britain, Ireland, Poland, Czech Republic, France, Germany, Switzerland, Mexico, and locations throughout he United States. At home he continues to paint the splendor of the Rocky Mountains and the red rock canyonlands near his home. Gerald says that his watercolors are a "slice of my life", a very personal view of the world that he experiences wherever he travels, both at home and abroad. "Plein air painting on location has helped me approach my watercolors in a very spontaneous and colorful way, boldly responding to each exciting subject with great emotion." Gerald's maturity and self-confidence in this respect has taken him to that level.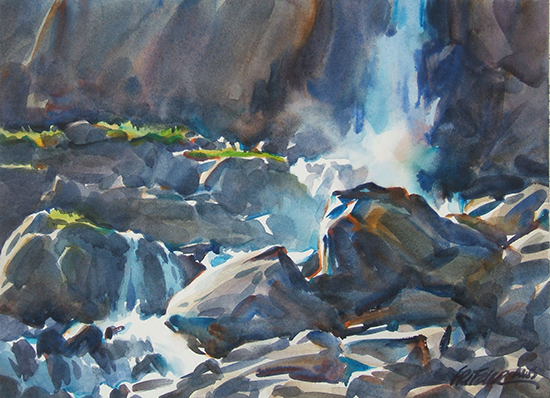 Below the Falls 9 x 12"

Fritzler watercolors have been featured in a number of fine art magazines including American Artist, Artist of the Rockies and the Golden West, The Artist's Magazine, Southwest Art, and Art of the West. His work has been published in numerous books including Best of Watercolor, Splash III, IV, and V, A Gallery of Marine Art, Contemporary Western Artists, Watercolor Expressions, A Simple Secret to Better Painting, and others.
Gerald is a member of the National Watercolor Society, Transparent Watercolor Society of America, California Art Club, The Rocky Mountain National Watermedia Society, Northwest Rendezvous Group and a signature member of the American Watercolor Society and Plein-Air Painters of America (PAPA).


Learn more about Gerald Fritzler's paintings in our in-depth interview.
To read it and to see more of his paintings,
become a Member of The Artist's Road by clicking here.
Already a Member?
Click here to go to the in-depth interview, Voices of Experience.
All artwork copyright Gerald Fritzler