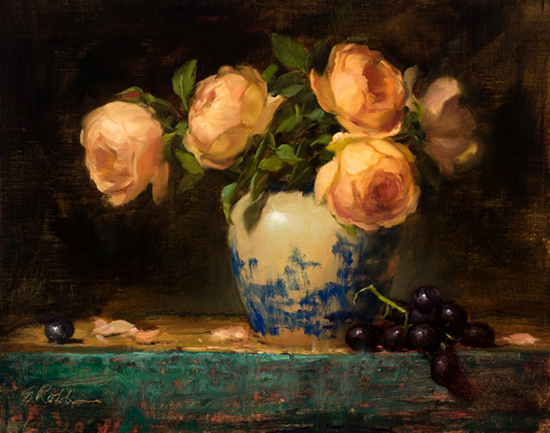 Lady of Shallot Roses with Flow Blue 11 x 14" Oil
T

he garden and its gifts of colorful blooms presents both a challenging and a rewarding subject to artists. Auguste Rodin wrote, "

The artist is the confidant of nature, flowers carry on dialogues with him through the graceful bending of their stems and the harmoniously tinted nuances of their blossoms. Every flower has a cordial word which nature directs towards him."

One of those painters for whom the art of the garden is paramount is Elizabeth Robbins. Her gardens provide limitless inspiration to her still life paintings.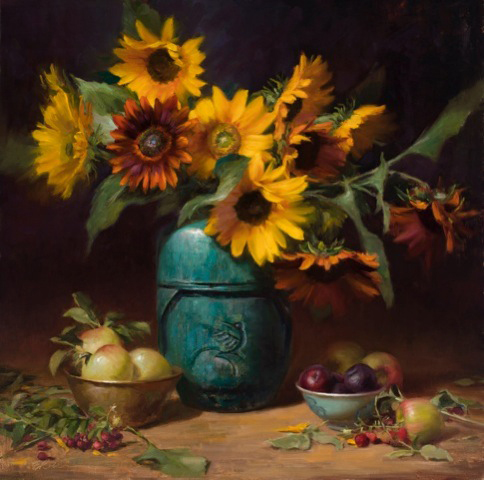 Gathered from the Garden 30 x 30" Oil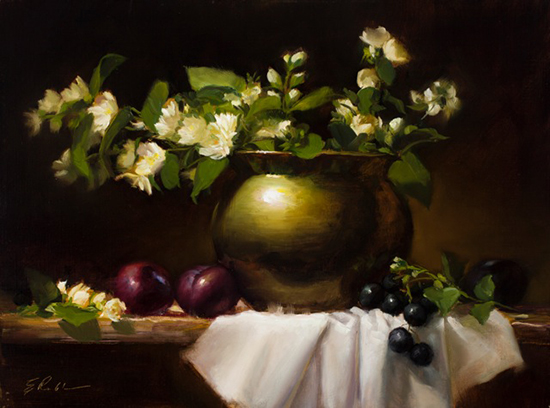 Mockorange in Brass 12 x 16" Oil


Robbins has always had gardens. She says, "I've moved more times than I cared to but each time I've moved I've left behind a beautiful garden for the next home owner. I'm now working on my new garden. Last year I planted 35 new rose bushes. This year I've ordered 35 more. I love painting from the flowers that I've grown. There is more of a connection to the painting for me. I grow sunflowers, peonies, dahlias, roses, lilacs, day lilies, irises, foxgloves, hydrangeas, poppies - the list goes on and on." Robbins grew up in the Wasatch Mountains of Utah. As a child, her grandmothers would help her identify various wild flowers at their cabin above Oakley, Utah. This is where her love of flowers began. "I still have the book where I pressed and categorized wild flowers that my paternal grandmother helped me with."

Her mother was a professional singer. Her siblings sculpt and write, but growing up, Robbins never thought about being an artist. She feels that her life slowly evolved into it and now, it is her passion. "I have to paint," she says.

Elizabeth Robbins is a Signature Member of the Oil Painters of America and the National Oil and Acrylic Painter's Society. She is a Master Signature Member of American Women Artists.


L
earn more about Elizabeth Robbins in our in-depth interview.
To read it and to see more o
f her

paintings,
become a Member of The Artist's Road by
clicking here.
Already a Member?
Click here to go to the the in-depth interview.
All artwork copyright Elizabeth Robbins.