Duane Keiser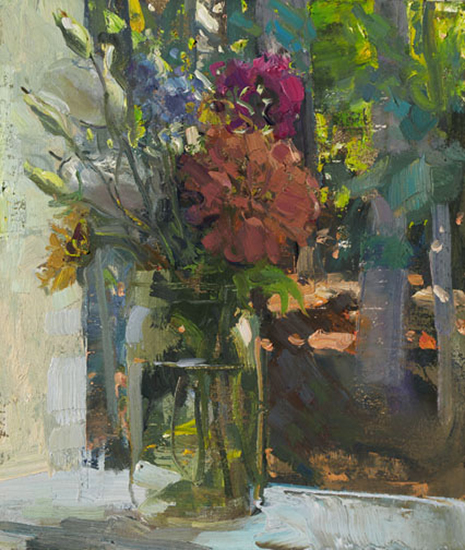 Bouquet on a Sill at Night
7 x 6" Oil on Linen

"For me, these paintings are about the pleasure of seeing;
of being cognizant of the world around me
and pushing to find an alchemy
between the paint, my subject and the moment."


D

uane Keiser's work has a unique perspective, a fascination with light and space and a rich sense of playfulness. He is well known for initiating the "Painting a Day" movement which encouraged many other artists to begin the discipline of producing a small finished painting each day and offering it for sale on-line to collectors - the beginning of a marketing approach that has empowered many artists. His paintings tell stories of day-to-day life and the beauty of moments happened upon within it.

Keiser graduated from Randolph-Macon College in Virginia (where he has since taught) and received his MFA from the Brooklyn College. He has also taught at the University of Richmond in Virginia. He has exhibited in solo exhibitions at the Fischbach Gallery and in group exhibitions at the Allan Stone Gallery, both in New York. Most recently he has shown his work at the
New York Academy of Art. Keiser's paintings are in corporate collections and hundreds of private collections around the world.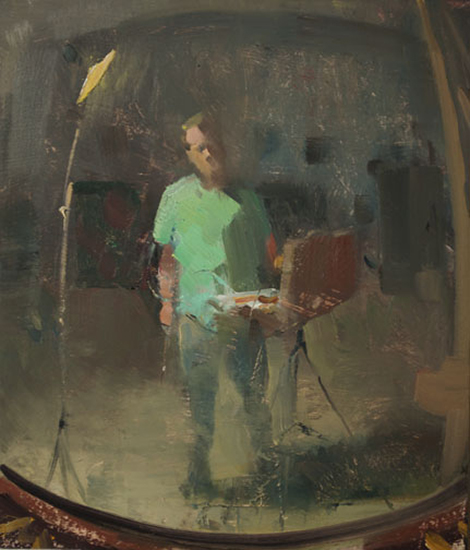 Self Portrait in a Convex Mirror 7 x 6" Oil on Linen
Learn more about Duane Keiser in our in-depth interview.
To read it and to see more o
f his paintings,
become a Member of The Artist's Road by
clicking here.
Already a Member?
Click here to go to the the in-depth interview.

All artwork copyright Duane Keiser.