The Three Amigos
Perspectives No. 195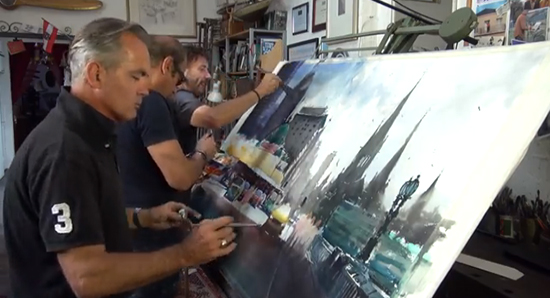 Joseph Zbukvic, Alvaro Castagnet and Herman Pekel Working Together


I

f you haven't read our regular Voices of Experience article for Members this month featuring one of our favorite watercolor painters, Joseph Zbukvic, you will want to before you watch this video. Zbukvic was born in Zagreb, Yugoslavia, but has spent most of his life in Australia. He is a world-renowned artist, teacher, and author of two popular instruction books. Zbukvic has won just about every watercolor award there is for his remarkable paintings. Largely self-taught, his exuberance about painting is inspiring and contagious. Like many other successful painters, he has made several excellent instructional DVDs to go along with his books. What are even more remarkable are the short films he has participated in while painting with his accomplished friends on the same gigantic piece of watercolor paper.
Zbukvic is old friends with two other masters of watercolor - Alvaro Castagnet (of Uruguay and Australia) and Herman Pekel (of Australia). Castagnet is also a popular author of watercolor instruction books and DVDs and travels the world teaching workshops, as does Pekel. In 2012, Pekel and Zbukvic set up a huge watercolor sheet next to the Yarra River in Melbourne and painted a picture together, duet-style. That popular YouTube short video shows the two good friends having a feisty and comical interaction as they worked together.
More recently released (March 2014) is a new online painting video of all three artists painting the same picture at the same time, and it is just as comical and fascinating as the first one. Filmed for an Australian TV show, this time the "Three Amigos" worked indoors in Zbukvic's studio from photographic reference. It is amazing how fast they work - sometimes one painter can be seen reaching underneath the painting arm of another to splash a big wash or detail stroke before the other is even finished! It all looks like immense fun which disguises the fact that these three are among the best of the best painting in watercolor today. We are never quite sure, however, if they can pull this picture off, so it must be watched until the very end.