Voices of Experience

Joseph Zbukvic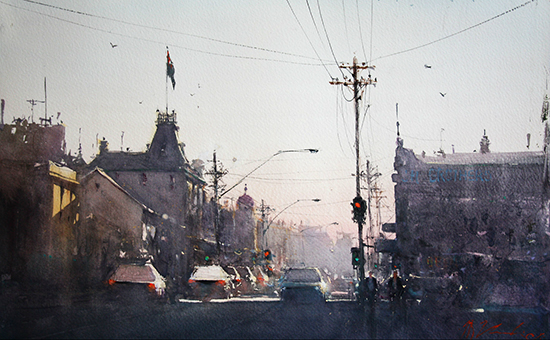 "I love painting. Full stop!"


A favorite watercolor artist of ours (and of the world's!) is Joseph Zbukvic. His atmospheric paintings convey moody impressions of the landscape, both rural and urban with technical virtuosity. He has been honored with the most prestigious international awards for his work. Zbukvic was born in Zagreb, Yugoslavia, emigrating to Australia with his family when he was eighteen years old. He continues to challenge himself with new subjects. We asked him about growing up in Zagreb and when he first knew he was an artist:

I have always seen things around me with an artist's eye from as far as I remember. I think it was my grandmother who first noticed my talent and was instrumental in my becoming an artist. I always say that you don't decide to become an artist but that it chooses you - it is like a calling, I guess.

I come from a very poor background with my early life spent in relative poverty. But that was always lots of love around. We had nothing and lived a very simple life on a small farm in the corn fields of Croatia. There was no talk about art or any artists in my family. We worked hard on the land and lived from the proceeds of what we grew. I remember taking the goods to the markets and being astonished at people giving money for the things we picked from the ground for free! I remember seeing the first piano and my first paintings in rich people's homes when we made home deliveries.
I also simply drew and drew with anything that came to hand. Broken bricks, sticks in mud, charcoal. No wall was safe! Upon seeing this my grandmother bought me my first sketchbook and I remember it well, a small box of five colored pencils. The rest is history.

Did you receive formal training in school or study with other artists?

In 1970 my family emigrated to Australia. It was here that I saw my chance to attend art course at the University. Before that I had studied languages. This came in very handy as I was able to speak English when I came to Australia. In 1974 I graduated with a degree in industrial design. It was during this course I was introduced to watercolour by a teacher named Mr Smith, of all things, and I've never stopped enjoying the magic of the medium since! The lesson lasted one hour and consisted of learning how to do a flat wash and a gradual wash, that's it! I've had no other formal training in watercolour ever. Today with courses and workshops available all over the place this seems strange, but I think it was good to discover my own journey rather than follow someone else's. I actually think that is the very thing that makes my work unique. I developed my style without any influences whatsoever.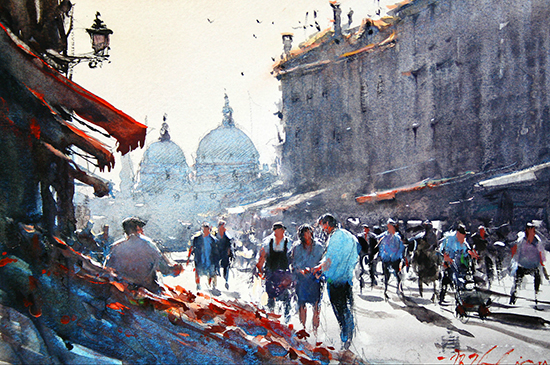 What other artists' work do you find inspiring - both historical and contemporary?

My career took off very quickly. Of course this exposed me to other artists living and dead and my blissful ignorance would soon change. I particularly love 19th-century and early 20th-century painters. It was a time when superb skills met new vision. Artists traveled freely on trains and visited the countryside where the practice of plein air painting was born. I also discovered John Singer Sargent. To this day he remains my only hero and the only artist I raise my hat to. I have also met contemporary artists and I have become friends with people like Alvaro Castagnet, Herman Pekel, Robert Wade, David Taylor and many others. For some reason Melbourne (Australia) is a mecca of good watercolour painters. Just a quirk of history I think, coincidence.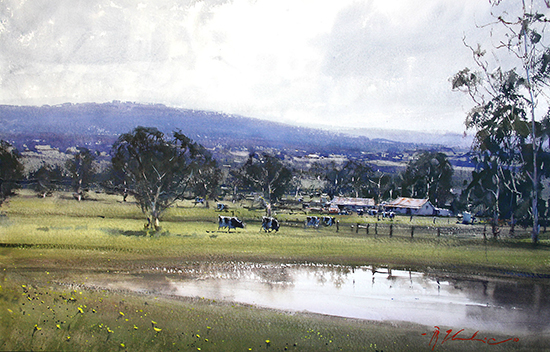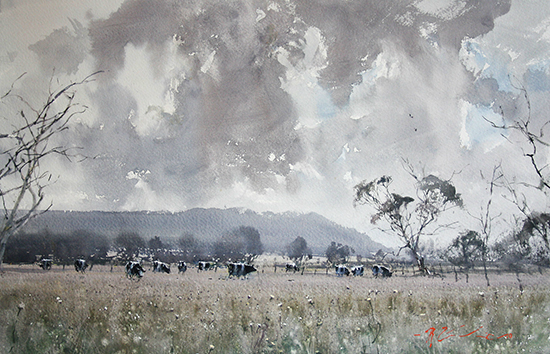 Can you share with us your inspiration and a little about your processes when painting? What it is that makes your paintings unique?

I love painting. Full stop! I particularly love plein air work and I will be happy to paint any subject as long as it isn't raining or incredibly windy. Mind you, I have done many paintings in my car using my steering wheel as an easel.

Whenever you see my smaller work, it is more than likely painted on location. I produce my major pieces in the studio as it is impossible to work bigger than one half sheet on location. Well, for me anyway.

"I am a great believer in plein air work. Without this, one's

work lacks insight and proper observation of the subject."

I can see a painting which has been produced from a photograph a mile away! There are decisions one makes when painting directly from nature that would never come to you looking at a photograph. Ever! For instance, looking at a dark shadow, it simply looks black in a photograph. In real life you see that it's warm or cool, reflected light and its correct tonal value. When we look at the world our eyes dance all over the place. When we look at a photograph we simply focus on that square piece of paper. They are two totally different experiences!

What I love most are light effects and in particular painting into the light. I am a tonal artist, not a colourist. Melbourne is famous for its tonal school of painting. I never, ever think of colours when I paint! I look at a tonal range, or as you call it, values. There is an obsession with colours today and it's a question that sometimes drives me mad, but I do understand it. Best advice I can give a student is to think of colours as cool or warm. That will give the atmosphere of the place. The same subject painted in cool colours will speak of fresh morning and when painted in warm colours, it will speak of an evening. Those who have been to my classes will tell you that I never mention colours. I'm not hiding anything - I'm just trying to help them understand that I don't think of colours when I paint. By the way, Sargent only used five colours in his watercolours! My advice is to look at a shape first, its structure, etc. - then look at its edges, soft or sharp. Then its tonal value and only after all that see its colour, last!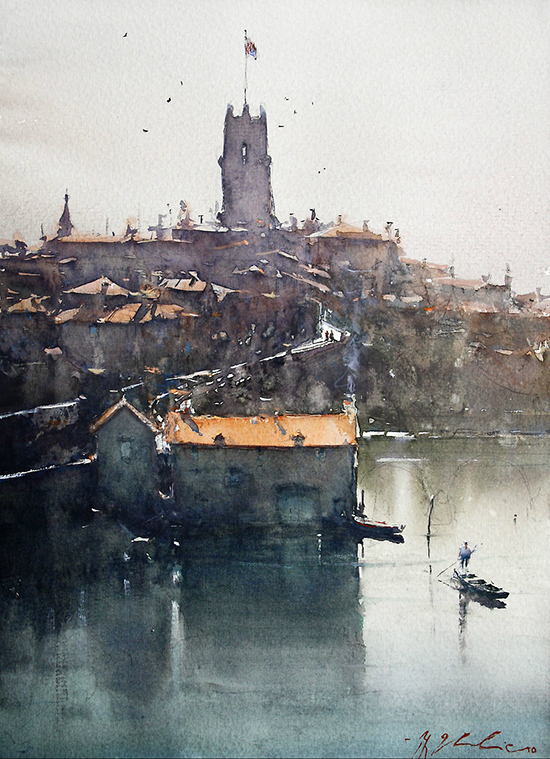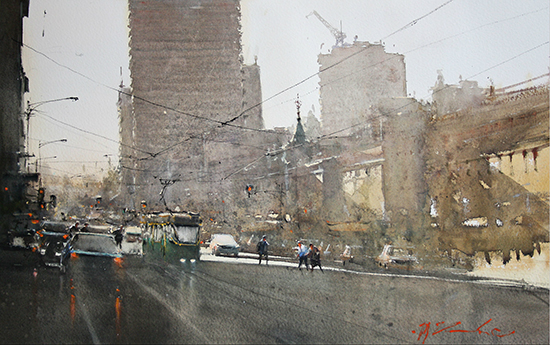 I think my style is different than other painters mainly because I'm self taught and wasn't influenced by anybody in my early days. The other reason is my ability to draw. I believe drawing is a skeleton of your work. It gives your work structure. Without it things collapse. You are left with just drips and dabs. To this I would add that my style is unique due to my obsession with tonal values. I believe tones are the ultimate tool in providing an illusion of depth in two-dimensional art, combined with edges and drawing. Colour comes last. However colour can inject amazing emotion into your work.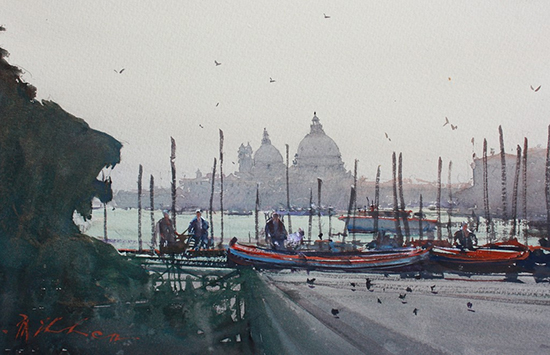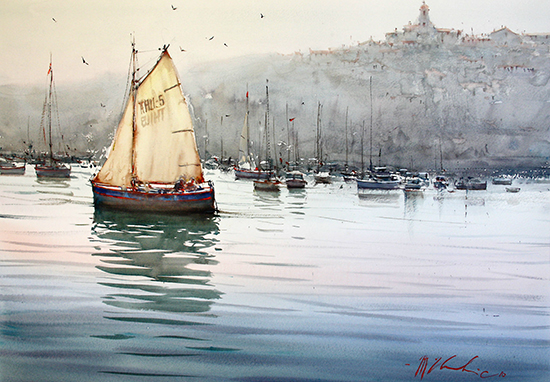 What do you think is the single most important lesson you have learned about painting in watercolor?

The best lesson I learned as an artist is to stay humble. Never get too big to enjoy the process. Forget the result, that comes after! Just paint. My advice to anyone who is starting out is to embrace the fact you are starting. There is so much to learn! It's your best asset. Go with the flow, enjoy. Don't keep changing styles or teachers all the time. Choose a line and stick to it! Don't have gurus, don't copy to make a salable result, but to build new legs and learn to walk on your own. You have all the answers inside you already, they will come out if you let them. Just paint.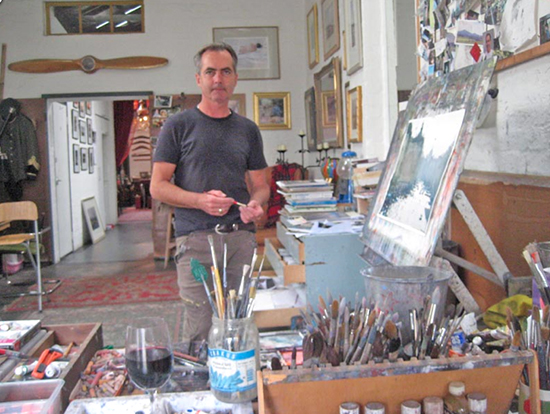 Visit Joseph Zbukvic's website to see more of his watercolor paintings.
All artwork copyright Joseph Zbukvic.