The Artist in the Garden
The Artist in the Garden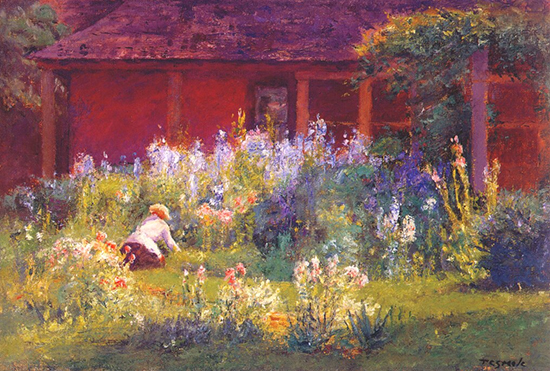 Selma in the Garden Oil T. C. Steele (PD)
T

he garden has been a popular subject for artists from time immemorial. Since the dawn of agriculture, much of human activity had been centered in the gardens and fields surrounding our homes and communities. These provided naturally interesting places to find good subjects for paintings—the flowering plants, trees and shrubs and the activities of people working there, carrying baskets of produce or working with tools, often in interesting and sometimes colorful local dress.

To many, the garden is a living symbol of an archetypal Garden of Eden—a place of human genesis. Painters often exploited those themes in their garden paintings, especially during the Renaissance. While those are of historical interest, we find much more inspiration in those garden paintings whose subject is simply beauty. No group of artists created more of those than the Impressionists. Flowers grown solely for their beauty gave new artistic impetus to the Impressionists, whose loose, pointillist techniques were perfect to express the masses of blooms in all their scintillating, moving, riotous color. Once again, the human form is sometimes included, but most often not as the central subject, unless as a portrait.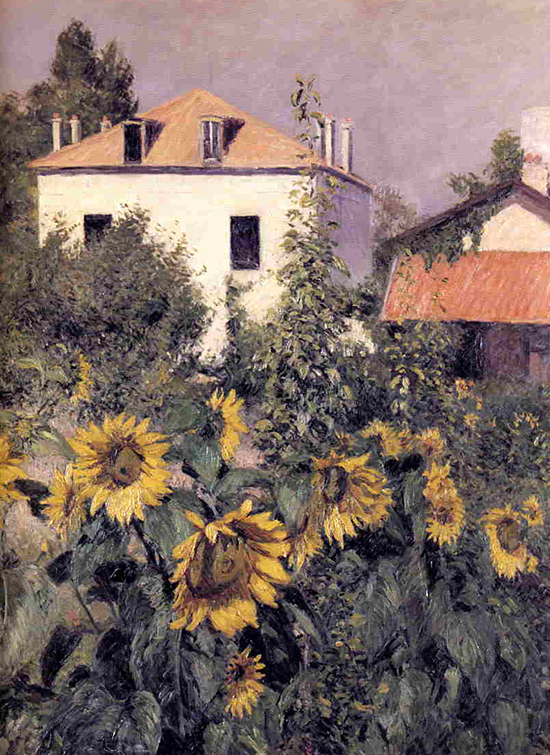 Many of these painted gardens are also idealized versions of Nature in her most benevolent personality—like a paradisiacal experience, far removed from the weedy, sometimes hot and buggy place many of us know. Art transforms the garden into a symbol of pure pleasure—a feast for the visual senses which recruits our fondest personal memories in the process. Some artists strove to convey the actual feel of the atmosphere, perhaps the heat of summer, as in Caillebotte's Sunflowers in the Garden at Petit Gennevilliers, or Steele's Selma in the Garden with its strikingly hot colors.



Left: Sunflowers in the Garden at Petit Gennevilliers
Oil 1885
Gustave Caillebotte (PD)


T. C. Steele (opening image above) was an American Impressionist born in Indiana. He studied at the Academy of Fine Arts in Munich, obtaining financial support for himself and his family from 13 patrons who each pledged $100 in exchange for future paintings. Steele founded and taught at the Indiana Art School. His studio and home is now the T. C. Steele State Historic Site.

French artist

Gustave Caillebotte

(1848 - 1894) (image above) earned his law degree and was also an engineer. He studied art at the École des Beaux-Arts. His work was shown in the Impressionist exhibition in 1876. Caillebotte became very interested in the early development of photography as an art form.

Fortunately for the Impressionists, a growing, affluent middle class not only provided buyers for their garden paintings, but also drove the construction of public and private flower gardens filled with vast plantings and ambitious displays. New species and varieties of flowers were made available, also fueling the passion for designing and planting flower gardens. A perfect example of this are the water lilies which Monet obtained for Giverny. Water lilies had only recently been hybridized to survive the French winter climate and Monet was among the first to obtain them for his new water garden. This one development provided the subject matter for his garden paintings for the rest of his life and created a legacy which is loved today world-wide.

While Monet is arguably the most famous garden painter in the world, there are many, many more wonderful painters both European and American whose work we admire and would like to share with you here.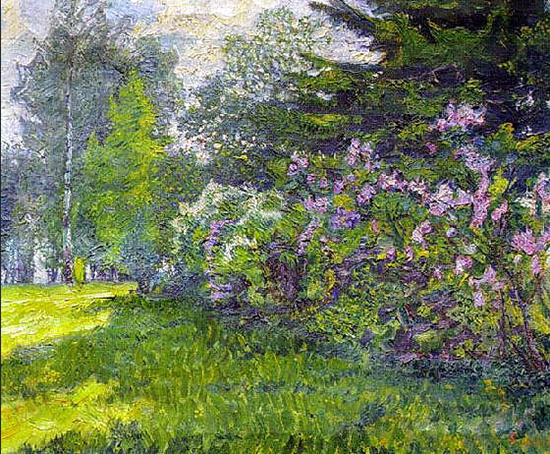 Irises in the Garden Oil 1900
Lilac in the Park Oil David Burliuk

Claude Monet

(PD)

(posted in accordance with fair use principles)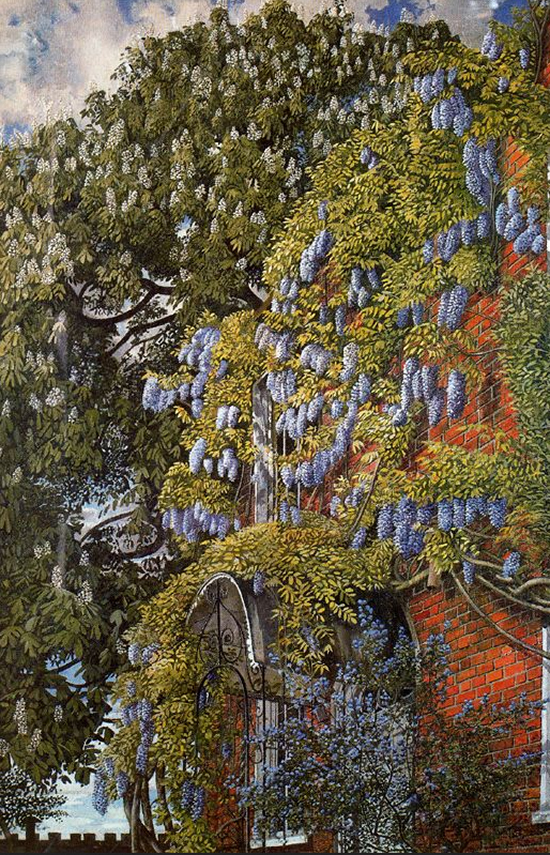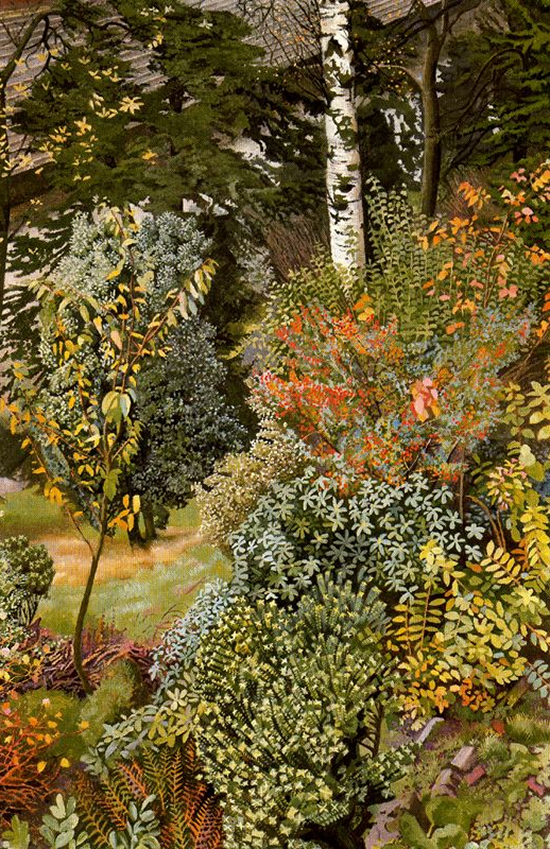 Wisteria at Englefield Oil 1954 Garden Scene, Port Glasgow Oil 1944
both above: Stanley Spencer (posted in accordance with fair use principles)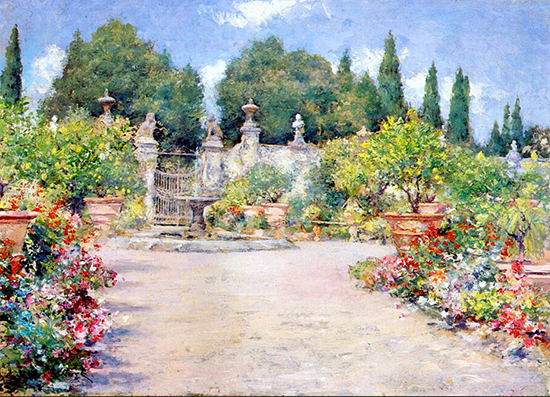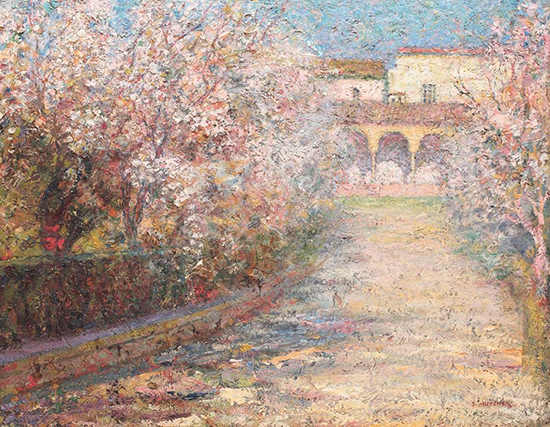 An Italian Garden Oil 1909 Wm. Merritt Chase (PD) Gardens in Sevilla Samuel
Mützner
Oil
1921
(pos
ted in accordance with fair use principles)

Oscar-Claude Monet (1840 - 1926) was a founder of the Impressionist movement in France. In 1883 he moved to Giverny where he dedicated himself to the development of the famous gardens which became the subjects for some of his most well-known canvases. See our article on Monet's gardens today.



David Burliuk

(1882 - 1967) was born in Ukraine. He studied at the Moscow School of Painting, Sculpture and Architecture and became well known as both a poet and painter. He was a member of the "Jack of Diamonds" avant-garde artists group in Moscow. Burliuk traveled to the United States in 1922 (via Siberia, Japan and Canada) and lived on Long Island for twenty years. He was only allowed to return to the Soviet Union to visit in 1956 and in 1965.



Stanley Spencer

(1891 - 1950) was an English artist. He studied at the Slade School of Art at University College, London. He became known for creating paintings with great attention to detail and was a member of a group calling themselves "Neo-Primitives" .



American artist

William Merrit Chase

(1848 - 1916) received a formal education in classical painting in Europe. He became very successful and well-known on the east coast for his portraits, interiors and light-filled paintings of the newly established parks around New York. His studio in New York City was a famous gathering spot for all the leading artists of the day. In 1891, with the backing of two collectors in Southampton, Chase opened a painting school in Shinnecock Hills, Long Island, where he taught a generation of young painters the art of plein air painting in outdoor classes.
See our article on the American Impressionists.
Also see the article "
Henry Hensche, Charles Hawthorne and the Plein Air Legacy of William Merritt Chase".

Samuel Mützner (1884 - 1959) was a Romanian artist who work in both Romania and Venezuela, South America, where he founded the Circulo de Bellas Artes in Caracas.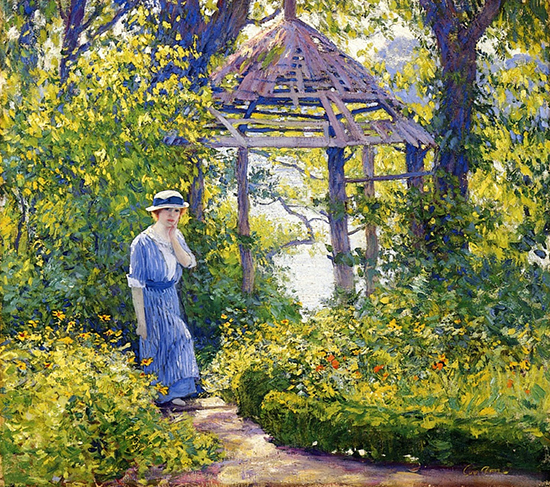 Girl in a Wickford Garden Oil Guy Rose
(pos
ted in accordance with fair use principles)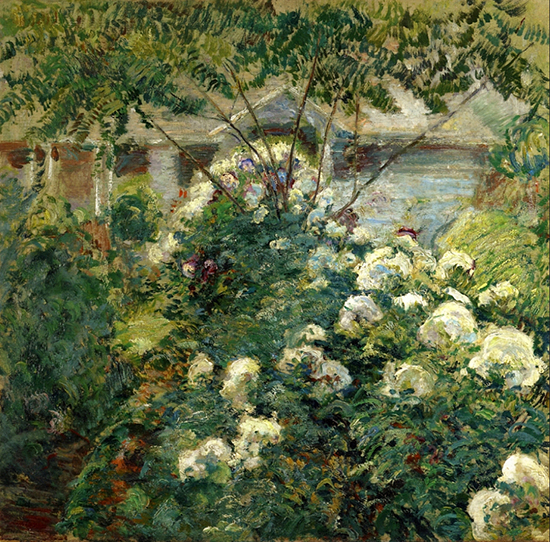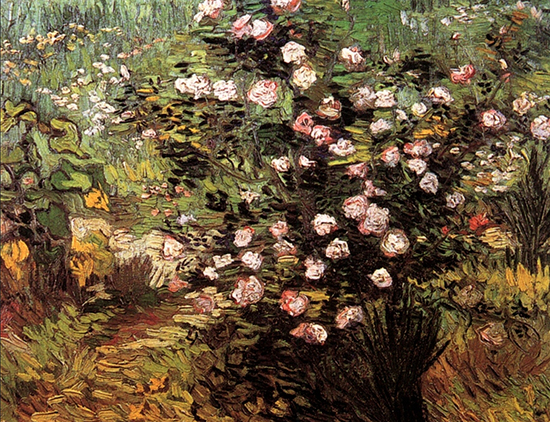 Greenwich Garden Oil 1896 Rosebush in Blossom Oil 1889
John Henry Twachtman (PD) Vincent van Gogh (PD)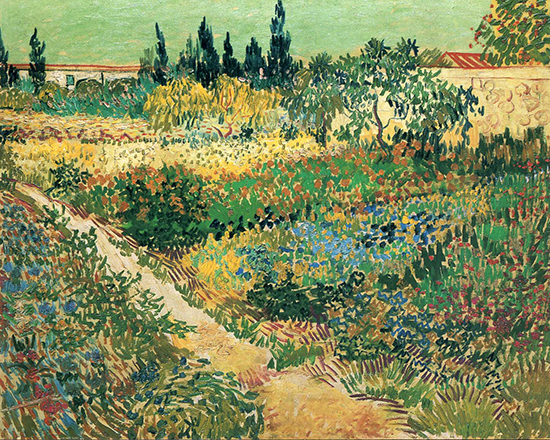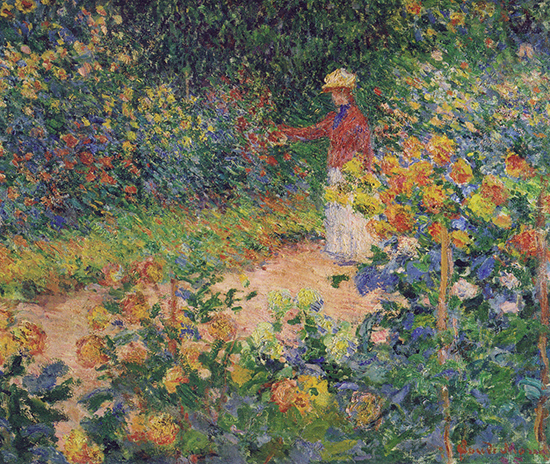 Garden with Flowers Oil 1888 In the Garden Oil 1895
Vincent van Gogh (PD) Claude Monet (PD)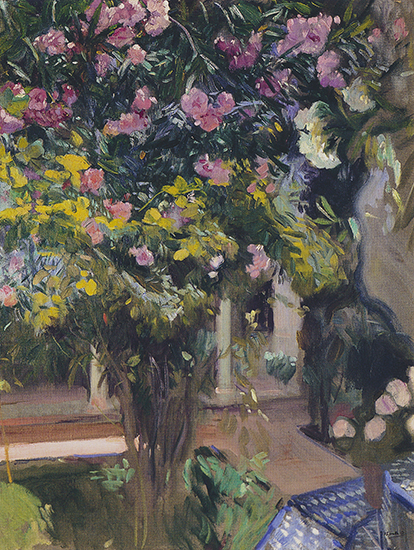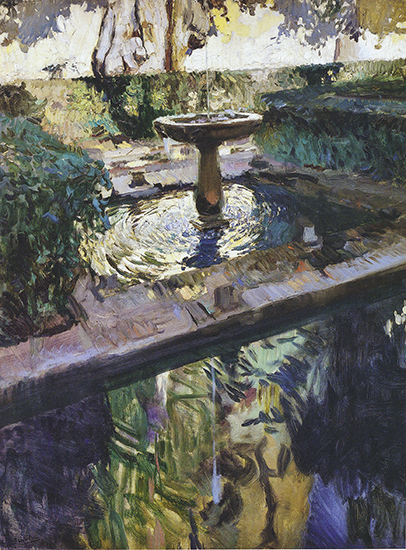 Oleanders in the Courtyard Oil 1918 Gardens of the Generalife Oil 1910
Joaquin Sorolla (PD) Joaquin Sorolla (PD)

Guy Rose (1867 - 1925) was born in California, the son of a prominent California senator. While recuperating from an accidental gunshot to the face on a hunting trip, he began sketching and painting. He studied at the California School of Design and in Paris. Rose lived in Giverny from 1904 to 1912 near his friend and mentor, Claude Monet.



John Henry Twachtman

(1853 - 1902) was an American Impressionist born in Ohio. He studied in Munich and Paris. He settled in Connecticut and taught at the Art Students League in New York.
See the article "The Origins of Impressionism in America".

Vincent van Gogh (1853 - 1890) was born in the south of the Netherlands and died at the age of 37 from what is thought to have been a self-inflicted gunshot wound. After working for a firm of art dealers, teaching, and working as a missionary in Belgium, van Gogh began to sketch and paint from life. Van Gogh moved to Paris and was greatly influenced by the work of the French Impressionists.

Joaquín Sorolla y Bastida (1863 - 1923) painted portraits and the landscape of his native Spain. After studying master paintings in Madrid, Sorolla received a grant allowing him to study for four years in Rome. Sorolla received great success in his lifetime. His late work was a series of panoramic murals titled "Vision of Spain" housed in the Hispanic Society of America in New York. See our article: "Sorolla Up Close".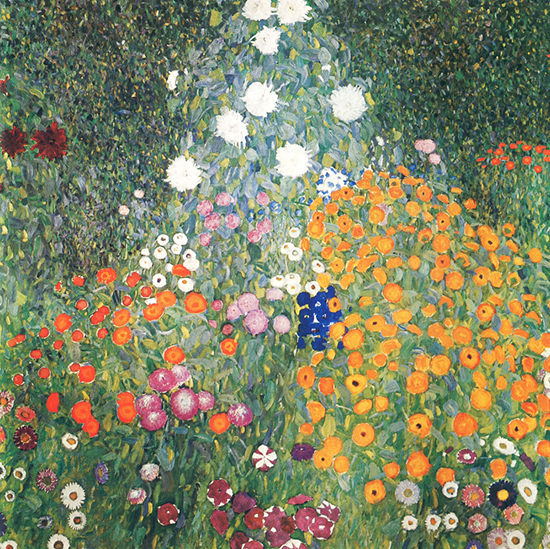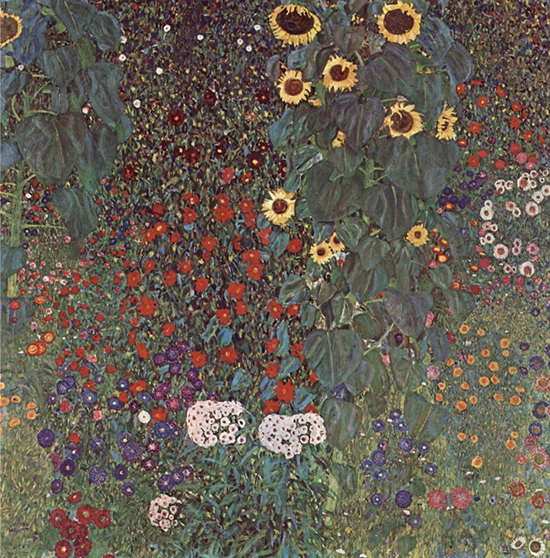 Flower Garden Oil 1907 (PD) Country Garden with Sunflowers Oil 1906 (PD)
both above:
Gustav Klimt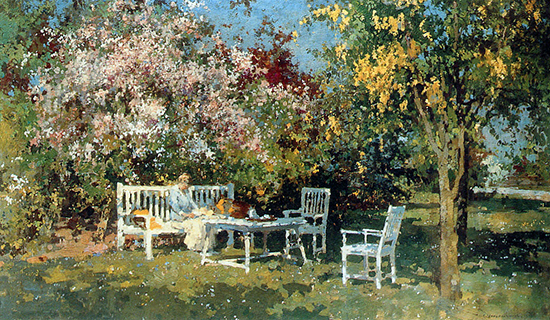 Garden with Blossoming Trees Oil
Cornelus Vreedenburgh
(pos
ted in accordance with fair use principles)



Gustav Klimt

(1862 - 1918) was born near Vienna in Austria-Hungary. He attended the Vienna School of Arts and Crafts. He began his career by painting interior murals and ceilings in large public buildings. Klimt was a founding member of the "Vienna Secession", a group whose goals were to provide exhibitions for unconventional young artists.

Cornelis Vreedenburgh (1880 - 1946) was a Dutch painter. He painted landscapes throughout Amsterdam and was largely self-taught.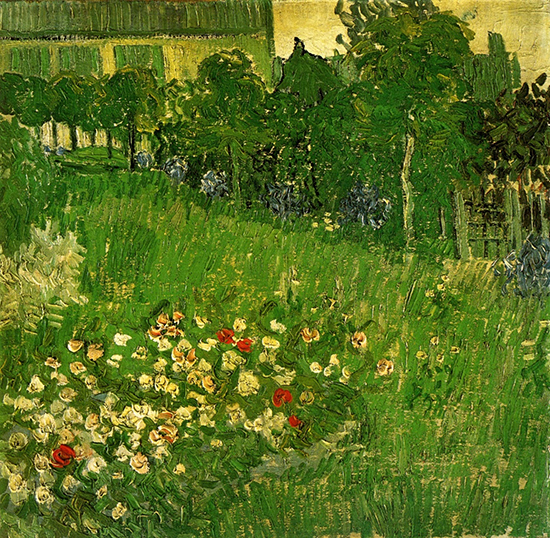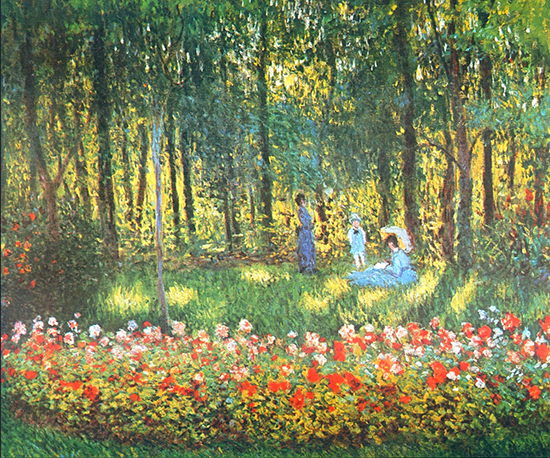 Daubigny's Garden Oil 1890 The Artist's Family in the Garden Oil 1875
Vincent van Gogh (PD) Claude Monet (PD)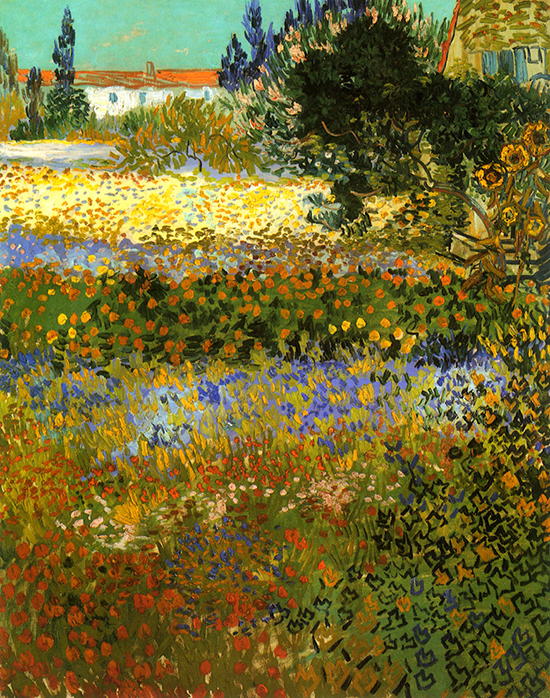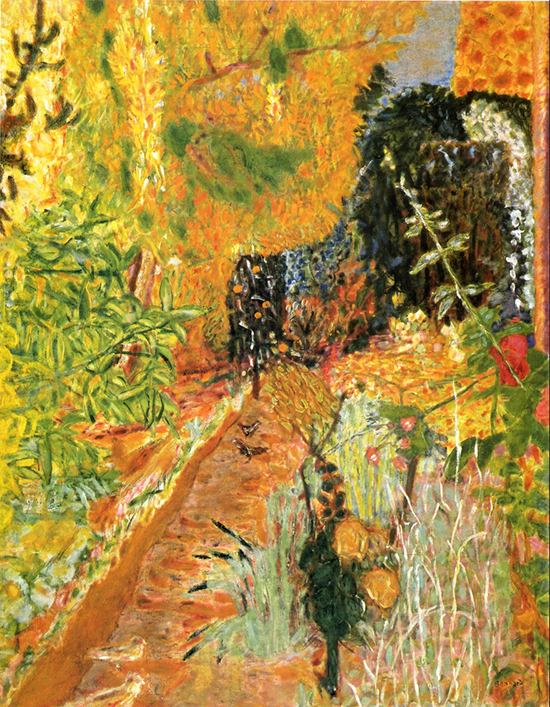 Flowering Garden Oil 1888 Le Jardin
ca. 1937

Pierre Bonnard

Vincent van Gogh (PD) (pos
ted in accordance with fair use principles)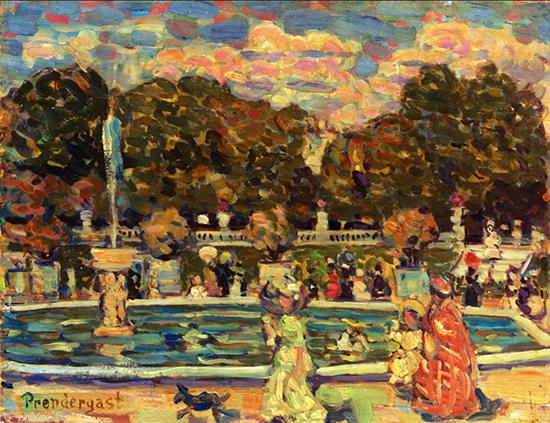 Luxembourg Gardens Oil 1903 Luxembourg Gardens Oil 1907

Pierre Matisse (PD)

Maurice Prendergast (PD)

Pierre Bonnard (1867 - 1947) was born in France, studied law, and briefly practiced as a barrister. He was a founding member of "Les Nabis", a post-impressionist group of artists. He created posters, book illustrations and theater set designs in addition to his paintings.

Henri Matisse (1869 - 1954) was born in the north of France near the Belgian border. He studied law and passed the bar before discovering painting (disappointing his father). His mother gave him art supplies when he was convalescing from appendicitis. He said, "From the moment I held the box of colors in my hands, I knew this was my life."

Maurice Brazil Prendergast (1858 - 1924) was born in St. John's, Newfoundland and grew up in Boston. His apprenticeship as a commercial artist is considered to have been a strong influence in the illustrative style he developed as a fine artist. He studied in Paris from 1891 to 1895. Although he produced some works in oil, he primarily focused on watercolor and monotyping.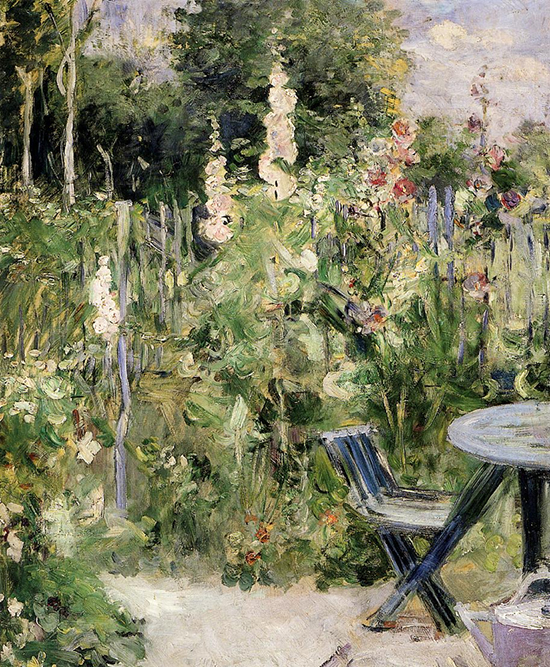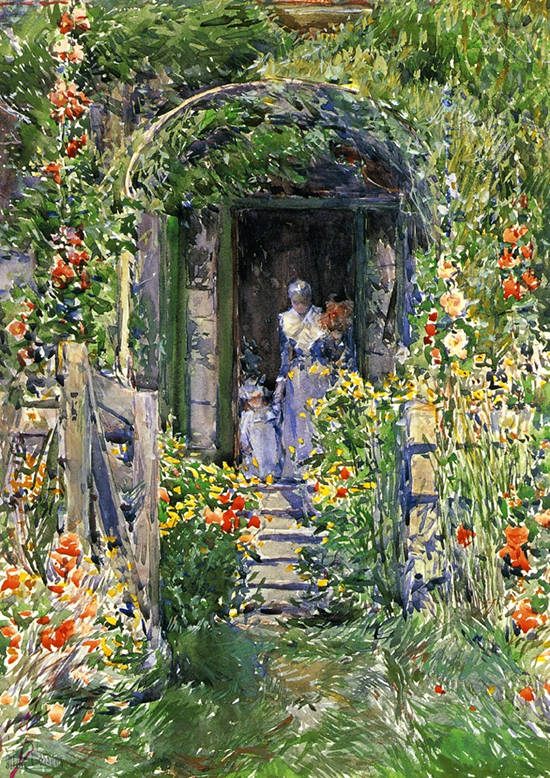 Roses Tremieres (Hollyhocks) Oil 1884 Isles of Shoals Garden Watercolor 1892

Berthe Morisot (PD) Childe Hassam (PD)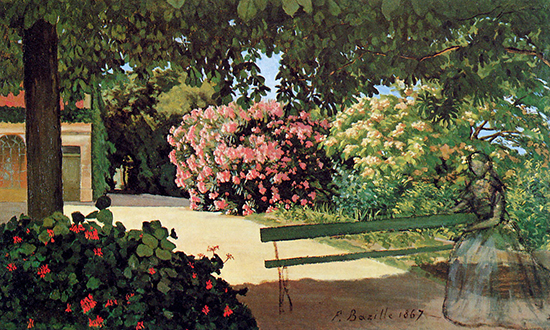 The Terrace at Meric, Oleander Oil 1867 Frederick Bazille (PD)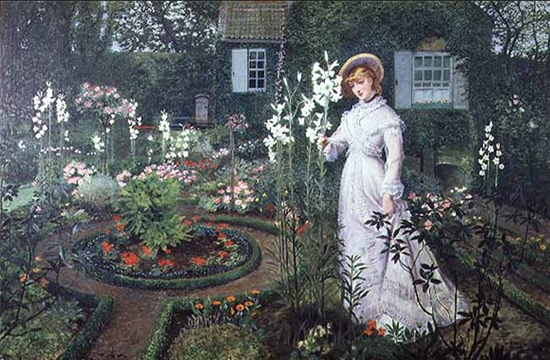 The Rector's Garden Queen of the Lilies Oil 1887 John Atkinson Grimshaw (PD)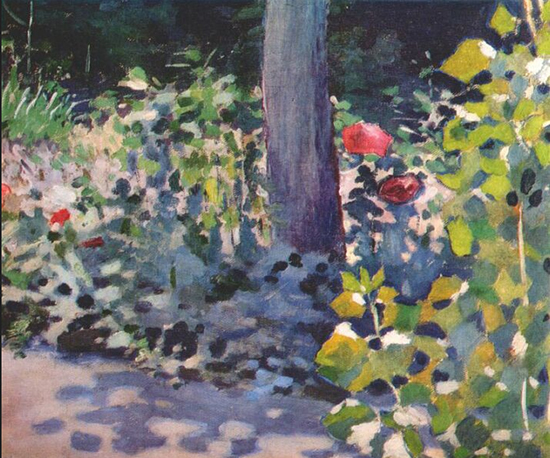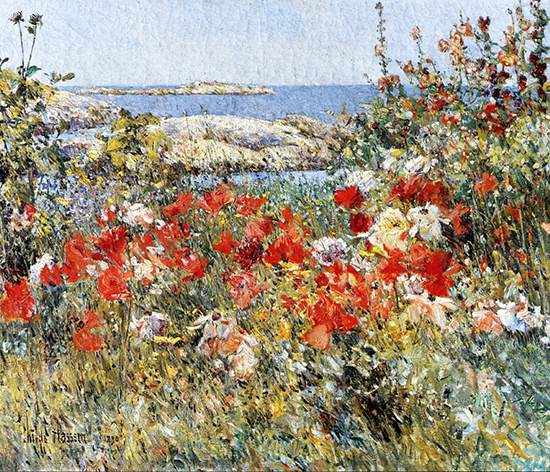 Poppies in the Garden OIl 1894 Celia Thaxter's Isle of Shoals Garden Oil 1890

Victor Musatov (PD)

Childe Hassam (PD)

Berthe Morisot (1841 - 1895), a French Impressionist, painted the domestic daily life of the haute bourgeoisie. Many of her paintings portray her husband, Eugene Manet (brother of Edouard) and their daughter, Julie. She developed her own distinctive artistic style at a young age and was accepted into the Salon at 23. Corot introduced Morisot to plein air painting, which she embraced, eventually persuading Edouard Manet to try it as well. She also introduced Manet into the influential group of painters who would become known as the Impressionists. See our article: "Les Trois Grandes Dames".

Childe Hassam (1859 - 1935) worked as a wood engraver, draftsman and illustrator in Boston before beginning to paint, initially in oil and later in watercolor. He was a prolific artist and was instrumental in bringing the principles of impressionism to art in America becoming one of "The Ten" group of Impressionists. He studied in Paris. See the articles "Evolution" and "The Origins of Impressionism in America".

Frédéric Bazille (1841 - 1870) was born into a wealthy French family. After moving to Paris, he began to study painting full-time and became friends with Pierre-Auguste Renoir, Claude Monet, Alfred Sisley and Édouard Manet. Bazille was killed in the Franco-Prussian War at the age of 28.

John Atkinson Grimshaw (1836 - 1893) was born in Leeds, England. He was largely influenced by the Pre-Raphaelites and created realistic landscapes with vivid colors and details.

Victor Borisov Musatov (1870 - 1905) was born in Russia. As a child, he suffered a spinal injury which left him humpbacked. He studied in Moscow, St. Petersburg and later Paris. He is known for his decorative style and with Mikhail Vrubel is considered the creator of the Russian Symbolism style.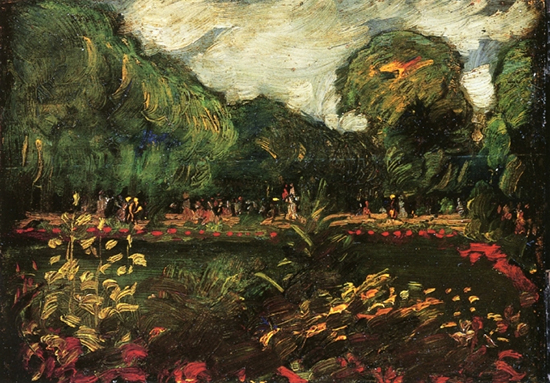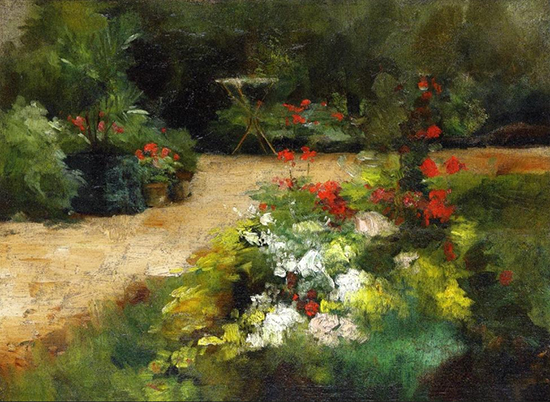 Entrance Luxembourg Gardens Oil The Garden Oil 1878
George Luks (PD) Gustave Caillebotte (PD)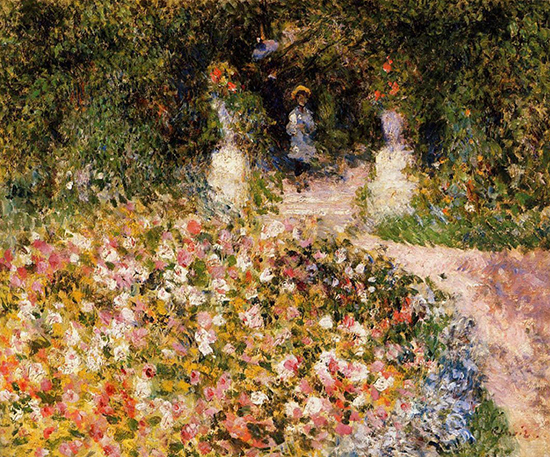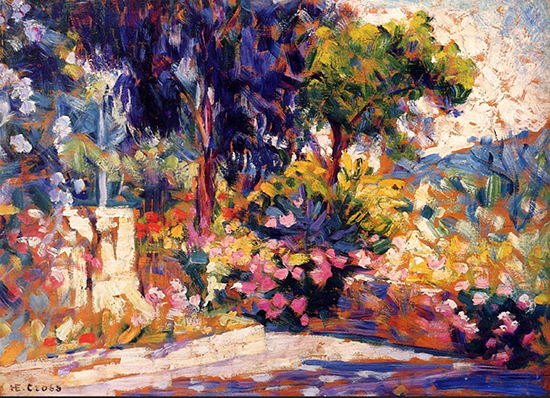 The Garden Oil 1875 The Flowered Terrace Oil 1905

Pierre Auguste Renoir (PD)

Henri Edmond Cross (PD)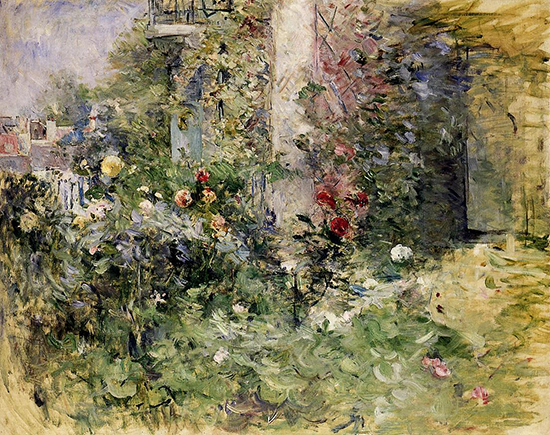 The Garden at Bougival Oil 1884 Berthe Morisot (PD)

George Luks (1867 - 1933) was an American artist and illustrator associated with the Ashcan School. His subject were often urban environments. As a teenager he performed in vaudeville. Early on, he traveled to Europe to study painting in Düsseldorf, London and Paris.

Pierre-Auguste Renoir (1841 - 1919) is one of the well-known French Impressionists painters. He studied in Paris and was accepted in the Paris Salon in 1864. His impressionist style evolved into a more formal one later in life. Renoir is known for his passion for painting. In later life and suffering from severe arthritis, he continued to paint with his brush tied to his wrist.

Henri Edmond Cross (1856 - 1910) was a French impressionist painter and printmaker. A relative financed his first drawing lessons under Carolus-Duran. He continued his studies in Paris. He co-founded the "Société des Artistes Indépendants" and is considered to have been a Neo-Impressionist .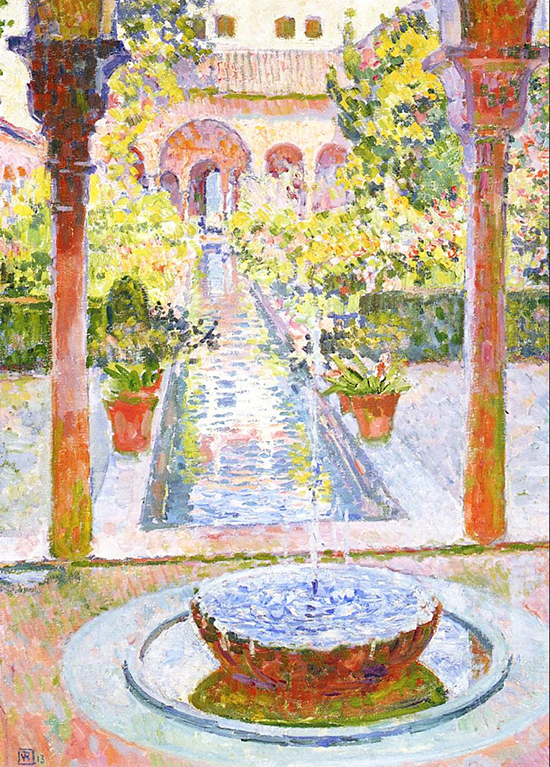 The Gardens of Generalife in Grenada Oil 1913 Garden by the Sea Oil 1892
Theo van Rysselberghe (PD)
Childe Hassam 1892 (PD)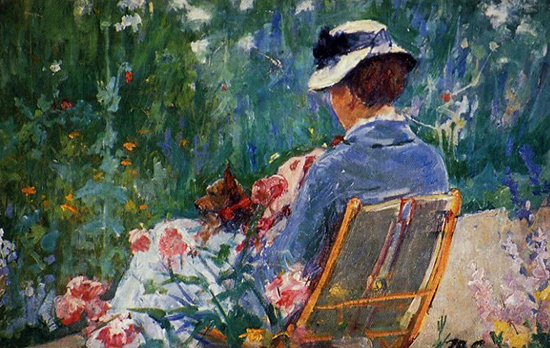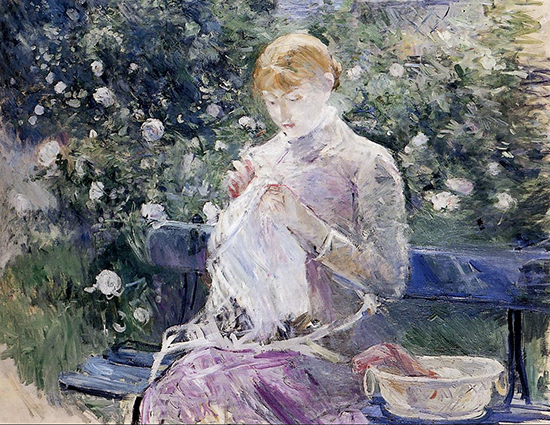 Lydia Seated in a Garden with a Dog in Her Lap Pasie Sewing in Bougival's Garden
Oil ca. 1880 Mary Cassat (PD) Oil 1881 Berthe Morisot (PD)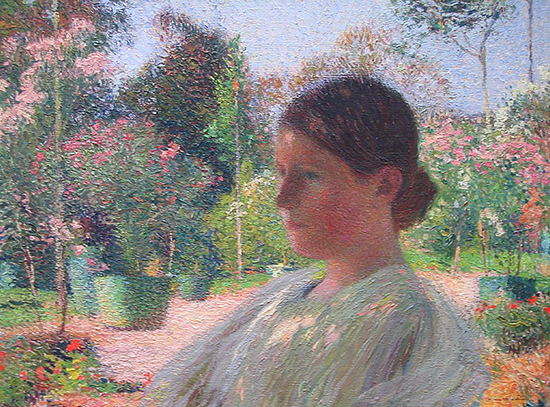 In the Garden Oil 1904 Henri Martin (PD)

Theo van Rysselberghe (1862 - 1926) was a Belgian artist who was influenced by the impressionist movement and the pointillist artists. He traveled to paint in Hungary, Romania, Moscow, Saint Petersburg and is most well-known for his paintings from his many trips to Morocco.

Mary Cassatt (1844 - 1926) was from America, but spent most of her adult life in France. Women were not allowed to study at L'Ecole des Beaux-Arts in Paris, during this time, but Cassatt contracted to study privately with master painters from the school. At the height of her painting career, she embraced Impressionism and plein air painting enthusiastically, and was invited to show with the Impressionists by Degas. She is perhaps most well known for her richly-colored paintings on the theme of mother and child. See the article "Les Trois Grandes Dames".



Henri Martin

(1860 - 1943) was born in Toulouse, France. He studied at the Toulouse School of the Fine Arts before moving to Paris and later studying in Italy. Eventually Martin moved to a quieter environment near Cahors. His work has been described both as Impressionist and Pointillist.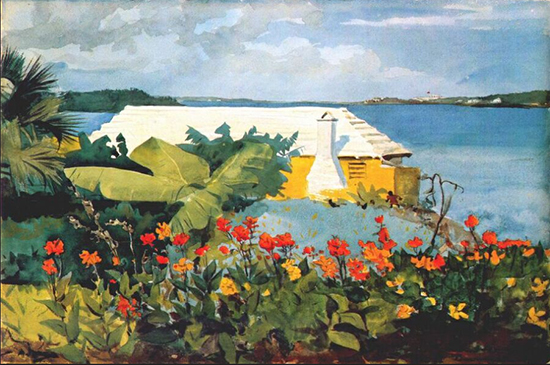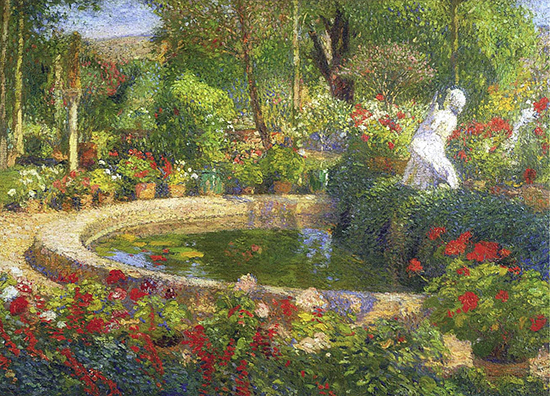 Flower Garden and Bunglaow, Bermuda Fountain in Marquayrol Oil 1885
Watercolor 1889 Winslow Homer (PD) Henri Martin 1885 (PD)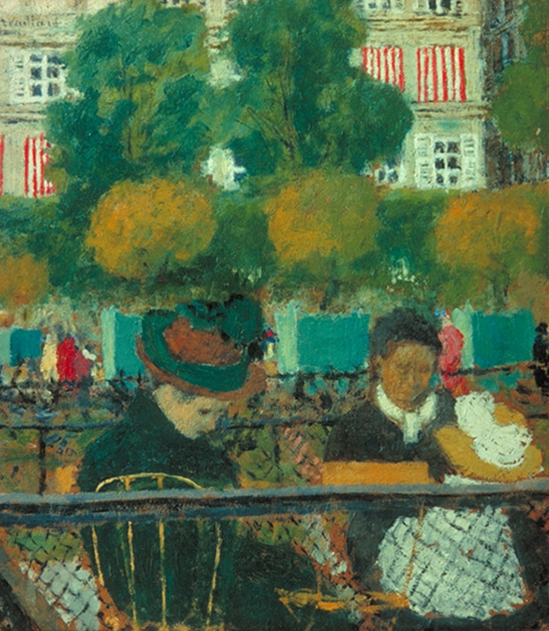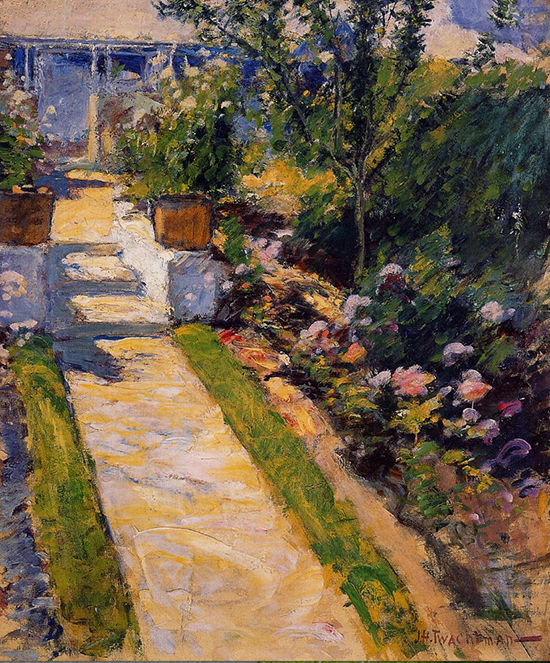 The Tuileries Gardens, Paris Oil In the Garden Oil ca. 1900
Edouard Vuillard (PD) John Henry Twachtman (PD)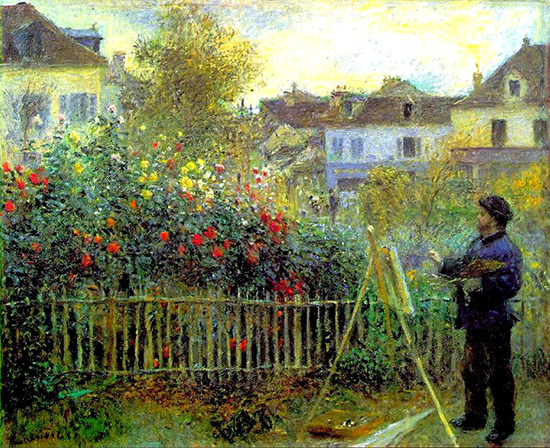 Monet Painting in his Garden Oil 1873 Pierre-Auguste Renoir (PD)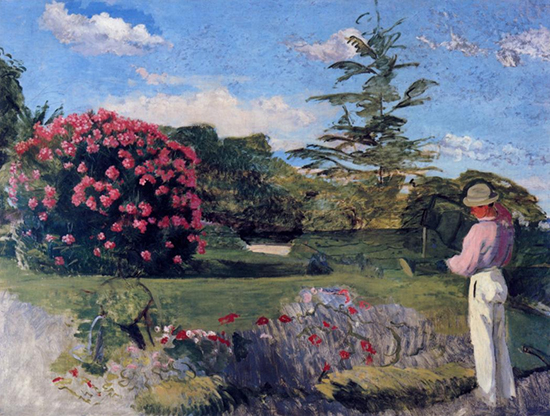 The Little Gardener Oil 1867 Frederick Bazille (PD)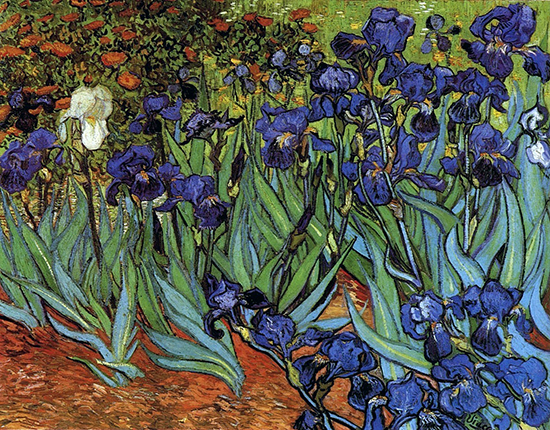 Irises Oil 1889 Vincent van Gogh (PD)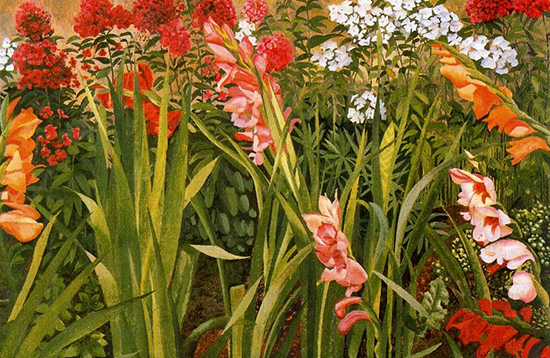 Garden Study Oil 1947 Stanley Spencer
(pos
ted in accordance with fair use principles)
Winslow Homer (1836 - 1910) was born in Boston, Massachusetts and grew up in what was at the time rural Cambridge. He began work as an apprentice to a commerical lithographer, quickly becoming an illustrator, covering the front lines of the Civil War. His illustration work influenced his later painting style. Homer spent time painting in Paris and England, eventually moving to Prouts Neck, Maine, living at his family's estate on the ocean. See our article "Desperately Seeking Homer".
Edouard Vuillard (1868 - 1940) was a French artist and member of the group "The Nabis", post-impressionist avant-garde artists including Pierre Bonnard. He also designed settings, programs and painted frescoes on commission for private clients and theaters. His paintings and decorative works often depict gardens, interior scenes and street scenes.
Become an Artist's Road Member Today!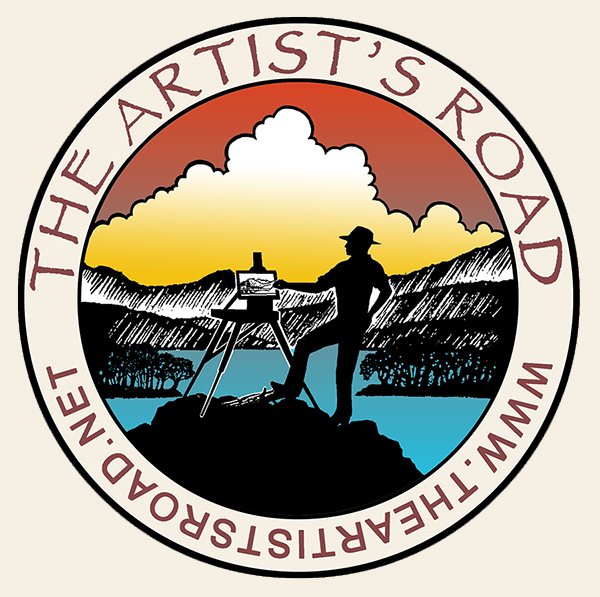 Click here to become a Member and enjoy access to all the in-depth painting and travel articles, videos and tutorials. Guaranteed!

Already a Member?
Log in here. To renew your membership, log in and follow the links.
Perspectives
Not ready to become a Member yet? Subscribe to our free email postcards, "Perspectives". Enter your email address here.
Member Content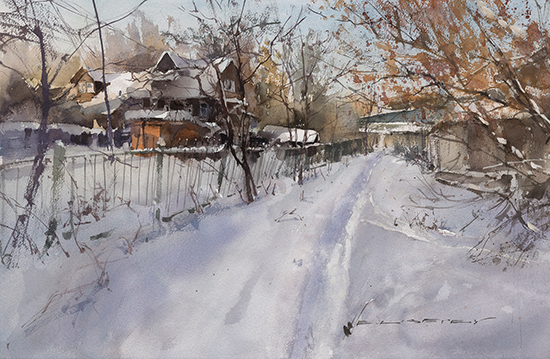 Voices of Experience:Vladislav Yeliseyev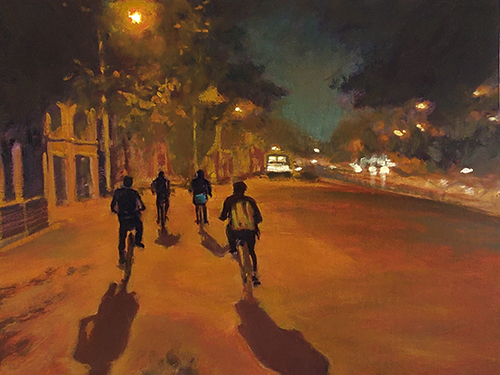 Voices of Experience:Fernando Micheli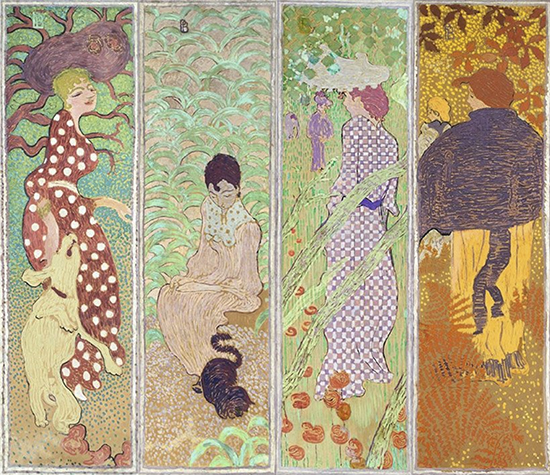 Pictures of the Floating World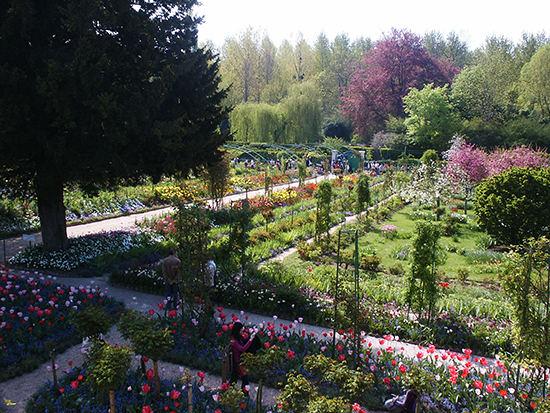 Inspiration in Monet's Gardens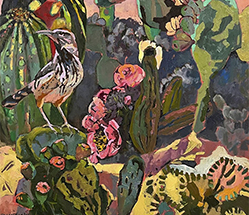 Using Oil Paper for Oil Paintings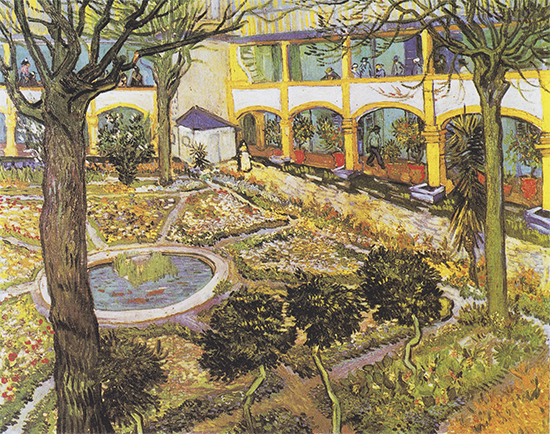 Paintings & Their Places
Van Gogh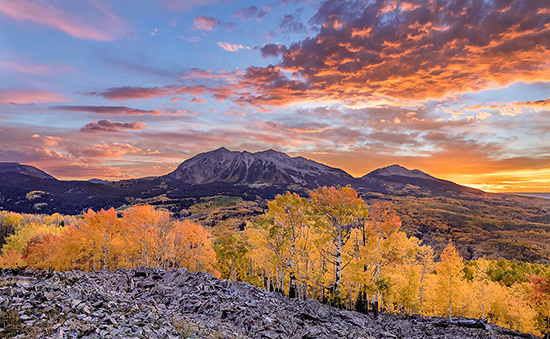 Essential Photo Tools for the Landscape Artist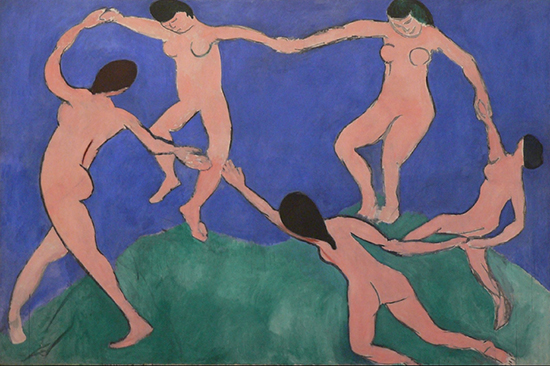 The Perspectives Archive

and MUCH MORE!
Free Content
The Artist's Road Store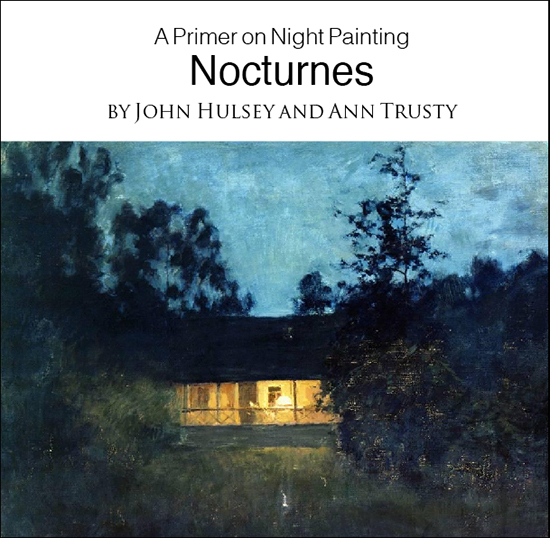 Nocturnes - A Primer on Night Painting
Filled with inspirational examples by the masters of nightime painting, this little book is sure to fire up your creative energies. Never tried painting at night? We show you how it's done with a step-by-step-oil demo and a tale of night painting in the wilds of Rocky Mountain National Park. The Primer on Night Painting - Nocturnes is a 7 x 7" PDF download with 40 pages of text and images. It includes a gallery of paintings by masters of the nocturne, information to inspire and encourage you in your plein air nocturne painting, an illustrated step-by-step demo and tips for working in pastel and oil. Also available in a softcover edition. Check out the tools and other products that we use in our own art and travels in The Artist's Road Store. We only offer things for sale that we enthusiastically believe in.
Save
Save
Save
Save
Save
Save
About Us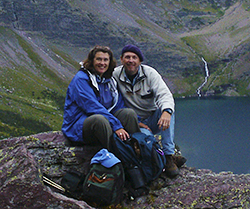 We are artists, authors and teachers with over 40 years of experience in painting the world's beautiful places. We created The Artist's Road in order to share our knowledge and experiences with you, and create a community of like-minded individuals. You can learn more about us and see our original paintings by clicking on the links below.
About Ann About John
Hulsey Trusty Studios