In the Pink

Some Very Useful Colors for Painting

in Watercolor

Perspectives from The Artist's Road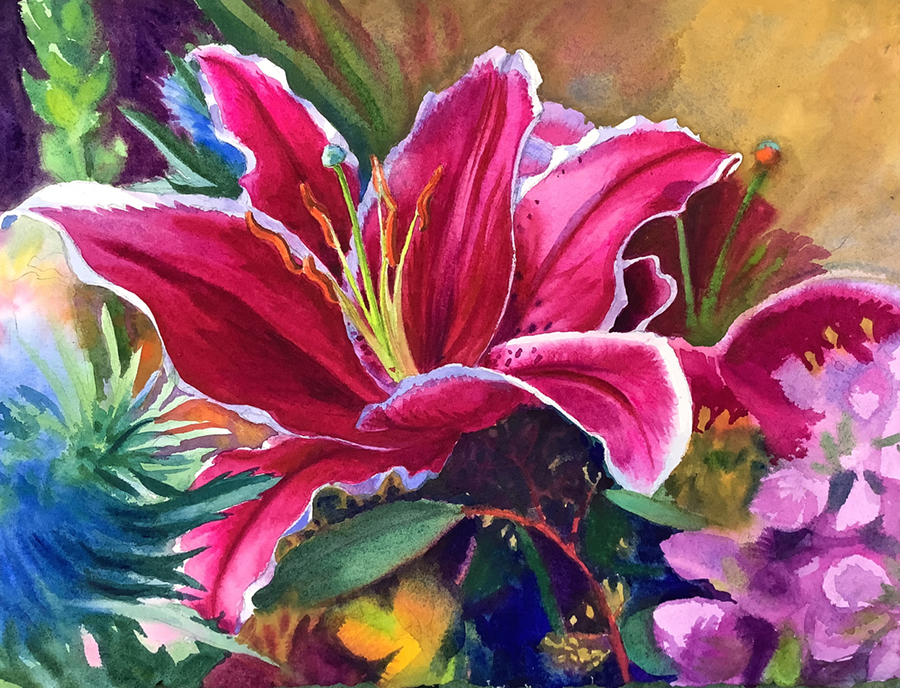 The Arrangement Watercolor John Hulsey
When painting floral subjects, we have found that some colors which Nature seems to use easily just can't be mixed to match Her in a normal split primary palette, such as many painters commonly use. Those bright and intense pigments must be found in specialty colors prepared by paint manufacturers. This is especially true for some reds and many pinks, such as those one finds in peonies, roses, rhododendrons and tropical flowers, among others.

For the floral and still life painter, the search for those special pigments usually involves purchasing numerous colors based on information provided online which many not be accurately rendered or by visiting an art store and looking inside the individual paint tubes!

We, too, have resorted to buying many colors only to discover that the pigments are not really suitable for our needs. We thought it would be a useful service to our readers if we provided a little first-hand knowledge along with accurate color samples of some of our favorite reds and pinks in watercolor pigment. This small sample in no way represents our entire collection in the red/pink color spectrum—just the ones we use most often.

The painting above was painted with some of these pigments and the small illustration below gives you an idea of how they look in combination and cross-mixes. These colors are from Winsor & Newton, Daniel Smith Primatek, Daniel Smith, DaVinci, QOR, Steven Quiller by Richeson and Holbein. Let us know what your favorites are and we'll add them to the list.