In the Footsteps of Van Gogh
Part II




Be sure to read Part I of our wonderful watercolor workshop adventures in St. Rémy!

Day Three: St. Rémy and Les Baux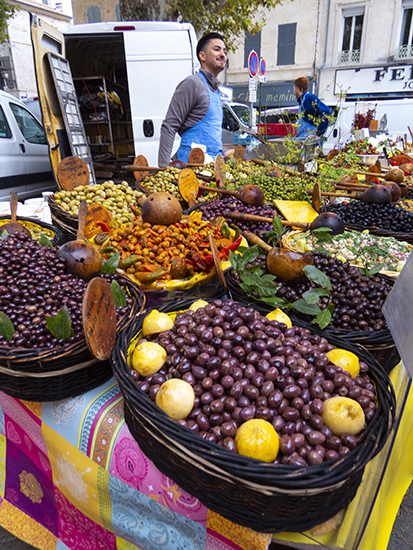 Wednesdays are usually scheduled as a "free day", when everyone can decide whether they wanted to shop in St. Rémy, relax by the pool or paint with us at the hotel. Wednesday is also market day in many villages in France, so after breakfast, we encouraged everyone to join us for a walk down to the centre-ville (main square) of the town to enjoy the market. Along the way, we stopped to read the illustrated placards which marked the places along the road where Van Gogh had painted. Other spots simply had a bronze marker set into the pavement which said "Vincent". One has the feeling that art history is alive and part of the life of St. Rémy. When we reached the centre-ville, there were dozens of vendors set up in the central square and along a side street with their products gaily displayed and ready to be sampled.
We are always impressed by the varieties and quality of fresh vegetables, fruits, cheeses, meats, jams, honeys, and many other locally raised and produced foods that these markets offer. Since this was October, just-picked and cured local olives were also on display in vast, colorful quantities, something not available fresh any other time of year. The cheese varieties were phenomenal—many of them unknown to us. One can buy all sorts of cooked foods as well and I was tempted by the fresh paella filled with gambas—a delicious variety of giant Mediterranean shrimp. I was also interested to learn more about the wines produced locally. I had a nice chat with a wine maker who encouraged my purchase of a couple of remarkably inexpensive and excellent rosés which I had never seen in the U.S. It is so much fun to walk around discovering new taste sensations and meeting the friendly local farmers and merchants at these markets. It is an added bonus that so many photo opportunities and even painting opportunities abound as well.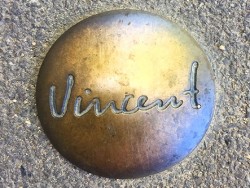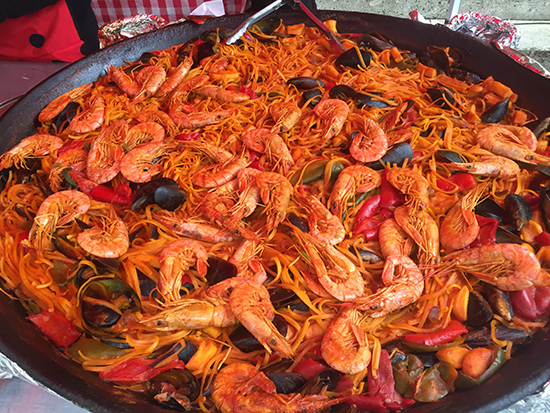 One of our students had an unfortunate experience at the market. Jim was taking pictures with his new phone, and being distracted, slipped it into one of his front jacket pockets so that he could try some produce. In an instant his phone was gone. We forewarn our guests that pickpockets are alive and well in these tourist towns—to guard wallets and possessions by putting them somewhere resistant to snatching. We recommend that the men keep their wallets in a front pants pocket, not rear, and women keep their purses zipped up and across their chest for safety. Never leave any valuable items like a phone or iPad out unattended for even a second. Thieves rely on crowded touristy venues for their livelihoods, and are generally undetectable as they work the crowd. We also advise never to let anyone stop you for directions or a "light". This is a common gambit and the thieves know that polite Americans are less likely to tell them to scram. (A tell-tale is if you notice they are wearing running shoes as they approach you). Just say, "Allez!" in a loud voice and you'll see those shoes put to good use.

Within minutes, we were alerted to the theft, so we ran up the street towards a nearby police car. Just as we got close, the car pulled away. We googled the local police station and Ann, Jim and I set off on foot to report the crime as fast as we could. The thought was that the police could locate the iPhone and find it before it was reprogrammed and sold. However, we were in for a surprise at the police station. There, we were told that the police don't handle thefts, and that we had to go see the Gendarmes, several kilometers by car away. When we finally arrived at the Gendarmerie, the sign said that they were closed for two hours for lunch! Since time was of the essence, we felt that we should use the emergency number. In my best French, I tried to explain the situation to an officer. I was told that this was not considered an emergency and that they would reopen in two hours. We returned with Jim to the hotel. The hotel owners were very helpful—using their computer to try and locate the phone and even driving Jim back to the Gendarmerie to file a report. What we learned was that it is very easy to go to any phone shop and have a phone, any phone, unlocked and reprogrammed in minutes. Once the locating software built into the phone is disabled, that's that. Better not to let them get at the phone in the first place. As a veteran traveler, Jim bore all of this with equanimity and determined that it was not going to spoil the rest of his trip. Good policy.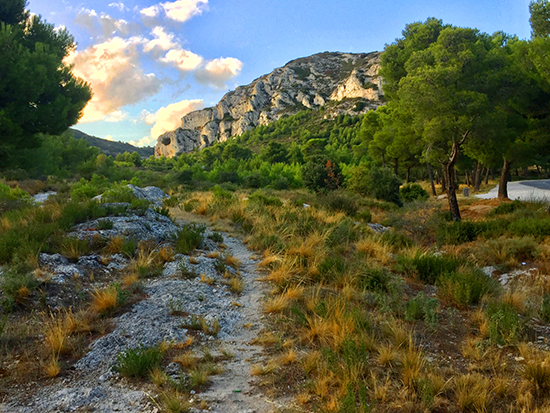 Les Alpilles in Evening
That afternoon, we had arranged for a special treat—a trip south up into the Alpilles to Les Baux and the Carrières de Lumieres (Quarries of Light) show. This wonderful immersive experience takes place underground in a former limestone and bauxite quarry which has been reincarnated into a kind of movie theater unlike anywhere else.

"In 1960, the site's mysterious air cast a spell on Jean Cocteau and compelled him to film the Testament of Orpheus in this tenebrous décor. In 1975, Albert Plécy visited the impressive limestone quarries of the Val d'Enfer in Les Baux de Provence. Overwhelmed by the site's beauty, he decided to utilize it for his research into the "Total Image" with an ongoing experiment in the use and effects of an artistic creation that introduces the individual into the heart itself of the image. The Cathédrale d'Images was born and has been presenting audiovisual shows for 30 years now". (From the Avignon et Provence website)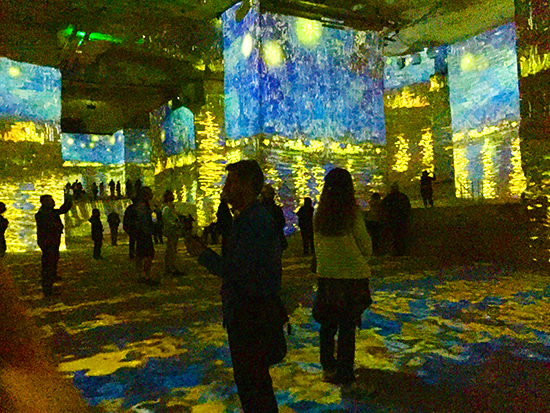 The Carrières de Lumiere Show at Les Baux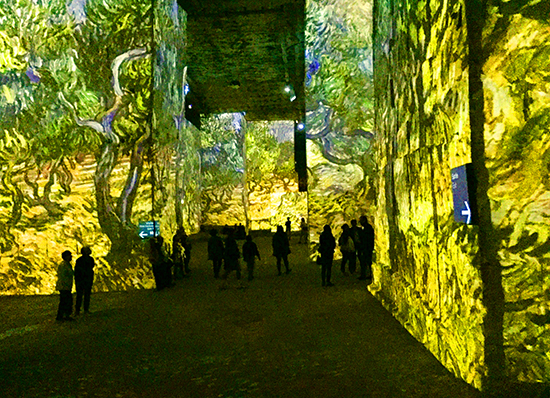 This animated slide show is projected on every surface—floors, ceiling and every wall surface simultaneously by 70 laser projectors which are synchronized to a specially composed soundtrack. The space is over 650 feet long and 50 feet high. Within that are enormous smooth pillars which support the ceiling. One can walk around this vast space and see different aspects of the presentation, suddenly finding different views around each pillar. The images move across all the surfaces, even the floor, in a bright, mesmerizing display. The effect is amazing, thrilling and joyful. There are two presentations, a short and a long one. Viewers are free to come and go or stay and watch twice if desired. The shows are changed annually. This year was a short presentation of animated Japanese-inspired art, followed by a Van Gogh presentation. Wonderful! The air temperature is quite cool inside, so take a light jacket or wrap. Admission was 12 Euros per person.

Day Four: Châteauneuf-du-Pape

Thursday dawned bright and beautiful, so we drove the short distance to the St. Paul de Mausole hospital to paint again on the grounds. The morning light there seems magical because the olive groves are backed by the glowing blues and violets of the limestone Alpilles. Everyone set up and picked their own views while I demonstrated and circulated. By late morning the tourists arrived. It was time for us to go. We had a big afternoon planned for everyone.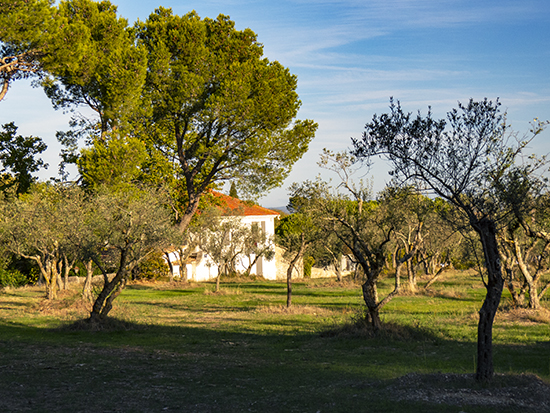 St. Paul de Mausole Grounds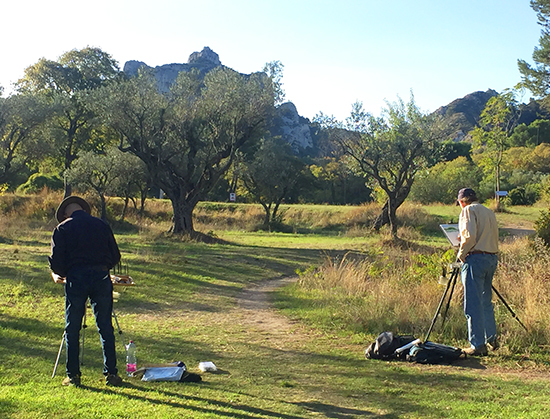 Jim and John at Work

It would be a shame to be in the heart of French wine country and not visit one of the premiere wineries. We decided to take everyone to visit the renowned Mont Redon winery in the famous Châteauneuf-du-Pape region. Châteauneuf-du-Pape sits toward the bottom of the Rhône Valley, close to the border of Provence. The name means "pope's new castle," and refers to a time when the seat of the Roman Catholic Church was in Avignon (between 1309–1377). Châteauneuf-du-Pape was where the Pope's personal wine was grown. It is fitting that the region became the very first French wine appellation, created in 1936.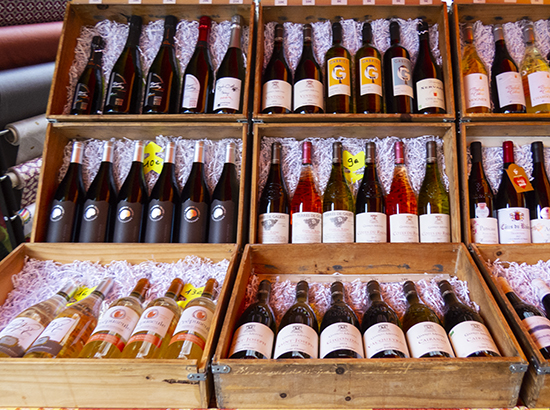 Some of the Wines of Provence at the Market
There are 320 wine growers in the appellation's syndicate of vignerons, and there are 7,746 acres of vineyards in the region, which produce an average 14 million bottles each year! A big part of the reason that the area is so ideal for growing grapes is that it receives an average of 2,800 hours of sun per growing season, making it one of the sunniest of France and on a par with Los Angeles.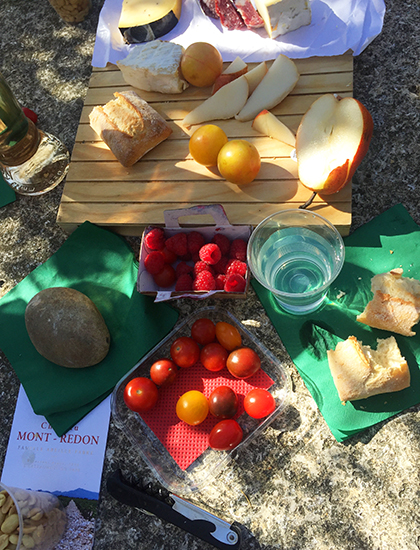 We had visited here many years ago and were impressed with the beautiful landscape around the winery, the friendly staff, and the exceptional wines of Mont Redon. That was a spring trip. This year, in October, they were making new wine. The trip can take a couple of hours, so plan to arrive around lunchtime so that you can picnic, as we did, in the lovely outdoor patio just off the shady parking area. Warm, golden sunshine poured in as we sat at limestone tables and ate delicious Provençal cheeses, bread, olives, saucisson and quiche and shared some of those special rosés I had bought at the market in St. Rémy. After lunch, we went into the winery for a tasting. Our host explained the qualities of each wine in perfect English as we sampled the range of wines produced by Mont Redon. Because it was not high season and we were the only visitors, our experience was unhurried and very relaxed. After the tasting and some purchases for home, everyone repaired to the van to get their painting gear to take advantage of the marvelous golden afternoon light. By late afternoon we had to pack up if we were going to get back in time for another amazing dinner at Table d'Ivan. We thoroughly enjoyed the drive back through the Châteauneuf-du-Pape area in that wonderful late afternoon light.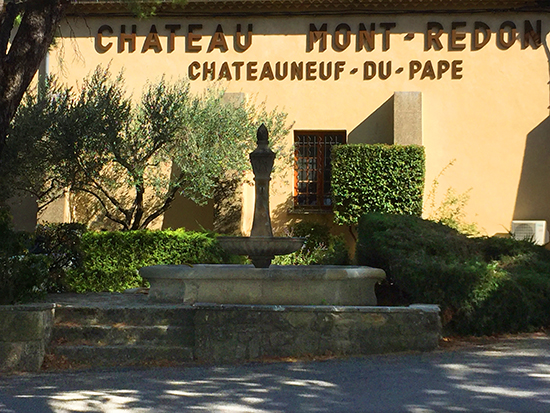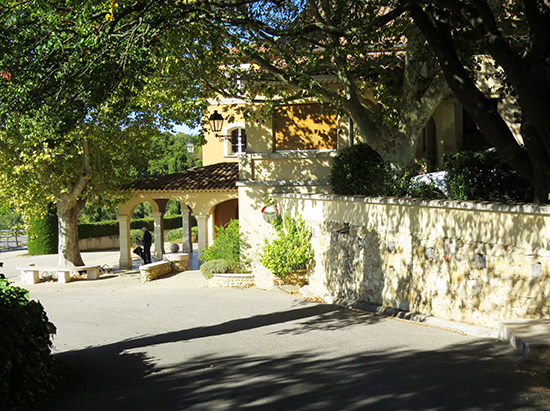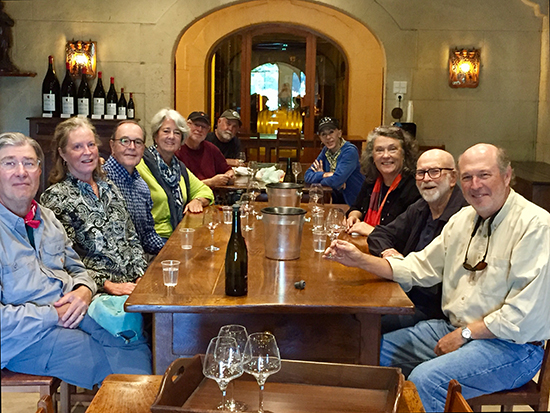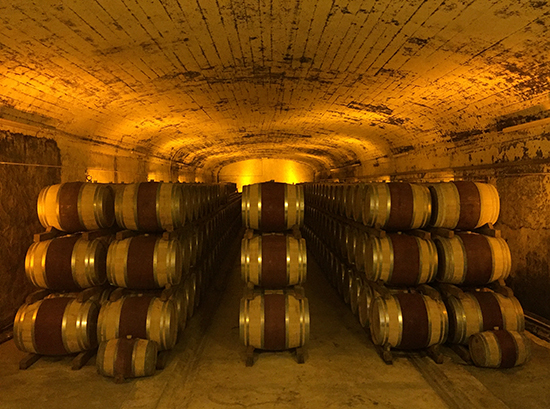 Our Happy Group at Mont Redon The New Wine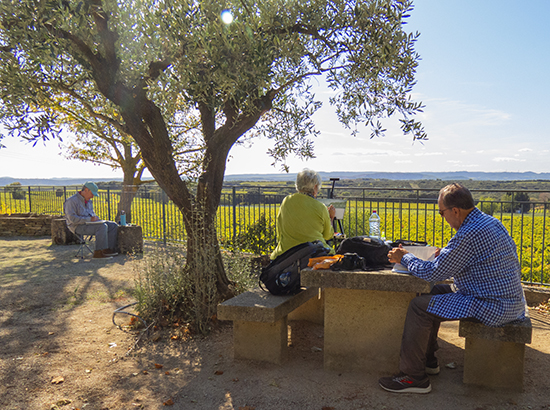 Painting at Mont Redon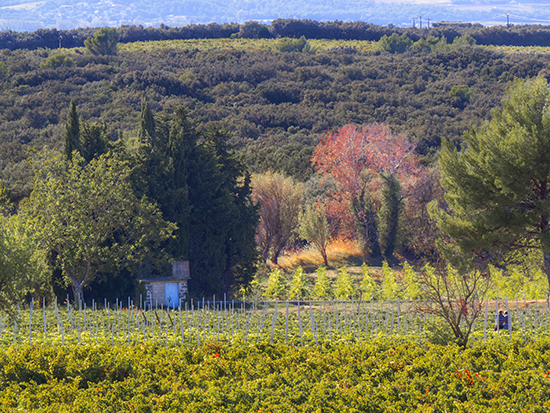 Châteauneuf-du-Pape Landscape at Mont Redon

Day Five: Centre-Ville

Our last day of the workshop we decided to stay close to home and get some more painting in. While we could have all easily walked, we used the van to haul everyone and the gear the four blocks downhill to the St. Rémy Visitor Center parking lot, our base of operations for the day. From there, we walked the three blocks down to the heart of the shady town square, which is filled with massive, beautiful plane trees. The square is anchored by the lovely city hall building and surrounded by various shops and other interesting old buildings festooned with strings of little festive flags. We decided to set up and get right to work. I demonstrated by painting a sycamore trunk while our students worked nearby. From time to time, I would stop and circulate among the painters, helping with techniques and compositional issues. In a public space like this, there are always onlookers, which can be unnerving at first for some painters. However, the Europeans we have encountered have always been extremely polite, curious and friendly when they have approached us. So we welcome it.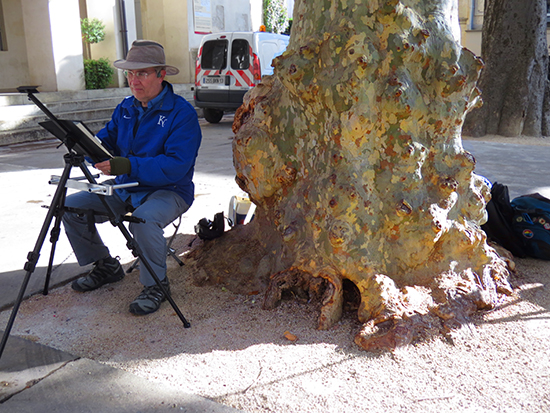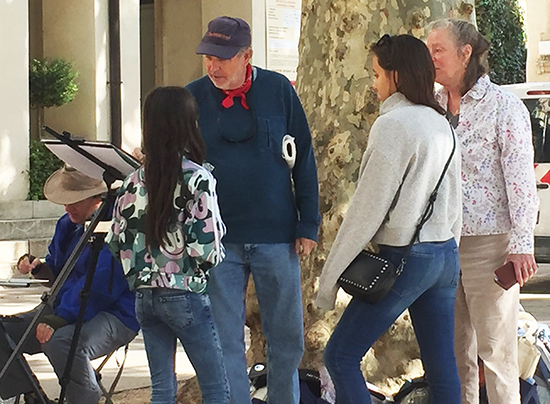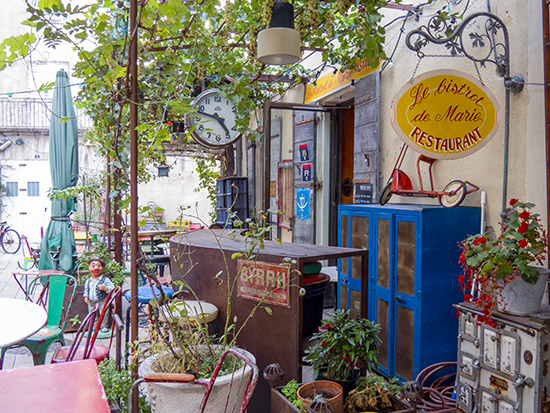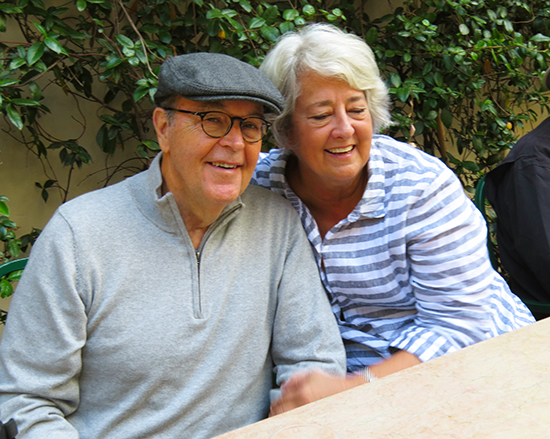 By noon, it was time to go in search of another lovely meal, so we packed up and wandered down a nearby street. We found a very eclectic-looking place, with all kinds of funky antiques and bric-a-brac set around the entrance on a little alley. This is part of the fun of travel—exploring and trying new places and foods. We all sat at a large outdoor table with charming mismatched chairs and ordered whatever looked good. Glasses of wine arrived quickly and amid the conversation and laughter, we had our final lunch together.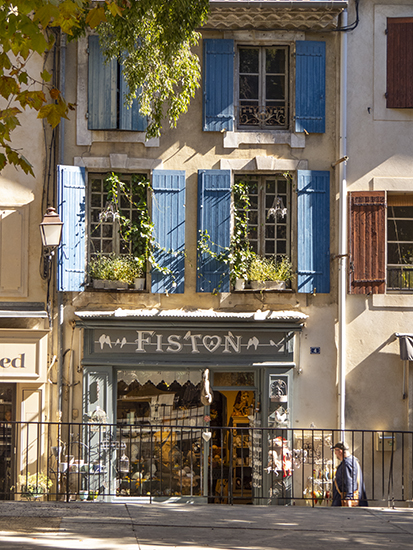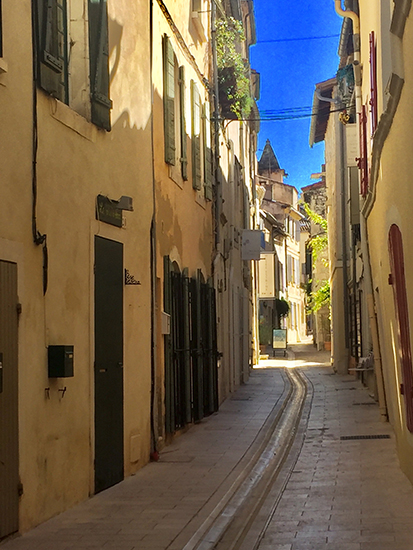 After lunch everyone went exploring the little streets of the old town. Interesting buildings and shops abounded and here and there a street musician sent echoes of music through the little rues. I noted several good spots to paint for the next trip as we slowly explored and poked our noses into shops. In one, we found a paté sampler which was shaped like an artist's palette, with little glass jars of paté in the places where paint would sit. Unexpectedly charming, again. After a while, we all walked back to the van and returned to the hotel to pack and rest before dinner. We always plan for ample relaxation time in our workshops—it is necessary and welcomed by everyone. Some folks reclined at the pool, some took naps and others painted quietly in the hotel garden. We learned long ago that it is a valuable amenity to be staying in a comfortable hotel which has a big garden space, especially for painters. One more amazing dinner to go and then we would have to bid farewell to Le Mas des Carassins and lovely St. Rémy.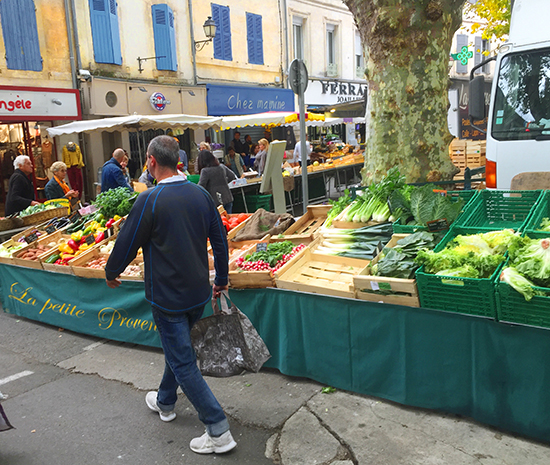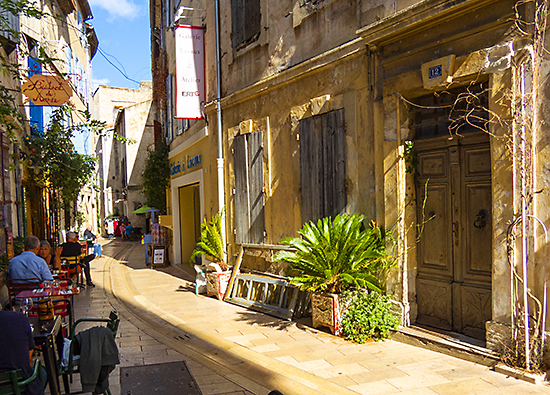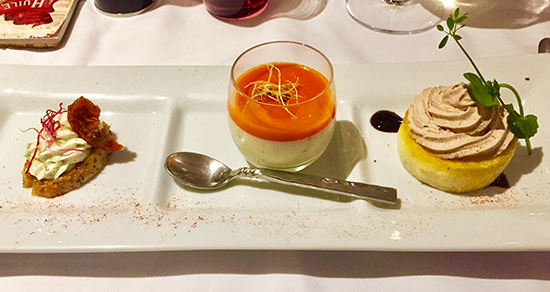 Amuse Bouches at Table d'Ivan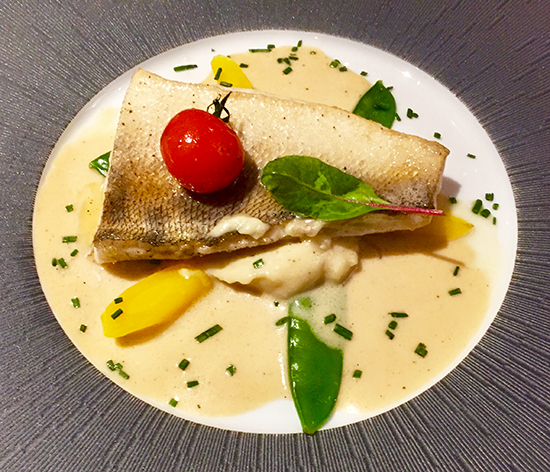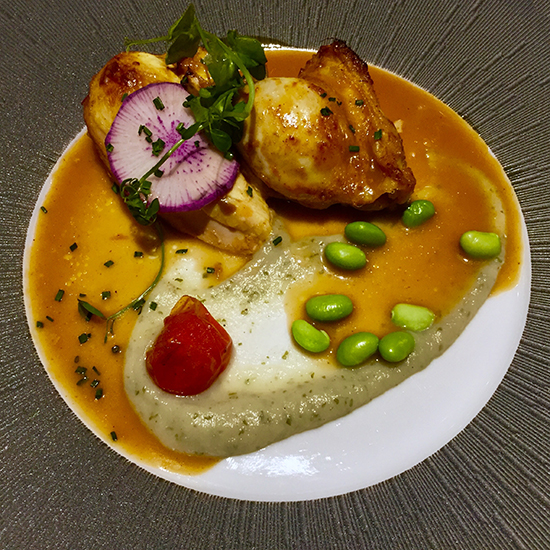 Artistry in Dessert

Day Six: Saturday

One last time we loaded up the van with everyone's luggage for the return trip to the TGV station in Avignon. It wasn't easy—somehow our luggage had not only expanded in volume, but was heavier to boot. I suspected that there might be some wine bottles stashed away. No worries—I like jigsaw puzzles, so we eventually got every piece nestled snugly into the back of the van. Ann double-checked that everyone had their passports and personal items onboard before we pulled out for the drive south. It had been a wonderful week— busy, but not hectic, full of interesting sights, friendly French people, great food, wine and art. We learned a lot about this part of Provence and made new friends as well. All in all, a perfect workshop. We will return and you are invited to join us next time.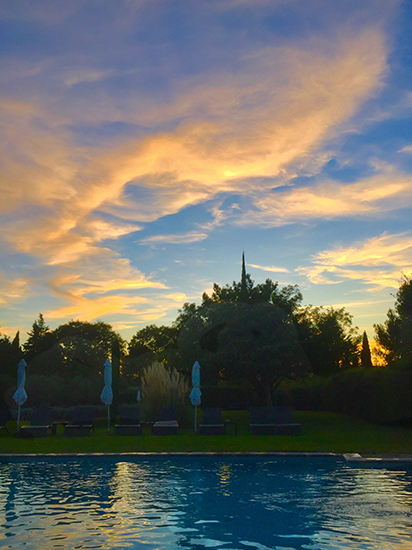 The Last Night at Mas des Carassins