In the Footsteps of Van Gogh

Part I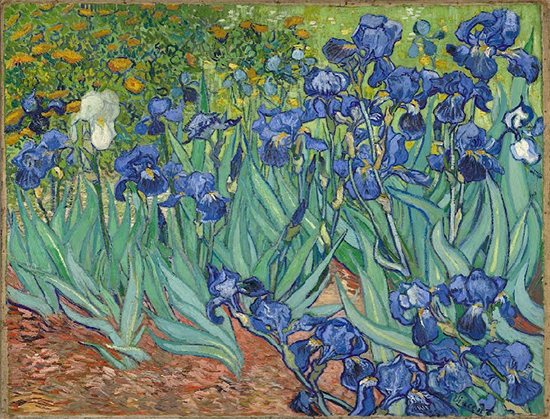 The Irises 1889 Vincent van Gogh

Vincent van Gogh's paintings of Provence are among the most loved paintings in the world today. At his brother Theo's urging, and with the promise of a monthly stipend, Vincent moved to sunny Arles in 1888 to escape damp and dreary Paris. He became so inspired by the light and scenery of Provence that he immediately set to work, and over the next 14 months created over 300 drawings and paintings. Unfortunately, during this frenetic and productive period, his mental state declined precipitously, forcing a break-up between him and his house-mate, Paul Gauguin. After Vincent cut off part of his own ear and gave it to a prostitute, the citizens of Arles made him leave town. He fled to the St. Paul de Mausole Asylum in nearby St. Rémy, where he would spend the last year of his life, painting constantly. There he created perhaps his most famous masterpieces, Starry Night and Irises, among others. We often wondered if these Provençal masterpieces were the products of a troubled mind coupled to an incredibly vivid imagination, or his interpretation of what he actually saw in Arles and St. Rémy? We had never visited St. Rémy before, so we thought it would be interesting and fun to offer a watercolor workshop there, to walk where Vincent walked, and to discover for ourselves a little of the magic light of Provence which so inspired him.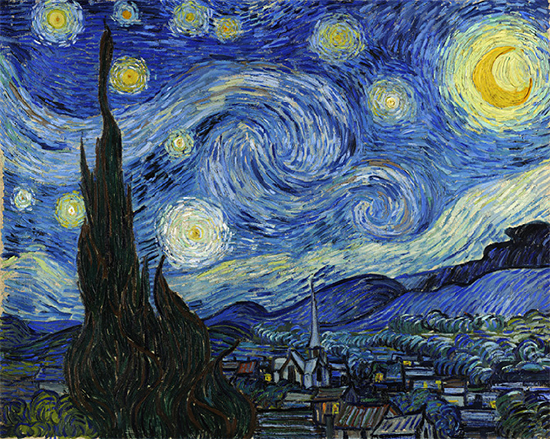 The Starry Night 1889 Vincent van Gogh
The Hotel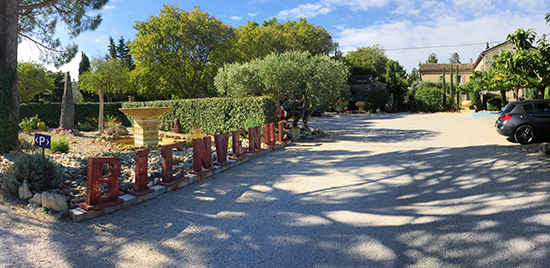 Our watercolor workshop trip to St. Rémy took a bit of a departure from our normal organizational approach to teaching in a foreign country. Usually, we will have visited a location, driven all the roads and scouted out all the hotels, painting sites, markets, villages, bathrooms, restaurants, etc., on a previous trip. Because we had never been to St. Rémy before, this time was different, but we had the advantage of knowing the area, the roads and surrounding villages quite well from previous trips. Still, we had to find a very good comfortable hotel, and for that, we had to rely on the internet. After months of research and extensive emails to potential hotels, we settled on a lovely-looking place called Le Mas des Carassins, in St. Rémy. We were impressed by its high-end interactive website, extensive gardens, remodeled rooms and in-house restaurant. To make life simpler for all, we opted for a half-board arrangement, which included breakfast each morning and dinner each evening. Dinner is important after a long day of painting and sightseeing, and we usually like to try different restaurants in the town or village nearby as part of the workshop experience. This time, however, we decided to keep it simple and eat at the hotel. We figured that if the food was not up to par for Provence, we could always eat out instead. We did not realize it then, but we were all in for an exceptional world-class experience.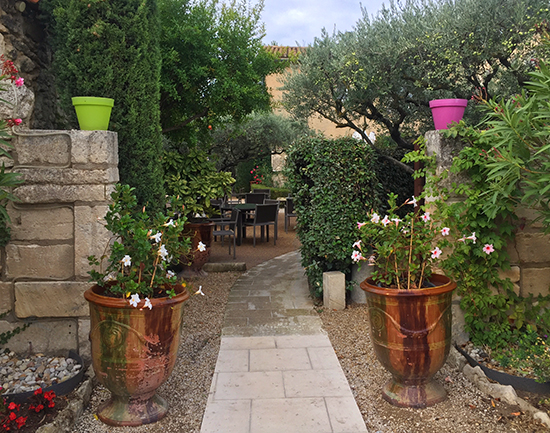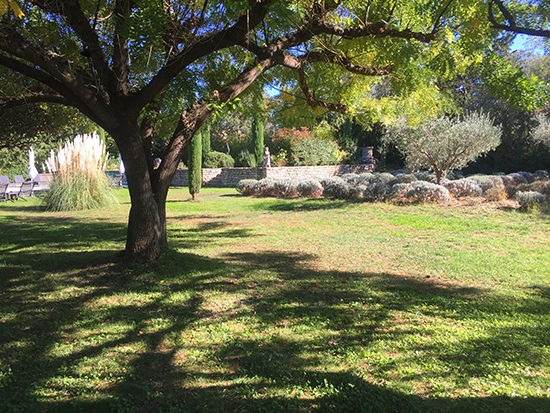 We always schedule to arrive at least three days before the start of a European workshop. This allows time to inspect and confer with the hotel, scout locations, check on any road or facility closures or any other impediments which may currently exist at our painting and sightseeing locations. The best way to quickly get to Provence from Charles de Gaulle airport in Paris is to take the TGV train—about 3 1/2 hours to Avignon. We picked up our rental car there and drove south to our hotel in St. Rémy to meet the owners, tour the grounds and look at our rooms. We were delighted to find that everything exceeded our expectations. From the up-to-date and comfortable large rooms to the beautiful, sculpture gardens with two swimming pools tastefully supplied with comfortable lounges, we knew right away that our students would be very well taken care of in their new home away from home. This would be a painting trip to remember.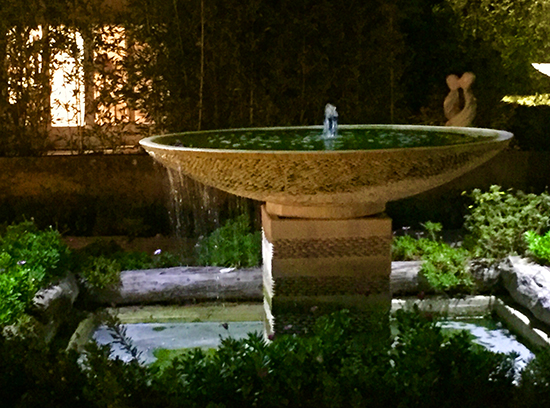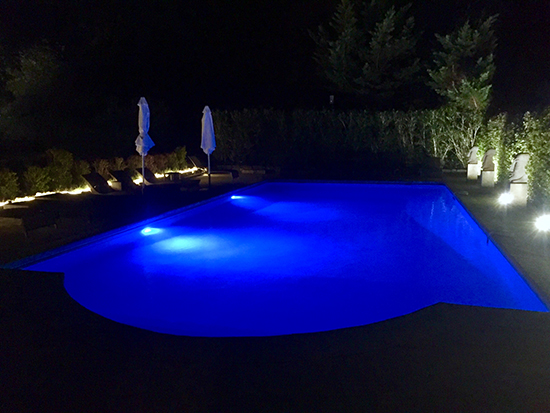 On Sunday afternoon, we traveled back north to the Avignon TGV station to pick up our nine-passenger van and wait for our students to arrive, some of whom were already in France. We picked up our happy group of intrepid artists and headed back to the hotel in St. Rémy—about a 45-minute drive. Everyone settled into their rooms and at 5:30 p.m., we all gathered in the garden to celebrate their arrival with champagne and hors d'oeuvres. Dinner in the hotel restaurant, called Le Table d'Ivan, would prove to be one of the highlights of the workshop. We did not realize when we booked half-board that we would be treated to two and a half hours of artistically presented five-course gourmet meals each night. Our days would be delightful, but our nights were going to be a gastronomic adventure par excellence. This really put the icing on the workshop cake!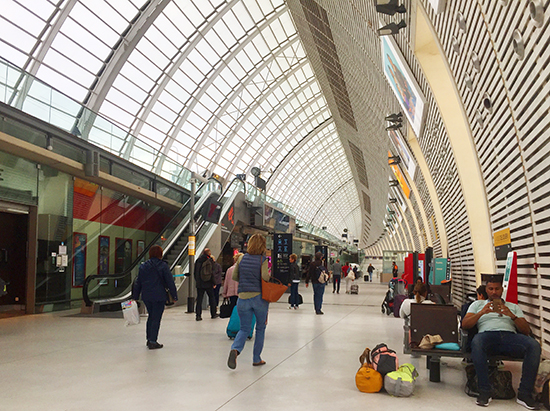 The TGV Station in Avignon Sycamore Tunnel en Route to St. Rémy
The Workshop
Day One: Gordes and Roussillon
We like to get our days started early, so after a delicious breakfast in the hotel, we met at the van around 8:30 a.m. and loaded our painting gear for our first full day of the painting holiday. Our first stop would be the ancient fortified hill town of Gordes, about an hour away. The actual distances we travel in Provence are not far, but the small roads that we generally must use pass through the hearts of many little villages along the way. There are also many round-abouts, or rond-points, which, together with low speed limits, contribute to lengthy travel times. It is a slower pace than Americans are used to and it reflects the slower pace of life enjoyed by the Provençal people. One thing becomes immediately clear when driving there—an up-to-date Google map application on the phone is necessary to find your way while avoiding dead ends caused by road construction. The GPS in our van was not current and led us astray a few times. One unusual connection we had to make to get to Gordes involved driving our big van down a one-lane farm road which was lined with trees and deep ditches for about a mile. Any oncoming traffic was forced to back up out to the nearest intersection as we crawled along! All part of the experience, and by the way, that's why we do the driving. Our students relax in the back and enjoy the wonderful scenery.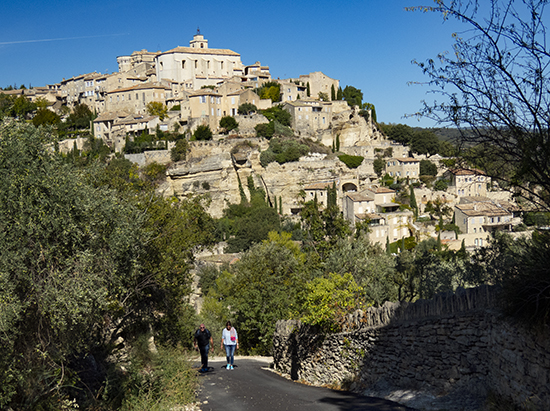 Gordes



Gordes is located on a high promontory in the foothills of the Luberon mountains and enjoys spectacular aerial views and brilliant sunlight. It was built in the middle ages as a defensive refuge by the farmers in the valley who were constantly being raided by roaming bands of armed marauders. This was only possible because it has its own water supply, so the villagers could, with adequate stores of food, hold out until the raiders moved on. Today, it is a fascinating town of tall stone structures attached to each other with few windows on the downhill sides. Narrow cobblestone walkways just wide enough for a donkey cart thread through them, and in some places the walkway actually goes through a low arched opening in the building above it. Just following your nose and wandering the many narrow paths is a fascinating experience. At the top of the village is a small open square, a few shops, a good hotel or two and a few restaurants. It is a living town, and we were mindful of that as we set up our easels to paint in the main square. Over the years, we have brought our workshops here to paint numerous times in different seasons. It is always worth the trip. This time, in October, it was off-season, so Gordes was quiet and uncrowded. Charlotte was the first to get ready to paint so Ann and I worked with her on composition and watercolor technique. While I demonstrated, Ann shot some video clips.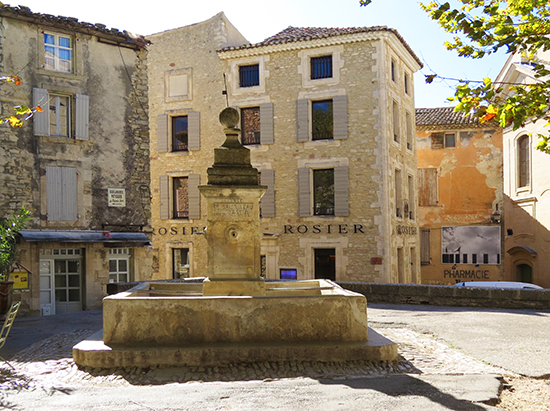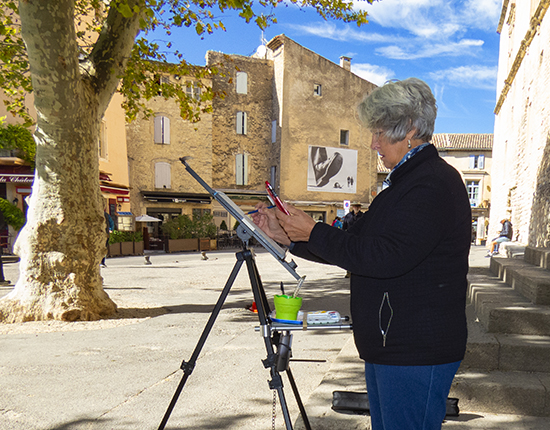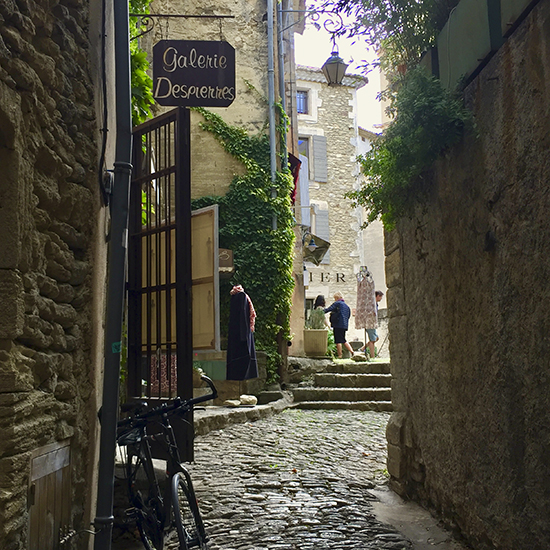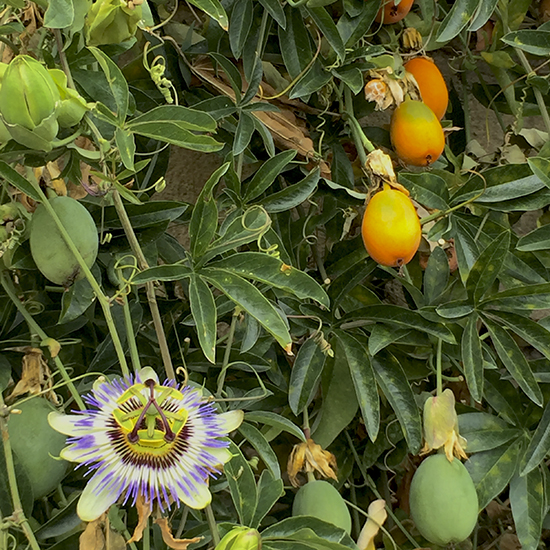 Soon, it was time for lunch. We packed up and walked to a little bistro just on the other side of the square. Off-season also means immediate seating and a good glass of the local rosé or syrah wine appears, tout-de-suite. This département of Provence is part of the largest wine producing area in France, supplying a third of all the wine in the country. Officially, its appellation is AOC Luberon. Next door is the Languedoc-Rousillon AOC, producing superb reds, a few whites and rosés of distinction. If you like wine, this is the place to go on a winery tour—there are many top-notch ones from which to choose. However, we were here to paint and look around, so our wine tastings were limited to our delightful mealtimes.


Roussillon
After lunch, we packed up and headed off for the painted village of Roussillon, a few clicks away, a little higher up the Luberon. Roussillon is the site of a large ochre mine, which although not in operation anymore, can be visited to see where earth pigments come from. All the buildings in this picturesque village have been painted with ochre colors which range from salmon to red and orange, yellow, ochre (of course), tans, browns and even dusty greens. In the late afternoon the village actually starts to glow in the orange light of sunset—an experience not to be missed. We love to paint there and always make a point of visiting Roussillon when we are in Provence. However, it has become very popular over the years, so expect crowds in the summer.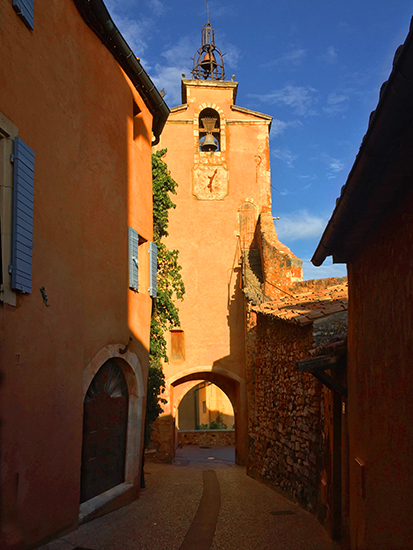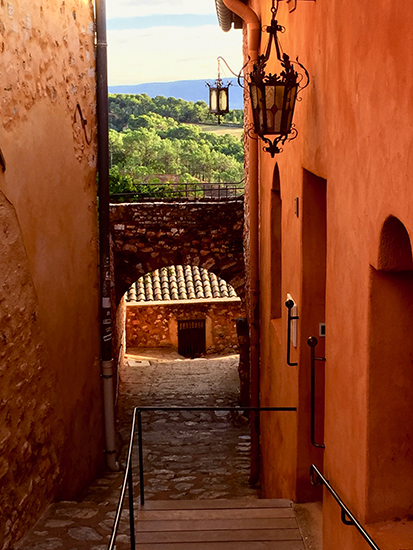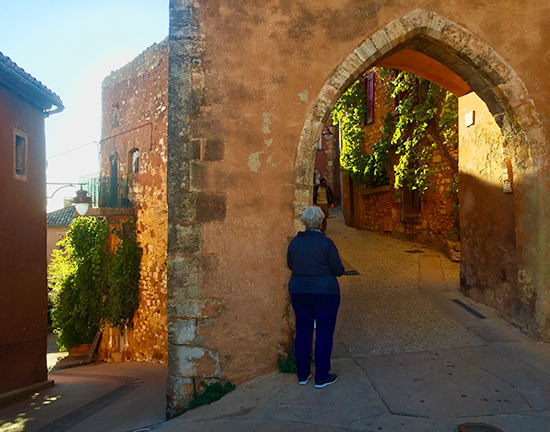 Our Painting Spot in Roussillon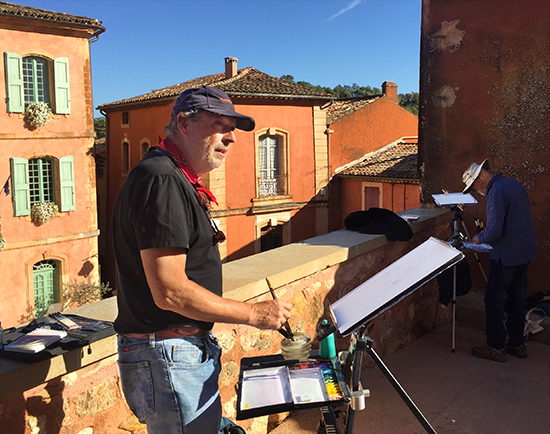 John Painting at the Overlook

We know a good place to set up our easels where we are mostly out of the way of people and the few cars which can legally drive up the road to the top of the village. It is interesting to walk all the way up to the overlook and once there, enjoy the expansive, excellent views of the Luberon countryside for miles around. (It is fun to check out the 360 degree ceramic map and orient yourself to the area). Our painting spot gave us a high view also, looking down into the village square and out at the surrounding countryside. It is located near the sharp left turn which leads uphill through the old arched gate at the church tower. Only very small cars can make this turn, and to do even that requires 4 separate maneuvers on a steep slope. The residents seem to take this in stride, and sure enough, while we were painting, up came a car. We all had to pick up our easels and move them out of the way as the driver started her ballet moves with her car—fun to watch.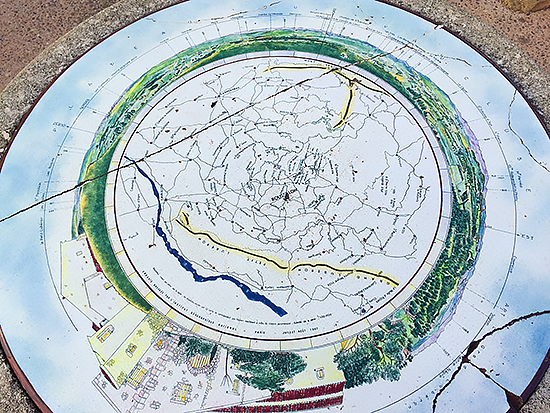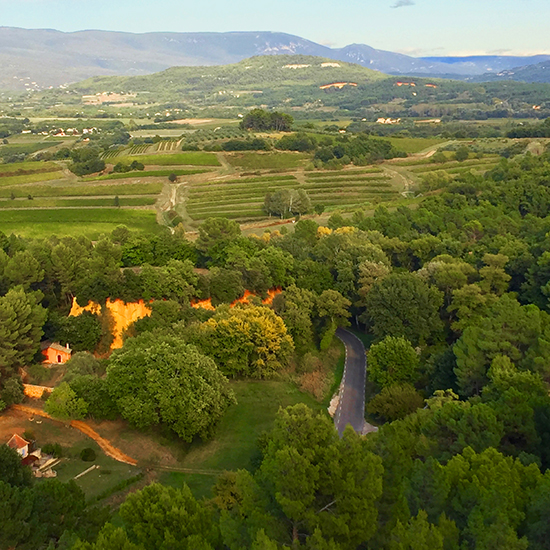 Ceramic Map and View of the Luberon from Roussillon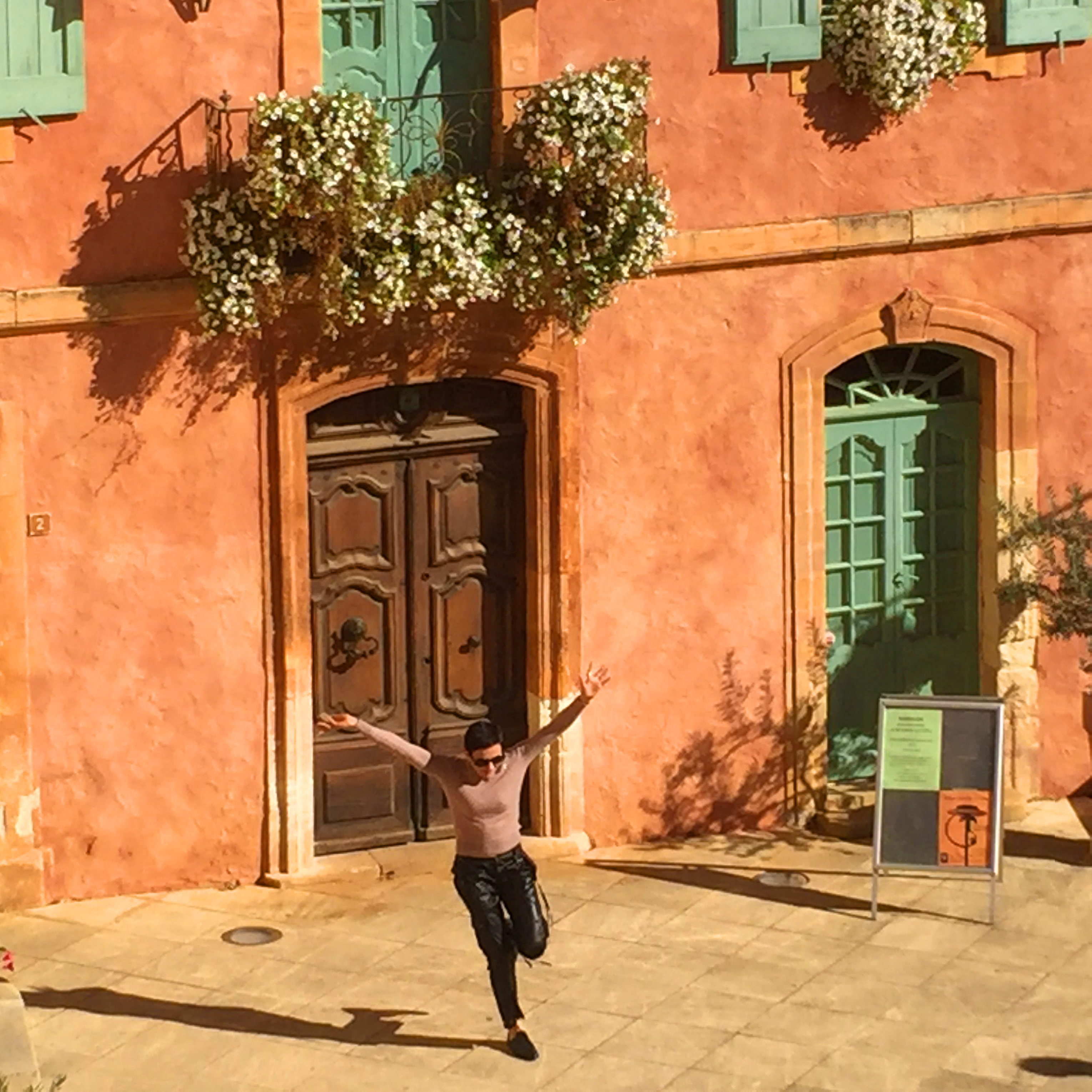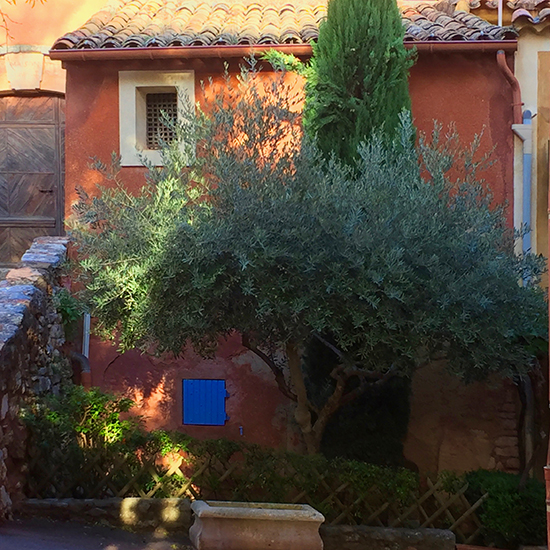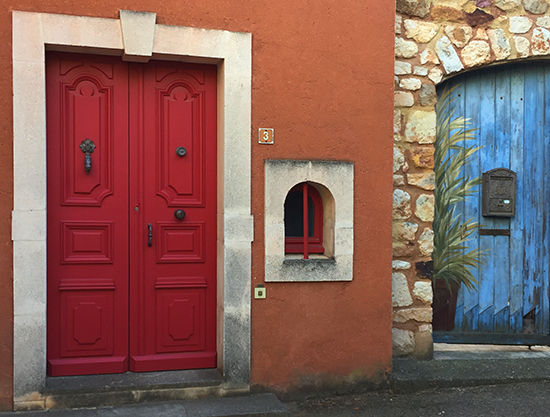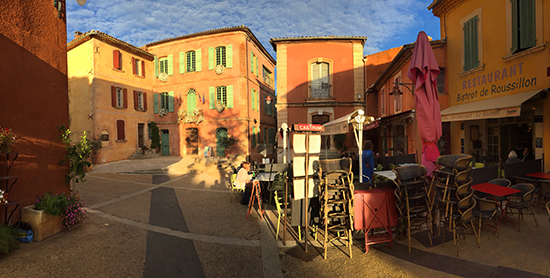 As the afternoon hour grew late, it was time to bid Roussillon goodbye and saddle up the van to head back to our hotel in St. Rémy for another gourmet meal. Driving through the spectacular Luberon countryside in the setting sunlight is a visual delight all on its own. I had to resist the strong desire repeatedly to pull over and take photos of wonderful painting subjects. Another trip will be needed in the near future!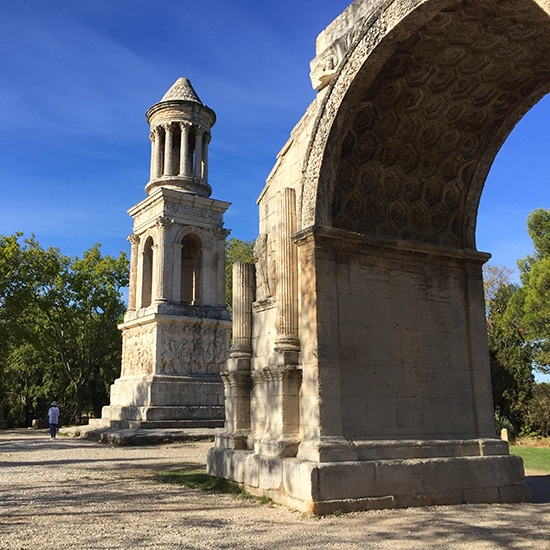 The Mausoleum Tower and Triumphal Arch at Glanum
Day Two: Van Gogh's Footsteps
For our second day, we planned a morning visit one kilometer south to the ancient Roman site of Glanum and then to the asylum where Van Gogh spent his last year, St. Paul de Mausole. The Glanum site is divided by the Via Domitia between the remains of a settlement and a large standing triumphal arch and mausoleum monuments. Glanum was first settled by the Celts between the 4th and 2nd centuries BC, then becoming a Greek and then a Roman town. It prospered due to its location on the trading routes between Italy and the Rhone River. Glanum had temples, a theater, a basilica, a monumental arch and Roman baths among other amenities. The town was overrun and destroyed by Germanic tribes called the Alamanni in 260 AD and subsequently abandoned, its inhabitants moving a short distance north into the plain to found a city that eventually became modern day St. Rémy. Glanum became a source of stone and other building materials for Saint-Rémy until it was completely lost under the gradual accumulation of sediments washed down from the Alpilles. This sediment helped to preserve the remains of the town until it was rediscovered in 1921. This began a long period of archaeological work which continues to this day. Built in 40 BC, the mausoleum is the oldest known Roman mausoleum and one of the oldest extant Roman structures in the world. The Triumphal Arch close by it was built later in the reign of Augustus, who died in 14 AD.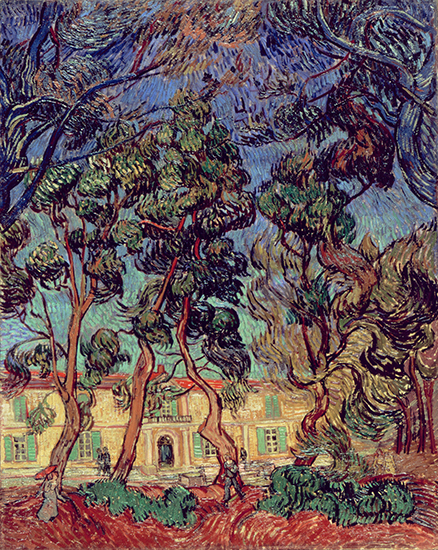 Trees in the Garden of St. Paul Hospital by Vincent Van Gogh 1889
After inspecting the large monuments, we walked across the road (Via Domitia) to St. Paul de Mausole monastery. In the 11th century, the Augustine Christians built the Romanesque priory dedicated to St. Paul and appended de Mausole, because of its proximity to the Roman mausoleum. By the early 19th century, it was converted into a mental asylum, part of which still serves that purpose today. Vincent van Gogh voluntarily committed himself there on May 8,1889, after repeated hospitalizations in Arles for delusions and paranoia and a petition by the townspeople to banish "le fou roux" (red-haired madman) from Arles. He had two rooms in the asylum, the second one for a studio from which he painted the views outside his windows.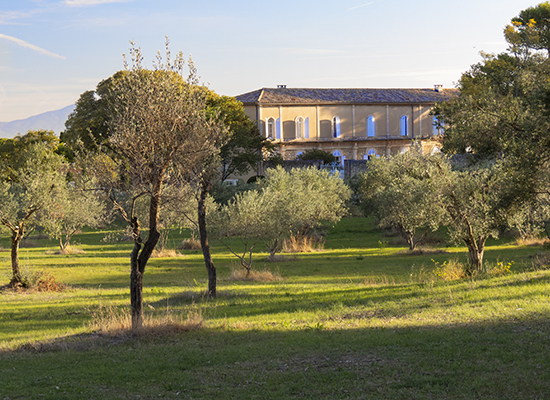 St. Paul de Mausole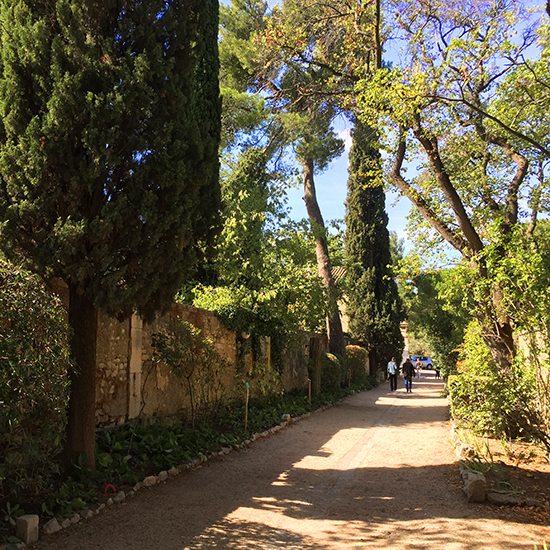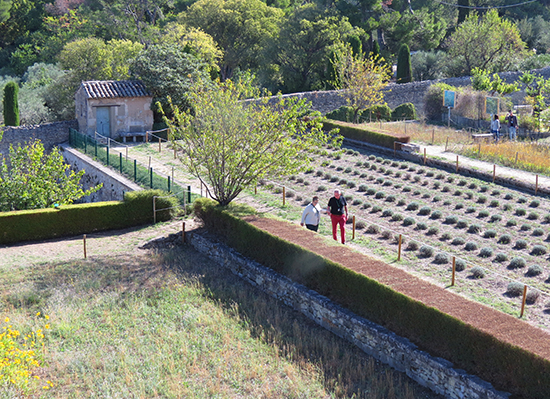 St. Paul Hospital Entrance View From Vincent's Room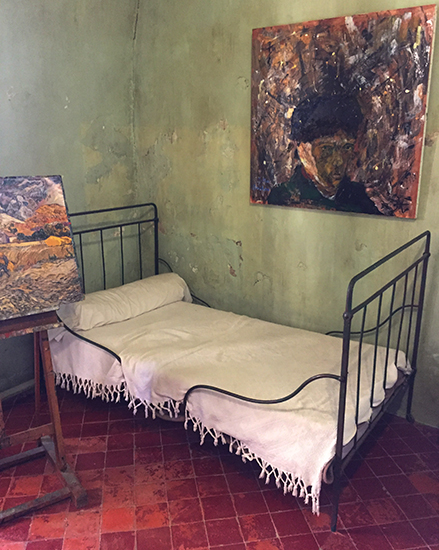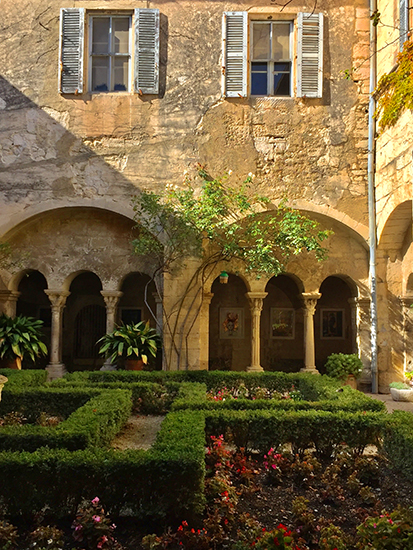 Vincent's Bedroom The Garden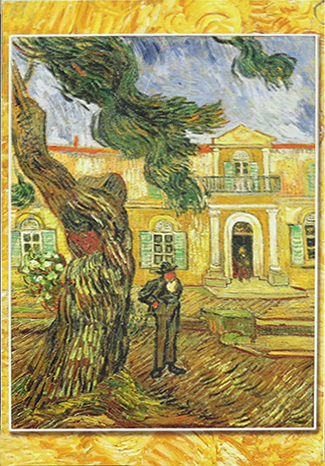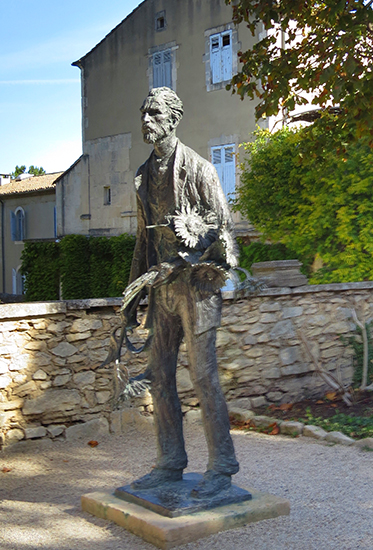 The public can pay a small entry fee of 6 euros to walk into the grounds and enter part of the building. The grounds are beautiful with plaques reproducing some of the paintings Van Gogh created near to where he painted them. Inside the building, one can visit the chapel, walk the halls, see a reproduction of Van Gogh's bedroom, and the most interesting part, the view out his window, which has not changed much. There is also a guided tour if one is interested in more information about Vincent's short time there. Once he was well enough, Van Gogh was allowed out to paint the grounds and eventually the surrounding fields and Alpilles. The grounds still have the feel if not the exact look which inspired Van Gogh, and one sees clearly that the sinuous twisting trees which he painted were not the delusions of a madman, but actually grow that way here. That growth pattern might be caused by the powerful Mistral winds which punish the south each winter. All in all, Van Gogh painted 150 canvases while he stayed in St. Rémy.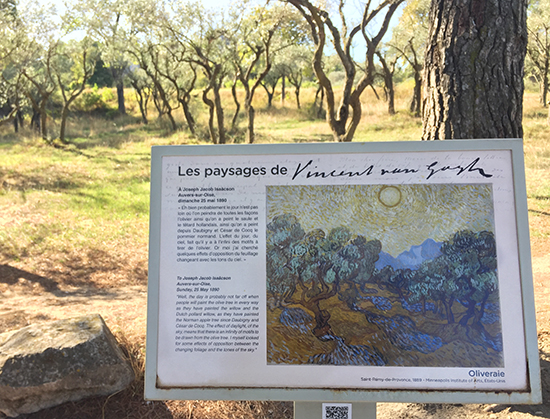 Van Gogh's Subject at St. Paul de Mausole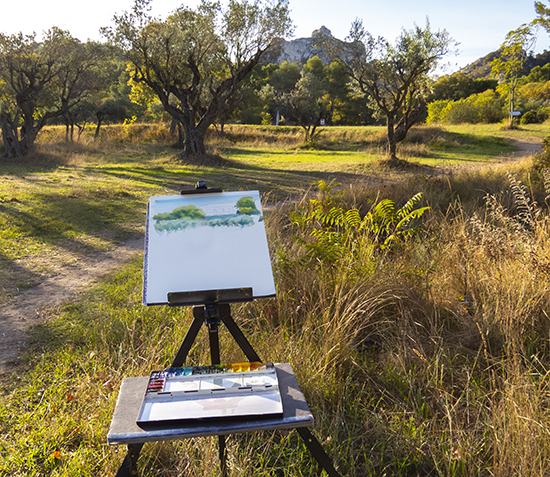 Setting Up to Paint Van Gogh's View at St. Paul Hospital

There are a lot of good painting subjects and different vantage points for painting on the grounds. One can't help but be influenced by Vincent's work as one looks around. We set up our easels near the entrance to this popular site, at the edge of an ancient olive orchard which may well have been there during Vincent's time. Our view was looking south, through a few gnarled and broken trees toward Glanum and the Alpilles. The morning light and temperature could not have been more ideal for painting. I started a small demonstration painting while students sketched and painted their chosen views nearby. Ann and I circulated between them as they worked to add helpful tips about plein air painting or watercolor. Pat was seated on a very old stone bench, which looks similar to the benches in some of Van Gogh's paintings there. History, in this place, was not only palpable, but visible as well. By noon, it was time to pack up and make the short downhill drive to St. Rémy in search of our well-earned Provençal lunch.


The Market Square and Town Hall, St. Rémy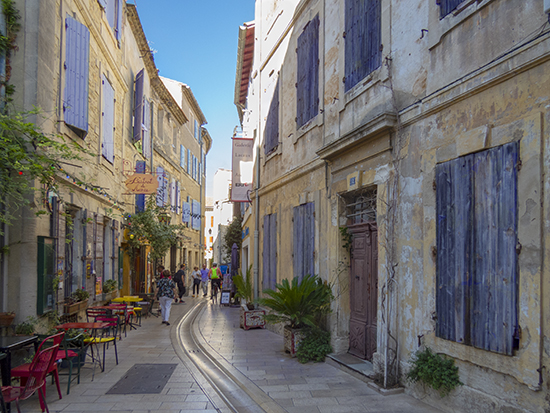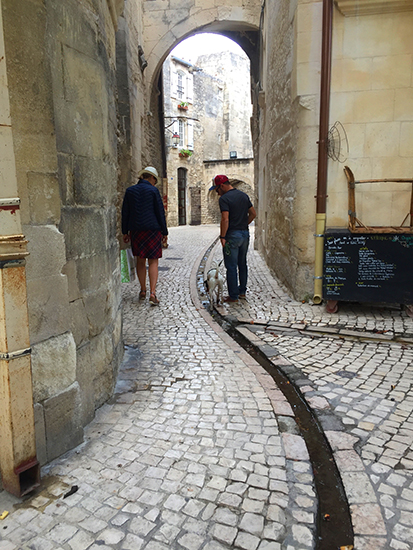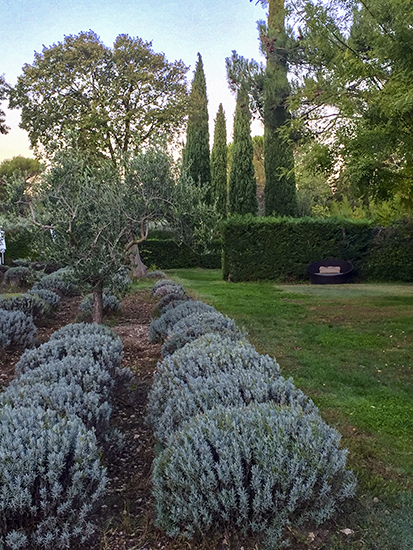 After lunch it was time to walk around the winding, picturesque streets of old St. Rémy, take pictures and look into some of the interesting shops. There are few automobiles in the narrow streets so there is a pedestrian-only feel to them. As we walked around, we could find remnants of the original medieval walls which have in some places been incorporated into existing buildings. The streets are easy to follow, spotlessly clean and have a polished look to the smooth stone paving. In a small square, we came upon a street musician entertaining the patrons of a restaurant. We spent a time walking before everyone decided they would like to return to the hotel for a break before our afternoon painting session. Some took short naps—a good idea when traveling—others sat out in the beautifully maintained gardens.
Gradually a few intrepid painters appeared on the lawn and set up to paint in the warm afternoon sunlight. The 80-foot tall cypress trees on the west side of the garden cast long, deep green shadows over the entire garden, which created a lot of interest to our compositions.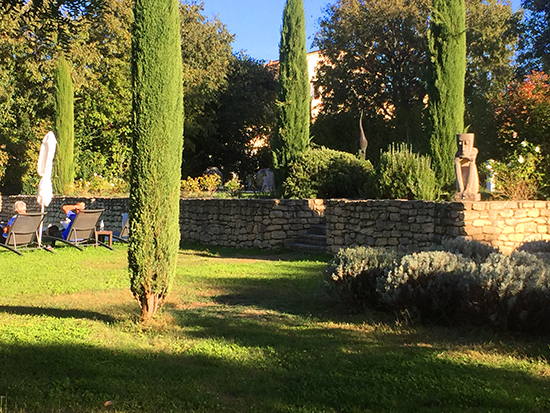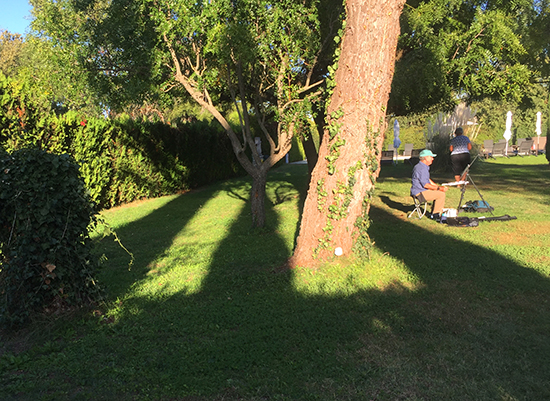 What a sublime moment to be alive in that special garden. As dusk gathered us inside for dinner, I remarked to Ann that I believed we had found a very special place and that a return would have to be in any future plans. And then we sat down to another amazing meal of haute cuisine and remarkable local wines. Bliss.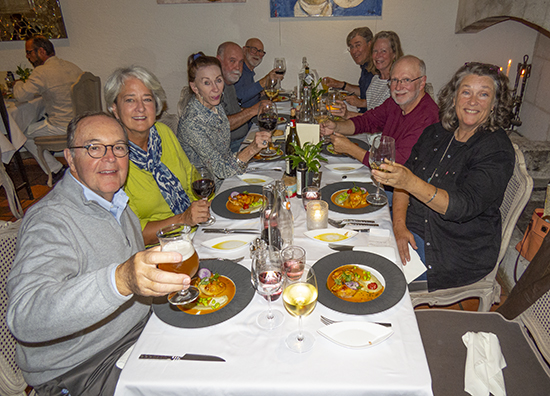 Be sure to stay tuned for Part II of our wonderful watercolor workshop adventures in St. Rémy!