Through the Trees, Lourmarin
A Step-by-Step Watercolor Demonstration
Lessons of the Masters

:

Develop a Point of View, and Support It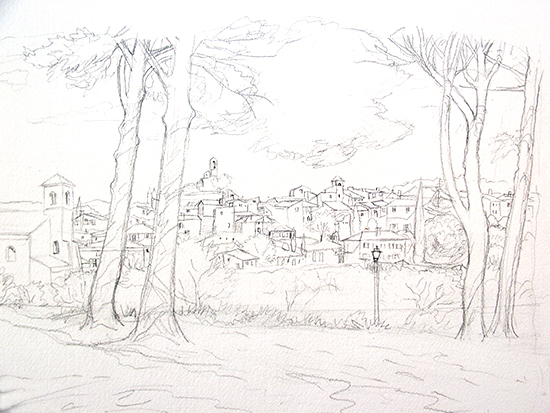 Step 1. I spent considerable time on getting the drawing figured out because I knew that this would be a challenging subject to pull off. My Point of View was chosen to show the village framed by these distant pines, which helped to add some verticality and value contrast to to a very bright, horizontal subject.
I felt that the combination of elements would make the painting stronger.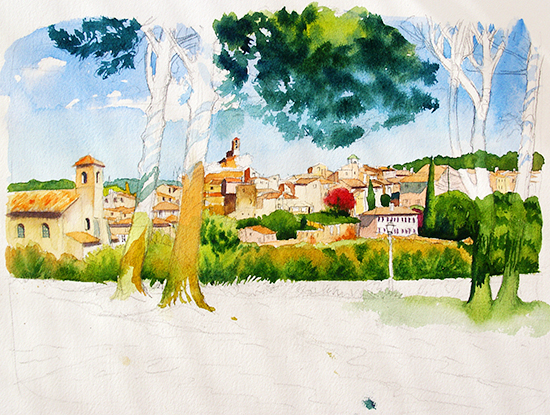 Step 2. In watercolor, we like to work light to dark, generally. I also prefer to work wet-into- wet with washes, as I think that most natural elements, like branches, leaves, clouds, grass and shrubs look better when left to fan out in a wash. Here, I've come pretty far along with almost all initial washes in place. If a color wash dries too soon, I re-wet it and continue on.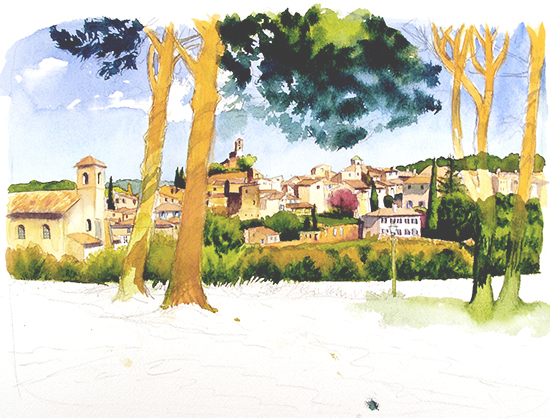 Step 3. Notice that I have intentionally created a warm red spot near the center of the painting. This will serve to pull your eye through the trees and into the focal point. This is also a good example of how I prefer to share all my colors everywhere in the picture, thus harmonizing it. This also means that I don't need to use as many colors, making the job easier to handle.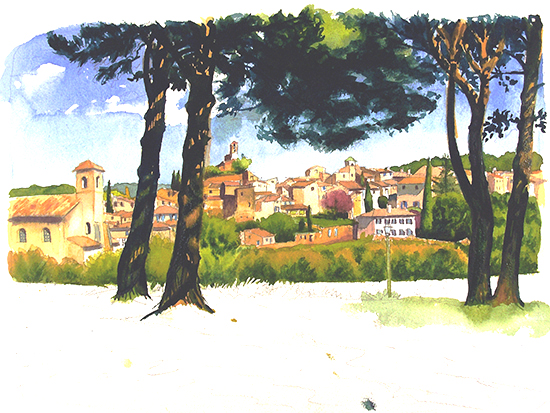 Step 4. Wow, look at the change that the dark tree trunks made in the painting! Sometimes it's hard to resist painting in the strongest, darkest elements until the time is right, but we must. Any washes made in the background now could bleed the darks out from the trunks and ruin the picture, so that area had to be completed first. Thoughtful planning is a must. Now I can judge whether the trees work well to support my point of view.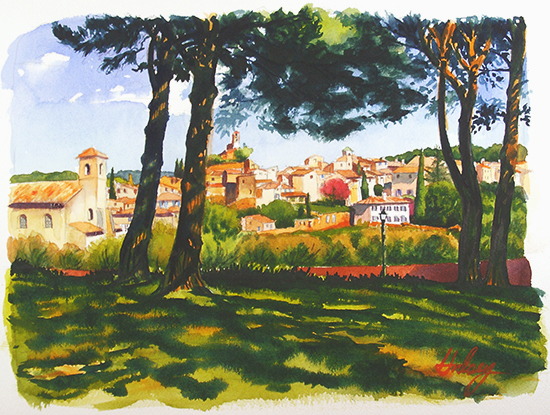 Step 5. I am mindful to retain the green reflected light from the grass on the trunks as I drop the tree shadows on to the wet grass wash and up the trunks themselves. I only had one opportunity to get those wet shadows right. If I had blown it, as sometimes happens, then I would have had to start all over. This is the risk of watercolor, but also its charm. I find it very helpful to always come prepared to risk all when I use watercolor. That way, I can be calm and relaxed while I paint. I have found that with great calm I am more in tune with the great potential of watercolor to make wonderful art.
* Phrases in bold are from"Lessons of the Masters I", Instructional Art Tips Cards.
blog comments powered by