Sarah Yeoman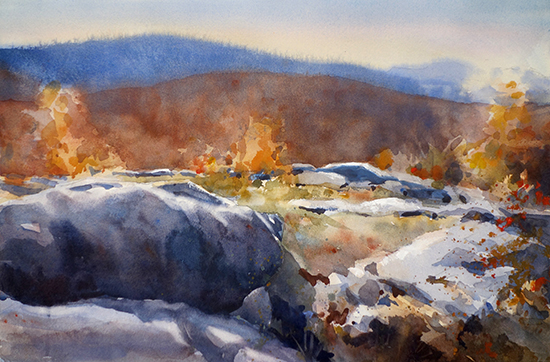 The View from the Mountain 14 x 21" Watercolor

Sarah Yeoman's watercolors are intimate poems revealing glimpses into her life. She respects the unpredictability of this difficult medium and yet guides it with great skill to create her light-infused paintings. Yeoman's work has been recognized nationally and included in exhibitions of the American Watercolor Society, the International Watercolour Biennial and the International Watercolor Society among many others. Yeoman teaches classes in her Yorklyn, Delaware studio as well as in week-long workshops in Tuscany.

Growing up under difficult circumstances and with no other artists in her family, Yeoman used her imagination and creativity to thrive. She told us, in her own words, about when she knew she was an artist:

I was compelled to create from a young age - whether it was music, paint, theater, sculpture, or walking in the woods. I was known as an artist in high school. In the art room, I found paint, color, shape - essentially a language that I could communicate with. Later I went to college and studied art, in particular metal sculpture and jewelry-making. I found painting after college. After one watercolor class, I felt that I really understood the paint and I never looked back.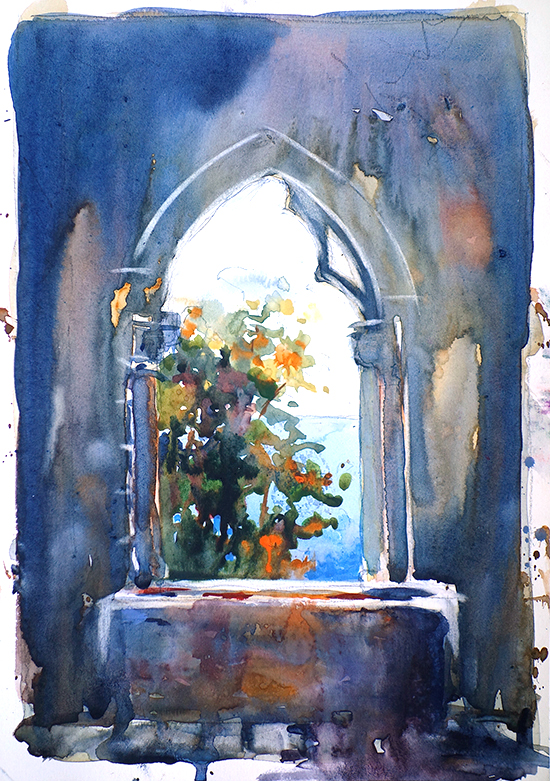 Castle Window 9 x 12" Watercolor Peonies and the Moon 14 x 21" Watercolor

Thomas Moore captured my idea of what painting is: a search for spirit and an attempt to create a place for it to dwell. To me this is what I am looking for. It is rare, but every once in a while I glimpse it. How do we dialogue with the other side? I do it through paint. Painting is also therapy for me. To be able to disappear into my creative brain has saved my life. I cannot imagine life without it.

Learn more about Sarah Yeoman in our in-depth interview.
To read it and to see more of her paintings,
become a Member of The Artist's Road by clicking here.

Already a Member?
Click here to go to the the in-depth interview.
All artwork copyright Sarah Yeoman.