Robert Genn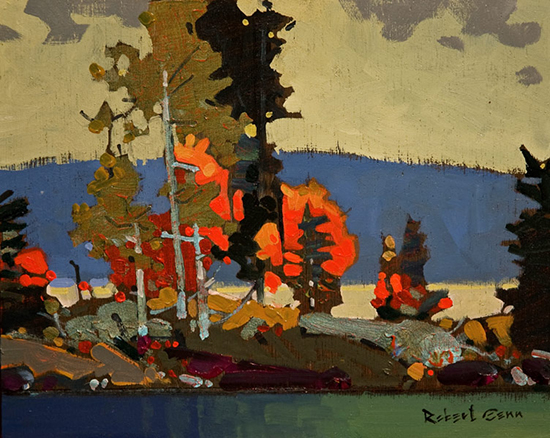 October 17, Lake of the Woods 8 x 10" Acrylic Robert Genn
Robert Genn was born in Victoria, B.C. Canada in 1936. His formal training included the University of Victoria, the University of British Columbia and the Art Center School in Los Angeles, California.

Recognized as one of Canada's most accomplished painters, his work is well known internationally. While his subjects are universal (he has painted in many countries), he excels in portraying Canada. He is perhaps best known for his work on the West Coast and in the Rocky Mountains.

Robert's technique includes a tradition of strong design with patterns of color and form, with a pervasive sense of personal style. Grand themes are transposed onto small panels and larger canvases in a manner similar to members of the Group of Seven. Most of Robert's current work is in acrylic. He has also done considerable work in oils, watercolour, and silk screen printing.
Robert Genn's Twenty-Four Tips for Painterly
Happiness and Success

Have your paint squeezed out before your mind is in gear.

Accept a lifetime of perpetual studenthood.

Learn to love the masters and to know who they truly are but don't fall in love with the media that presents them.

Appreciate the value of silence and private thought. Value work above words.

Alternate your work zones with some form of physical activity.

Listen to the music that has been within you from your youth.

Constantly ask of yourself and your work "What could be?"

Strategize your time, your playtime and your worktime.

Build a strong ego and sense of entitlement. Know thyself.

Learn to work under all conditions and privations.

Work from life, from your own reference, and from your imagination.

Accept the gift of a life in art and know it is a high and noble calling--both a miracle and a responsibility.

Learn to be your own best critic and counsel.

Purge your lesser work regularly.

Don't enter too many group shows, contests or competitions.

Don't even think about applying for grants.

Do take occasional workshops from competent professionals.

Have a lifelong mission to enhance the lives of others.

If you decide to be commercial, find effective and motivated dealers and galleries in other cities, give them geographical protection, and replace their stock often. Run the commerce side of your business like a mutual fund and don't become dependent on one stock. Follow your nose, not your dealer's. Be prolific. If you want to be an apple vendor you've got to have apples in your apple cart.

Know that no matter what happens, most of the joy is in the craft.

Know that you're part of a great international brotherhood and sisterhood of artists who are living now and have gone before.

Be philosophic about art trends and fashions and the often perceived unfairness of the game. Follow your own nose, it is a good guide for a lot of things in life, and above all know that quality will always be in style.

Give generously of yourself, but don't burn up all your creativity by teaching. There is a time to give and a time to sell. Accept your gift. Neither an ogre nor a patsy be.

Go to your room.
Enjoy this brief meditation on the humbling experience of being a painter.
Videography by Peter Segnitz.
Music (Couperin, "Les Lis naissans") performed by Cubus.

To read our fascinating and informative "Conversation with Robert Genn" interview, and to see more of his paintings, become a Member of The Artist's Road by
clicking here.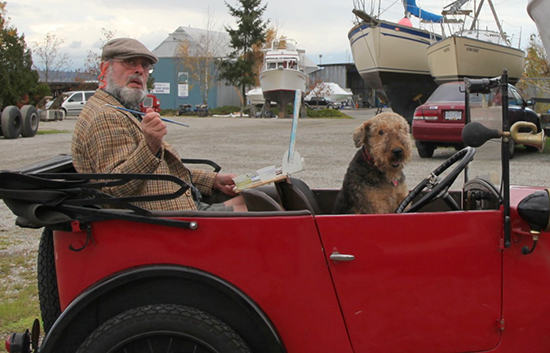 Already a Member? Lucky you! Click here to go to the the in-depth interview.
All artwork copyright Robert Genn


Robert Genn's book,

The Twice Weekly Letters

, is available below.
Please mention The Artist's Ro
ad when purchasing it.




$30.00(USD or CAD) plus $5.00 shipping in North America, or $20.00 to anywhere else in the World.

To correspond regarding your book order, please write: sarah@saraphina.com