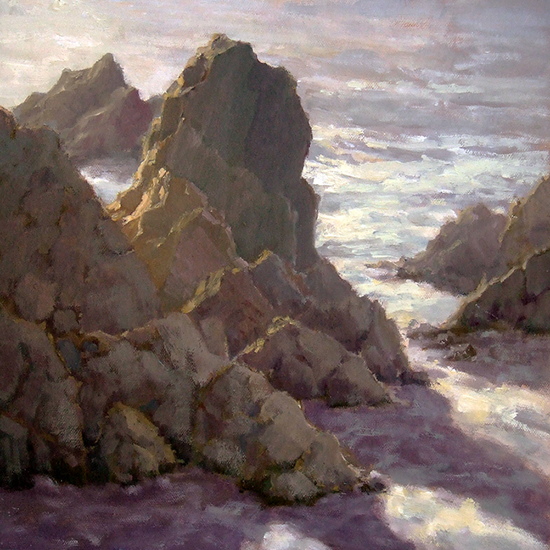 Sonoma Coast Stacks 12 x 12" Oil
"If my paintings can allow the viewer access into a world that is always present,
but often taken for granted . . . then I have contributed something."
R

ichard Lindenberg came to painting after forty years of working in more traditional career paths. Those paths always involved creativity, but it wasn't until 2001, after taking a painting class in pastel, that he became "swept away by the possibility of actually being able to paint."
His pastel work was greatly inspired by that of Kim Lordier whom he met nine years ago at a plein air painting event in Carmel. Currently, Lindenberg works exclusively in oil, primarily painting the dramatic light and landscapes of northern California.
The creativity that has been a part of his life and work began with the influence of his father, a product designer and part-time sculptor. His father sparked Lindenberg's creative impulses with the gift of a Nikon 35 mm camera and lenses. Lindenberg was a college student at the University of Arizona at the time (the mid-sixties). After graduating, he was motivated to continue studying photography at the Brooks Institute in Santa Barbara. Landscape photography was his chosen creative medium for thirty years.
The other career paths Lindenberg followed before coming to painting almost always involved creative pursuit as well - product design and graphic design. More recently he was the Product Manager for the exclusive importer of Sennelier fine art materials and currently he is the Marketing Manager for Plein Air Maga

zine.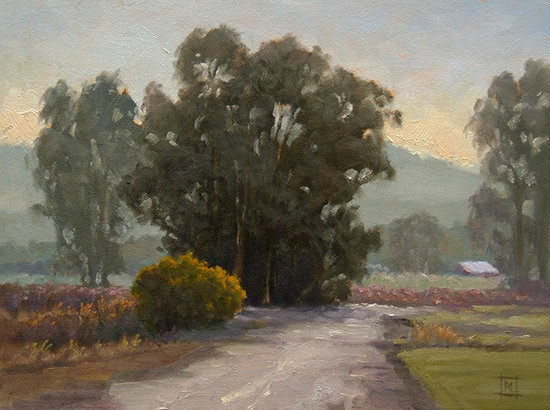 Backroad Ranch 9 x 12" Oil



L

earn more about Richard Lindenberg and his philosophy of painting in our in-depth interview. To read it and to see more o
f his

plein air and studio paintings, become a Member of The Artist's Road by
clicking here.
Already a Member?
Click here to go to the the in-depth interview.
All artwork copyright Richard Lindenberg.