Artist Profile

Brienne Brown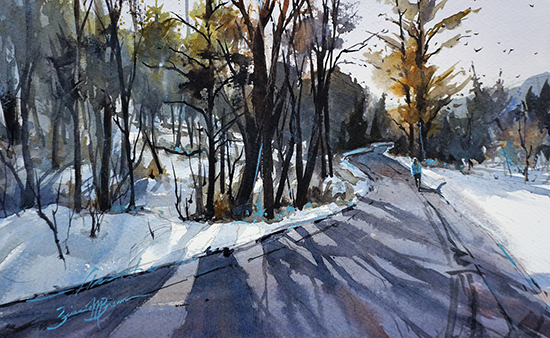 Following the Shadows 10 x 16" WC
We now know that the brain isn't as simple as "left side = science, logic, math, etc. and right side = creativity". Although each hemisphere may have distinct areas of specialty, the two sides of the brain communicate and work together to perform most tasks. There is speculation that a high level of this interaction is a sign of high creativity.

Brienne Brown balanced her love of science and art by studying both in college. She graduated with a Master's degree of Science in Chemistry and began work as a toxicologist, but never left her art behind. She continuously took classes and studied with professional artists. When she left her toxicology work to raise a family, she found she could bring art back into her life at a higher level. She wrote to us about the valuable lessons she learned from her career in science that inform her art making today. Brown has fully implemented both the left and right sides of her brain in her life and in her poetic work. Her watercolors chronicle the landscape and daily life surrounding her.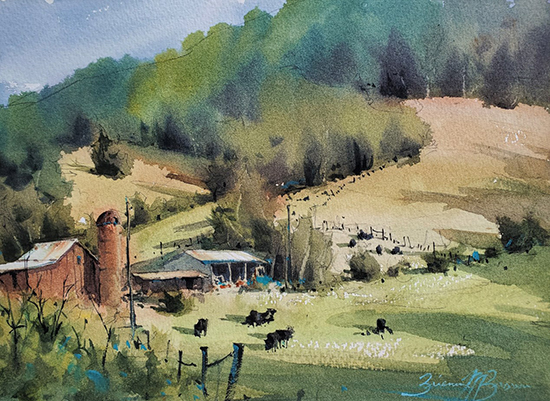 Hillside Barn 9 x 12" WC

Read more about Brienne Brown's life and painting in our in-depth interview.
To read it and see more of her work, become a member of
The Artist's Road today by clicking here.

Already a Member?
Lucky You! You can go immediately to the full interview here.
Visit Brienne Brown's website at:
https://www.briennembrown.com
All artwork copyright Brienne Brown