Larry Moore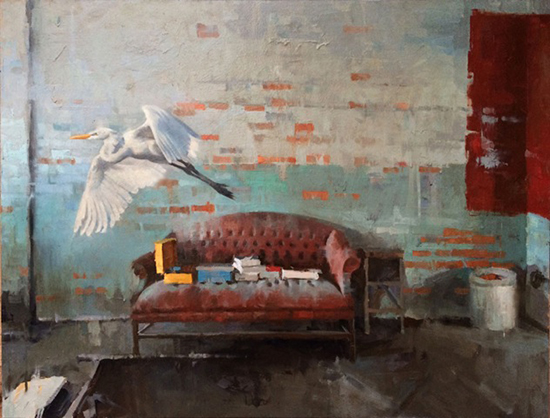 Aloft 40 x 30" Oil and Acrylic Latex on Wood


"Be in touch with the creative spirit, the muse.

You can define it as an external thing or an internal thing

but it's the voice, the nucleus, the fuel of creativity

that you learn to be open to.

It's a lot about trusting in your process

and giving yourself permission to play,

to fail and to succeed."
Florida artist Larry Moore teaches his students the importance of learning how to access their creative spirit. He stresses how to maintain individuality in their work while learning the techniques of painting. Moore brings to his own work a lifetime of experimentation (and mastery) in multiple mediums and a commitment to originality in his painting. His work has received the highest awards at multiple plein air painting events and is included in museums across the country. His most recent paintings comprise what he calls the Intrusion series. We asked him to tell us about it.

The Intrusion series came about because I wanted to bring a narrative to my work that was authentic to me. I was given access to this abandoned dry cleaner warehouse that was about to be gutted and polished up for retail. I took a lot of pictures after painting there for two days, and when I came home, after scanning the images and doing lots of small interior studies, the idea to put wildlife into this scene popped into my head. The choices of the animals are fairly random but I have discovered that there is a personal narrative that is showing up in the choices. It's the creative spirit at work. And this is going to be my direction for a while.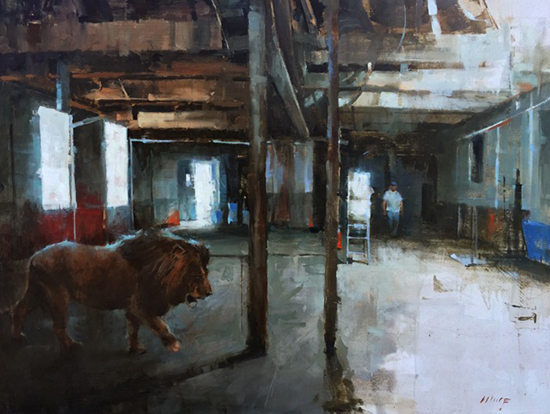 Lion's Den 36 x 38" Oil on Wood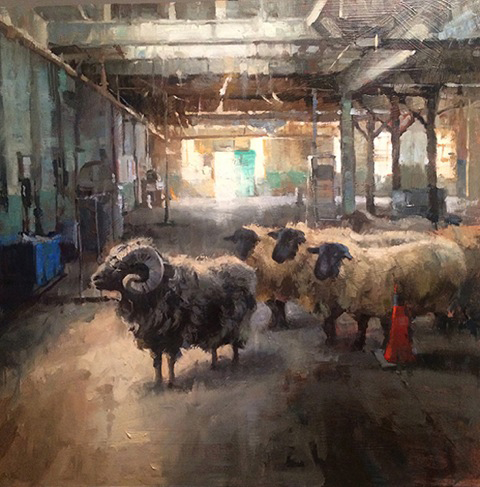 Black Sheep 30 x 30" Oil on Wood
Learn more about Larry Moore's paintings in our in-depth interview.
To read it and to see more of his paintings,
become a Member of The Artist's Road by clicking here.
Already a Member?
Click here to go to the in-depth interview.
All artwork copyright Larry Moore.