Joe Paquet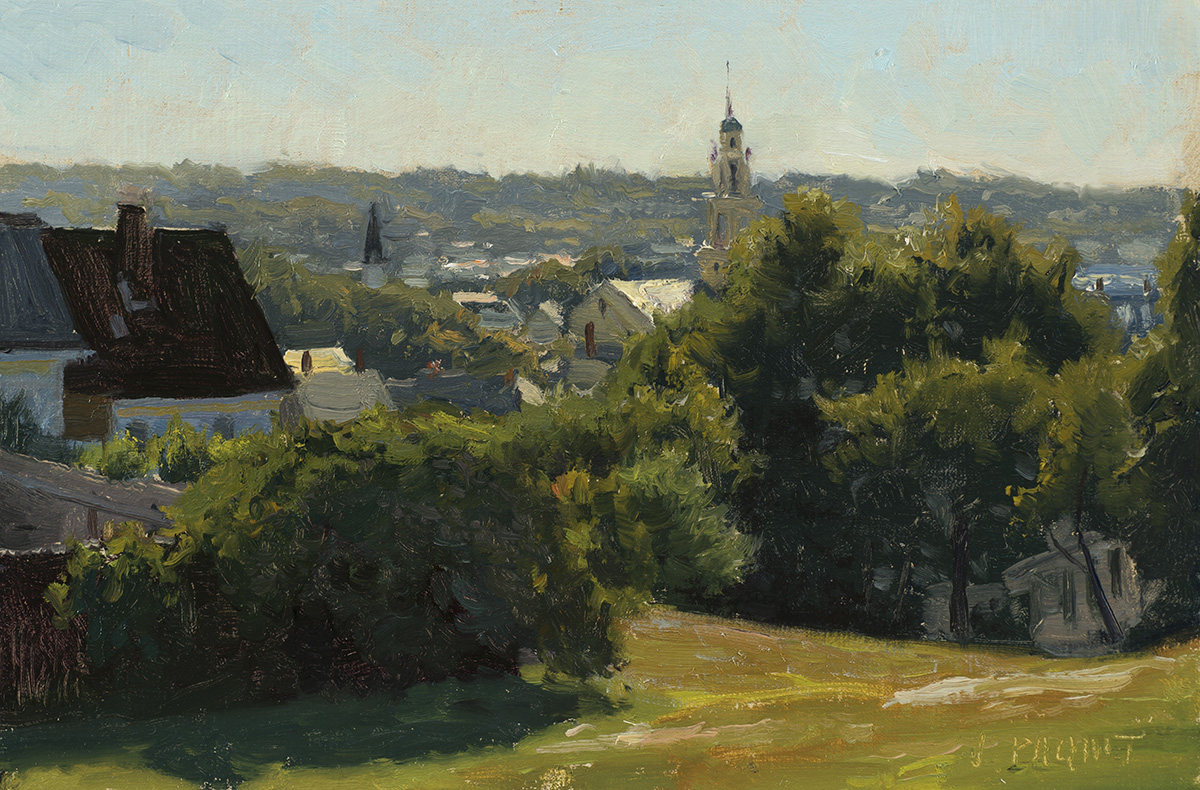 Summer Morning, Gloucester 8 x 12" Oil Joe Paquet
"When our eyes are graced with wonder, the world reveals its wonders to us. There are people who see only dullness in the world and that is because their eyes have already been dulled. So much depends on how we look at things. The quality of our looking determines what we come to see." - John O'Donohue (1954-2008)
T

he words of the late Irish poet, John O'Donohue clearly state Joe Paquet's own philosophy toward painting. "My eye has become more educated over the years. I'm going outside and I'm seeing nature as it really is, with an educated eye. I'm slowly divesting myself of many preconceptions that previously got in my way. Without genuine openness and humility, you're not going to see it."
Paquet loved to draw as a child and received encouragement and unfailing support from his mother and father in his artistic endeavors. Although his father pursued more traditional work with the railroad, he was very artistic and in his spare time carved stone and wood.
After growing up in New Jersey Joe Paquet went on to attend the School of Visual Arts in New York City. It was after graduation that he studied with John Osborne, who became a mentor and major influence in his life. His apprenticeship with Osborne was the beginning of his love of painting the landscape from life. Since then, Paquet has lived in Virginia, and for the last twenty years, in St. Paul, Minnesota.
We spoke to him about his work and the resurgence of representational art:
"I happen to love the representational image. I prefer working from life, because it's a direct connection to what's in front of me, a direct conversation. Certainly nature is filtering through me when I paint and I'm making subjective choices, but the world is so big and color and form so extraordinarily beautiful to me after thirty years of painting outside that I keep seeing new things."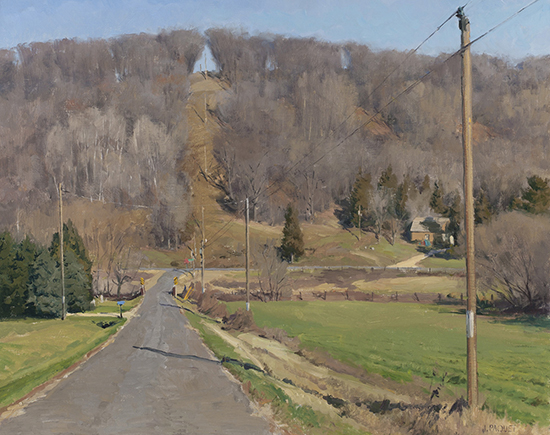 Rural Electrification 24 x 30" Oil Joe Paquet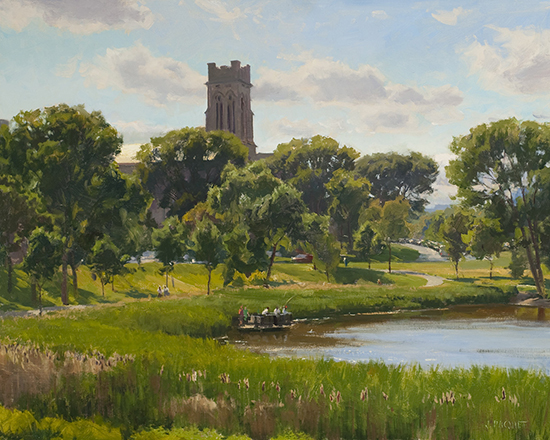 Pristine Afternoon, Loring Park 24 x 30" Oil Joe Paquet


Joe Paquet's paintings have been featured in the Washington Post Sunday Magazine, Artist Magazine, American Artist Magazine and Plein Air Magazine. He has been awarded both the Artists' Choice and Collectors' Choice from the 2007 Laguna Beach Plein Air Invitational and the 2008 Alden Bryan Memorial Prize from the Salmagundi Club of New York as well as First Place in Landscape from the Richeson 75: Artists' Choice Competition.
Learn more about Joe Paquet in our in-depth interview.
To read it and to see more o
f his

paintings,
become a Member of The Artist's Road by
clicking here.
Already a Member?
Click here to go to the the in-depth interview.
All artwork copyright Joe Paquet.