Artist Profile

Jeff Good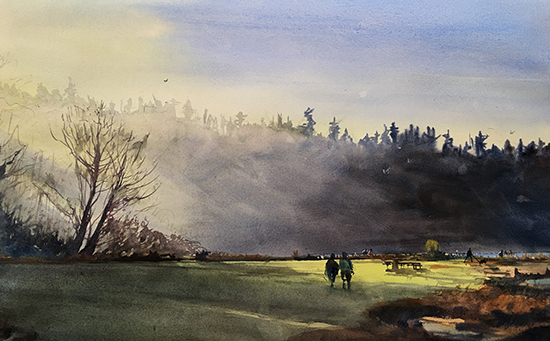 Lisabuela Park 22 x 30" Watercolor

"Painting and teaching others watercolor

is a passion and joy for me."
We find the stories of how artists discover their love of the creative process and how they pursue their passion to be both fascinating and inspiring. Some start out taking art classes in college, but for various reasons, choose careers in other fields. Some interrupt their artwork to raise families. Countless others continue to pursue their art as their time permits, working at other jobs to keep the lights on. The leap to full-time artist isn't easy to make, and for many, it has to wait until there is a life change, such as retirement from a career. Jeff Good is an architect who never lost sight of his love for watercolor painting and even found ways to weave it whenever possible into his practice. Since his retirement from a large architecture firm, he has been working hard at his second career in plein air and studio watercolor painting. We think his story will resonate with many of you.

Watercolor is my media of choice for several reasons. It is very suited to outdoor painting since the palette and materials are easy to transport and the drying time is faster than acrylic or oils. It is common to hear that watercolor is harder to control and more difficult due to its transparent qualities—in other words you can't cover your mistakes! Those attributes are exactly why I like watercolor. No other medium has the ability to diffuse pigment on the paper or layer transparent washes to create a luminescent effect. It has taken me years to understand the balance of pigment and water on various degrees of moistness of paper, but once you have the confidence you stop trying to control every brush stroke and let the pigments work their magic.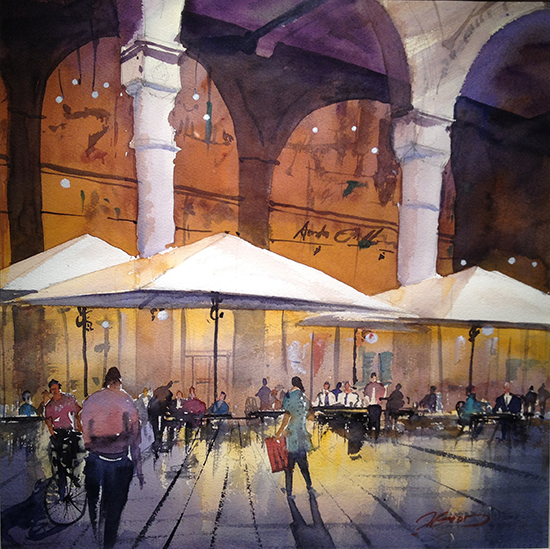 Evening in Milan, Galleria Vittorio Emanuele 20 x 20" Watercolor
Read more about Jeff Good's life and painting in our in-depth interview.
To read it and see more of his work, become a member of
The Artist's Road today by clicking here.

Already a Member?
Lucky You! You can go immediately to the full interview here.

Visit Jeff Good's website at:
https://www.jefflgoodart.com