Floating in the Blue

"How sweet to be a cloud floating in the blue."
A. A. Milne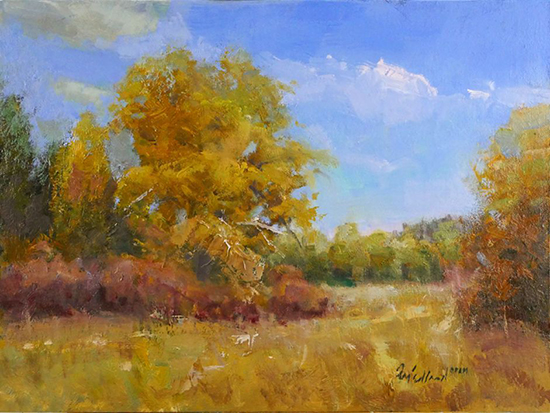 Autumn Cottonwoods 12 x 16" Oil Howard Friedland

But which blue? Painting a beautiful blue sky can be a challenge. Changing atmospheric conditions, time of day, time of year—all can create nuanced, or sometimes dramatic, variations in the color of blue of the sky. For the landscape painter, learning the characteristics of available blue pigments is essential. We asked two master landscape artists, Howard Friedland and George Van Hook about what they reach for when they begin to block in a sky and to show us some examples in their oil paintings.

Howard Friedland - https://www.howardfriedland.com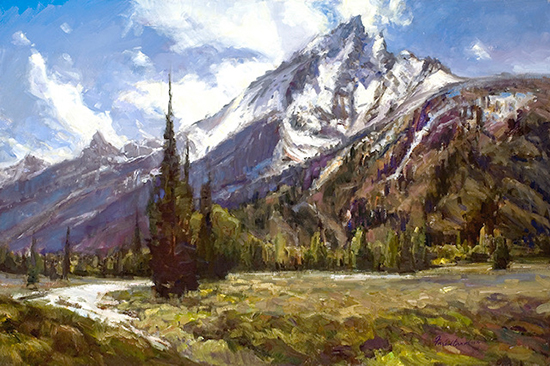 Teton Grandeur 24 x 36" Oil Howard Friedland

"Skies can be any color and not just blue. That said, I have Cobalt Blue, Ultramarine and Cerulean Blue as staples on my palette. I think of Cobalt as the purest and coolest of the blues since Ultramarine has a blue-violet cast and Cerulean has a comparatively warmer (greener) feeling. The key is to remember that color is relative and will look a certain way when placed next to other colors. Even Viridian Green can look bluish in certain color combinations.

When I think about painting skies, I remember that whichever blue I use, on a clear sunny day it will influence the horizontal planes and the ground and much of the shadow color. Therefore, whichever blue I use, I'll want it to harmonize with the rest of the painting.

The other thing I look for is gradation in the sky. How does the color transition from warmer to cooler? Notice how the sky above you, at the zenith, is a darker and purer blue. As the sky descends slowly toward the horizon, it gets lighter and gradually warmer. Also, depending on the time of day, it might graduate warmer to cooler from side to side. The key is to observe the differences. Here is a neat way to observe the color shift: using your finger, point at the sky moving it slowly from side to side or zenith to horizon. Now watch the sky change temperature as you move your finger.

On a clear sunny day, the sky could be a light Cobalt Blue at the top of your painting and as it descends down to the horizon you might see it warm up to a light Viridian Green hue and at the point where you lost sight of the sky, it might even have a red-violet tone like a bit of Alizarin Crimson blush."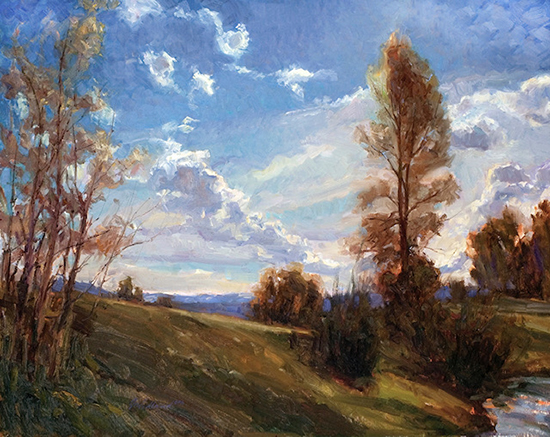 Lyrical Light 24 x 30" Oil Howard Friedland

"There is no real formula to choosing which blue to use in your sky. Some paintings call for a warmer Cerulean sky; some for a cooler Cobalt one or some Ultramarine or combinations of all there or even other blues. It all depends on what other colors are in your painting.

I've had many paintings that I have repainted the sky several times changing the blue. You will know when the right one clicks. Just trust your instincts and keep trying until it WORKS!"

We encourage everyone to make color charts to refer to when painting. Colors can vary substantially according to brand, as shown in the Cerulean Blues (Richeson and Gamblin) shown below. In addition to the most used blues, it can be fun to try a few special colors. (Colors will vary by monitor screen as well. Be sure to try your own color charts.)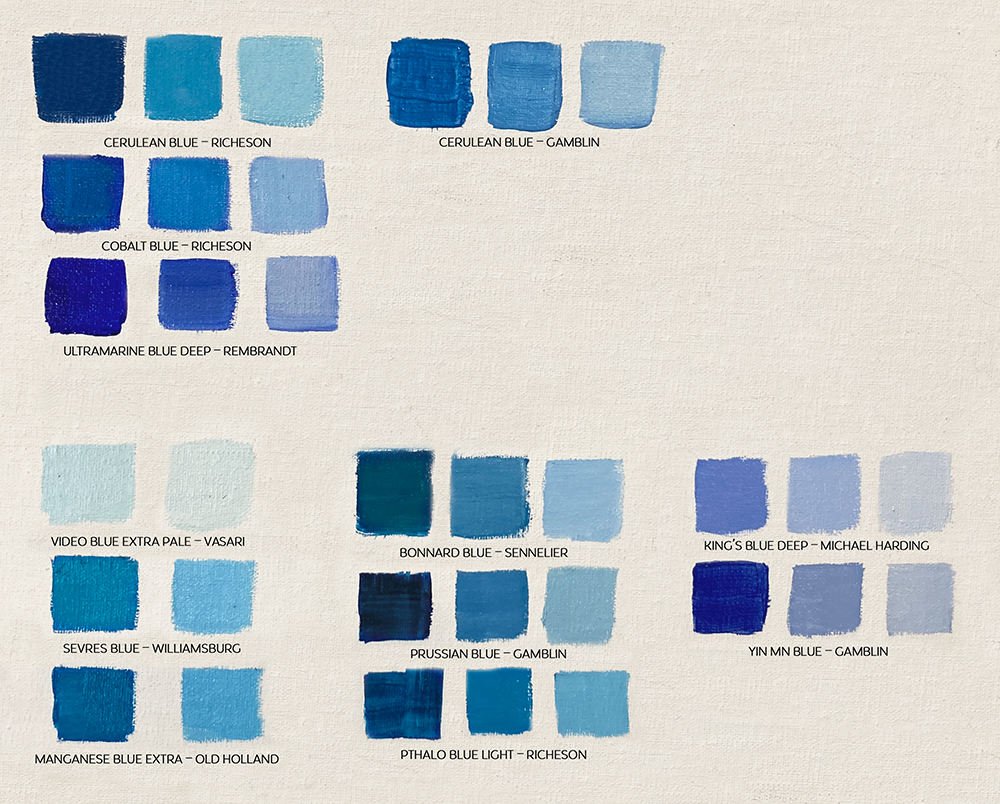 George Van Hook - https://www.georgevanhookfineartist.com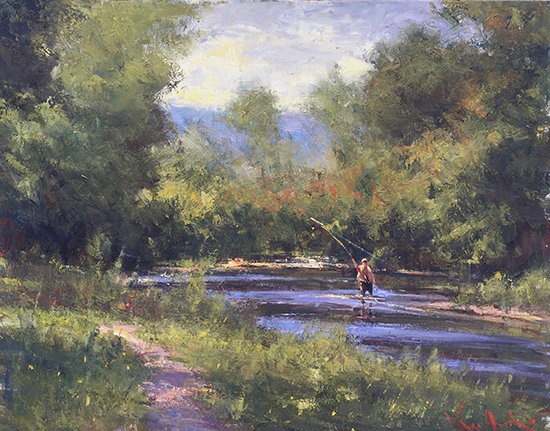 A Summer Cast 24 x 30" Oil George Van Hook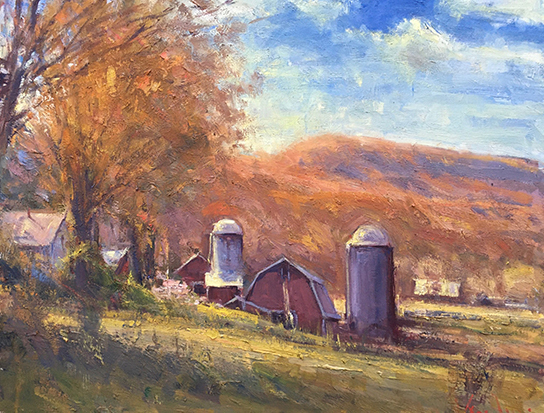 Autumn Valley 24 x 30" Oil George Van Hook
Above: Low pressure moving in from the south (left side); high pressure still to the north.

"I use Ultramarine and Cobalt as my primary blues. They are slightly different in color temperatures, which can be best understood by mixing them out with a white. If you do this side by side, you can compare the two chromas. And, of course, the Ultramarine is essentially transparent, while the Cobalt is opaque.

The important question when painting skies is what colors will you be mixing with the blues and how will you go about doing that? That is where the "Art" comes in. I never use just a pure blue (plus white) for a sky, because the colors and temperature are so dependent on time of day and surrounding colors. I almost always mix either a red or a yellow into my "blue" sky and this becomes compounded by the presence of a cloud cover. Here in the Northeast, we frequently have a variety of moisture-laden frontal systems moving through at the same time, so, to accurately describe a local sky, you may have to create several "color schemes" on the same canvas. For myself, this is the real joy in painting our skies, but it may appear daunting for the beginning artist."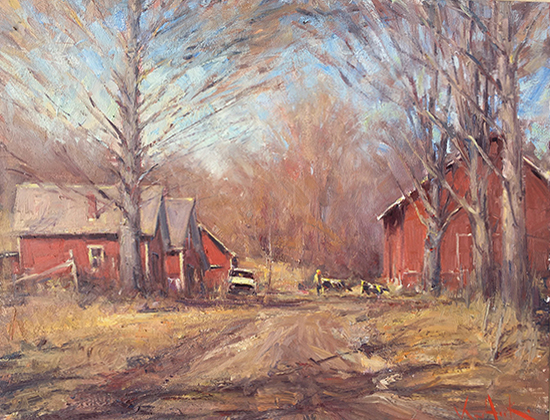 November Light 24 x 30" Oil George Van Hook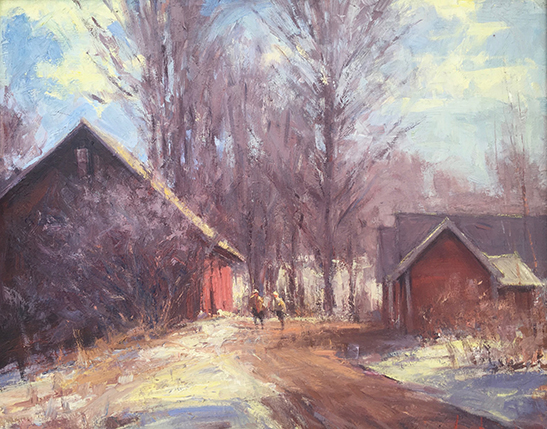 Farm Lane in Winter 24 x 30" Oil George Van Hook

Above: Moisture laden skies helping to create atmosphere and softening the forms throughout.

Many thanks to two of our favorite artists!