Mixing Colorful Grays in Oil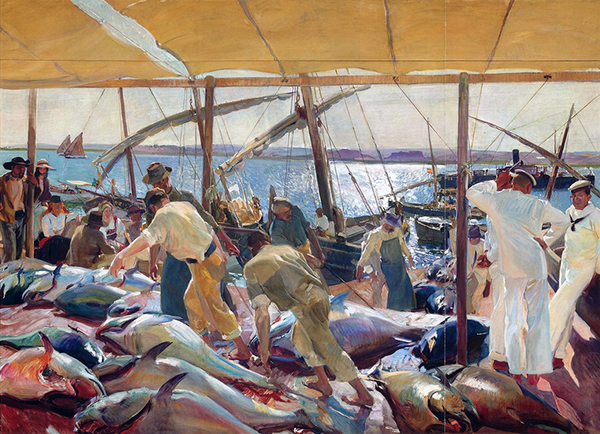 The Tunny Catch, Ayamonte Oil Joaquin Sorolla
Joaquin Sorolla was reported to have said about his color methods, "the money is in the grays". What he may have meant is that the largest percentage of any painting consists of the middle values, not the highlights or accents, and those values are by definition grayer than either of the former. When he used the word gray, he didn't mean some mixture of white and black. He meant sophisticated mixtures of complementary and secondary colors - colorful grays. Sorolla knew those mixes by heart and employed them with speed and skill to create his masterpieces. Sorolla, along with his contemporaries, John Singer Sargent and Anders Zorn, stood at the apex of hundreds of years of learning, training and practice in representational painting in Europe. The skills they employed in their work were passed to them by a previous generation of acknowledged masters of painting, as they themselves had been taught. Looking in any major museum, the same principles of picture making employed by all the great masters of the past can be seen. Much of the painted areas of pre-modern masterpiece paintings are made of colorful grays of middle values. This is how nature presents color to us. Highlights and accents were reserved for those touches where they were skillfully and deliberately employed in tiny amounts to focus attention, build contrast or add a dramatic visual element.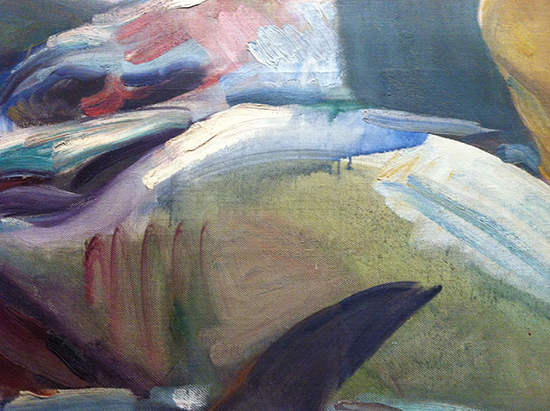 Detail of The Tunny Catch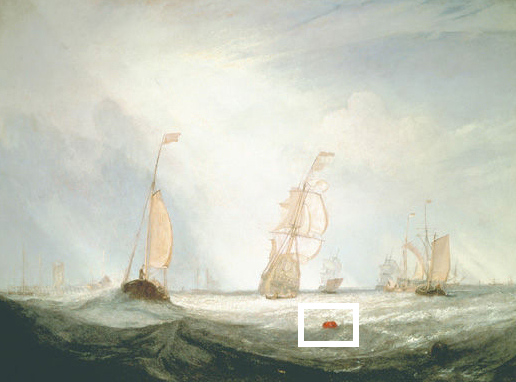 In a famous moment from J. M. W. Turner's career, Turner waited until the vernissage (the traditional day or two in the gallery before an exhibition opens to the public when framed pictures were touched up or varnished by the artists) to add the key accent to his 1832 marine painting, Helvoetsluys. This moment was immortalized in the film, Mr. Turner. In the scene, other members of the Royal Academy were praising the work as a masterpiece when Turner walked up to it and made a large red paint stroke in the middle of the picture. Gasps ensued. Words to the effect that he "ruined a masterpiece" were uttered. He then left the room. When he returned, rag in hand, he skillfully wiped away the bottom of the stroke to magically reveal not a smear of paint, but a bright red signal buoy floating on the waves. It was the crowning touch in a largely gray sea scene. He really had a flair for drama in both stroke and presentation!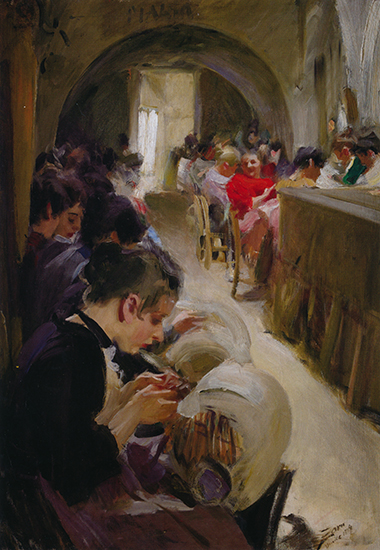 Swedish artist, Anders Zorn often preferred to use a rather limited palette of white, ochre, vermillion and ivory black for his interiors and portraits. He, along with his contemporaries, was considered a naturalist painter—meaning that he painted observed light in a loose, sometimes broken manner. Zorn knew some of the Impressionists and painted in Paris and France during the height of the impressionist movement. As a result, he intentionally built on what the Impressionists were doing, especially painting quotidian subject matter, but clearly going his own way in style and palette. He never adopted the dissolution of form into marks of paint, preferring to render form in his own loose style. He also did not adopt the brightly chromatic high key palettes favored by the Impressionists, Monet in particular. At left you can see his brilliant use of somber tones and middle values of mixed and colorful grays. He carefully saved his intense reds for the woman in the red dress to draw us up into the picture plane.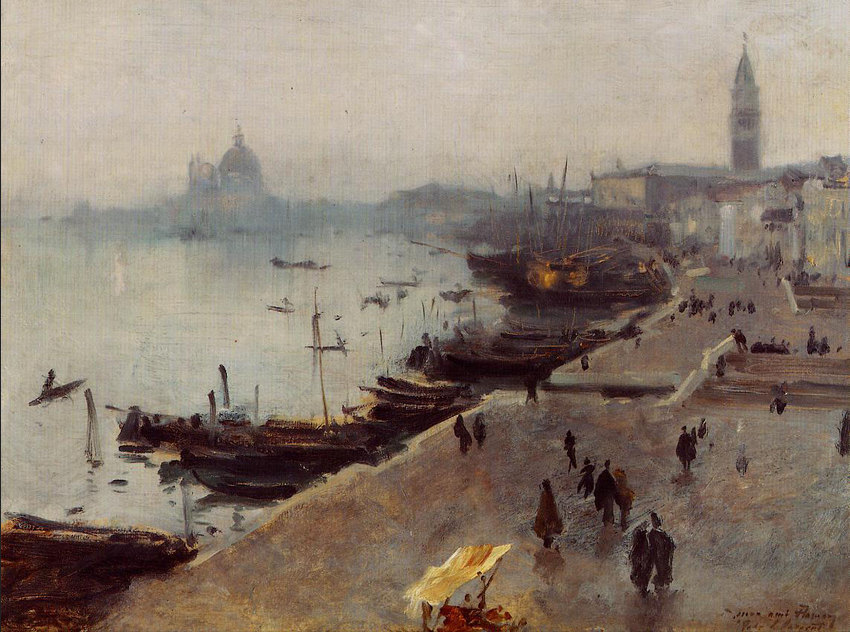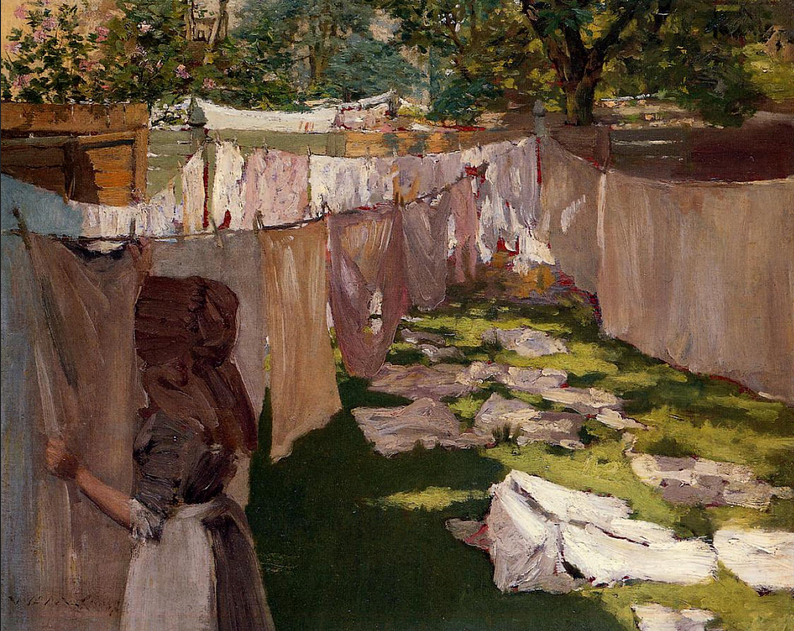 Above left, Venice in Grey Weather, 1880, John Singer Sargent, and right, Wash Day, a Backyard Reminiscence of Brooklyn, 1886, William Merritt Chase. Both of these paintings achieve their masterful effects of light by being built upon large areas of colorful grays enlivened with small patches of brighter, cleaner hues.

Today, it is a rare art school where color mixing is taught in enough depth that students are required to do color mixing exercises. Many painting students simply do not know much about this essential skill. In our cases, we had to learn it on our own over many years of trial and error. How much better it would have been if we had been instructed to paint color charts! To be honest, in our youth, we were impatient to just get about the business of making paintings and probably would have felt these exercises were a pain. But far from being drudgery, painting samples like these is actually fun and the lessons learned from them will not soon be forgotten. This knowledge can help you create better, more exciting paintings immediately, and long term, give you the ability to manipulate colors and color temperatures to suit your creative endeavors.


This is a free sample of a much larger, in-depth article available to our members. If you like what you find here, won't you consider supporting The Artist's Road educational mission through your membership today? We know you'll love it - Guaranteed.

Want to know more? Become a Member and read the complete article today.